Shipping Diesel Engines with Ease
At Heavy Haulers we're a highly skilled heavy haul trucking company with over a decade of experience in shipping and transporting diesel engines. Our tractor trailers can haul your diesel engine domestically or internationally with ease. Call us, and a logistics agent will walk you through the process of moving your heavy equipment. It begins with a free shipping estimate and ends when your diesel engine is safely delivered to the destination. Call now and let's get started! (800) 908-6206
Diesel engines can be transported on a variety of trailer types including flatbeds, RGNs, and drop decks. The type of trailer is determined by the size, shape, and number of engines being transported. Shipping diesel engines is an easy feat for Heavy Haulers, and as the industry-leading heavy haul trucking company, you can have confidence that your diesel engine is good in hands.
Contact Our Expert Shipping Specialist's
(800) 908-6206
Advantages of Transporting Diesel Engines with Heavy Haulers
In the past several years, diesel engines have gained in popularity. The general population has learned there are a ton of advantages of diesel engines. A few things to note is that diesel engines have better gas mileage, are extremely durable, and even have greater torque than gasoline engines. Overall, diesel engines are a great commodity and that means when it's time to ship them, you need it done right. Heavy Haulers understand the nature of diesel engines and what it requires to get them hauled safely to their destination.
Diesel engines are used in more than just automotive industries. There are two classes; the two-stroke diesel engine and the four-stroke diesel engine. Diesel engines can be found powering anything from engines to backup generators in hospitals, and even for computers. Heavy Haulers transports diesel engines with care, making sure they have the proper rigging and are thoroughly secured for shipping. Whether you're shipping a diesel engine domestically within the United States, or internationally, we can get it transported with ease. Call us now! (800) 908-6206
Common Types of Engines We Ship:
• Automotive Diesel Engines
• Airplane Diesel Engines
• Ship Diesel Engines
• Tractor Diesel Engines
• Generator Diesel Engines
Common Types of Engine Manufacturers We Ship:
• Caterpillar
• Cummins
• JMC
• JCB
• Kubota
• SWP (Southwest Products)
• Baldor
• Komatsu
• Yanmar
• Kohler
• MACK
• Perkins
• Detroit Diesel
How to Ship Diesel Engines with Heavy Haulers
Your engines are an important part of your livelihood. Whether you're having an engine shipped to you, or a manufacturer moving diesel engines in bulk, Heavy Haulers has the best tractor trailers to get them delivered safely. We provide experienced drivers for diesel engine transport and handle all permits for you. As the industry-leading diesel engine shipping company, we also provide the most affordable prices. Call us now for a free shipping estimate! (800) 908-6206
Common Trailer Types Available from Heavy Haulers
Heavy Haulers specializes in hauling heavy loads such as construction equipment, oil field rigging and Super Loads. We are wideload experts! We offer an extensive range of trailer choices, including:
Max Weight: 48,000 lbs. | Max Length 53 ft. | Max Width 8.5 ft. | Max Height 11 ft.




Max Weight: 45,000 lbs. | Max Length 29 ft. | Max Width 8.5 ft. | Max Height 11.5 ft.
Max Weight: 150,000+ lbs. | Main Deck Length 29 ft. | Well Width 8.5 ft. | Legal Height Limit 11.6 ft.




Max Weight: 48,000 lbs. | Max Length 53 ft. | Max Width 8.5 ft. | Max Height 8.5 ft.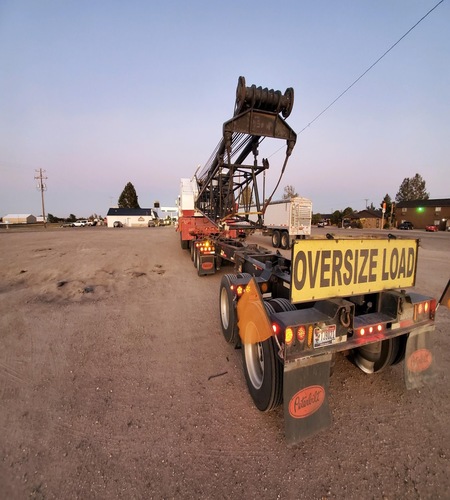 Common Types of Diesel Engines:
Shipping a diesel engine may have different costs, not only depending on the distance, but the weight and size of your diesel engine. There are a few different types of large diesel engines you should know about when you're preparing for transport.
● Two Stroke Diesel Engine Shipping; invented by Hugo Guldner in 1899, this diesel engine works in two strokes, producing twice as much power as a four stroke diesel engine.




● Four Stroke Diesel Engine Transport; the intake and exhaust valves, as well as the fuel injection nozzle are located in the cylinder head. This diesel engine has two intake and two exhaust valves.




● Diesel Engines are often labeled as small, medium, or large based on power output.




● Diesel engines are classified by piston and connecting rod as: crosshead piston, double-acting piston, opposed piston, and trunk piston diesel engines.




● When it comes to speed, there are high speed engines (greater than 1,000rpm), medium speed disel engines (300-1000rpm) and slow speed engines (less than 300 rpm). High speed engines are often found in buses, yachts, pumps, generators, cars and more.




Heavy Haulers is more than qualified to transport a diesel engine wherever you need it to be. Our logistics team will talk you through finding the best driver and rig to ship your diesel engine with ease. Call us now! (800) 908-6206
HEAVYHAULERS.COM
START YOUR SHIPMENT TODAY!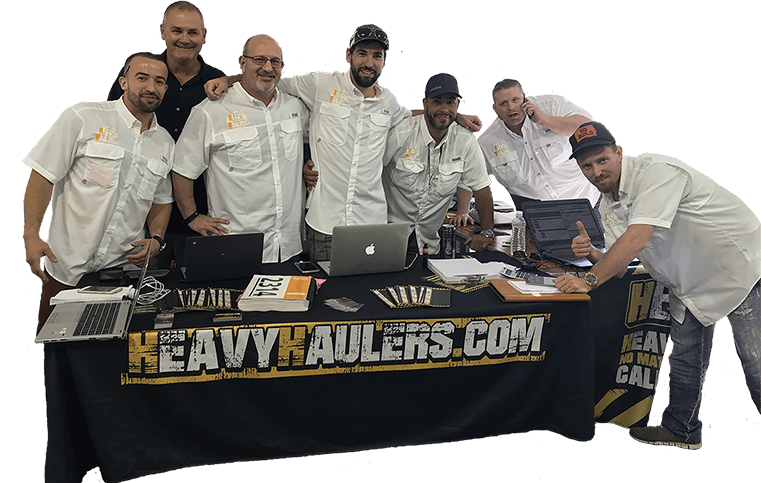 We Are Ready To Help You Haul Your Equipment!