Heavy Equipment Shipping & Transport Services | Choose Heavy Haulers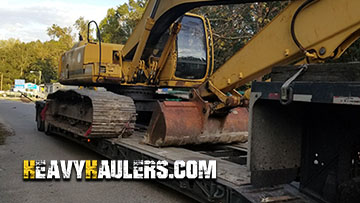 Moving your construction equipment, excavation machinery, or warehouse and factory machinery takes a specific type of transport. Selecting a transport service that isn't experienced with heavy equipment shipping may result in delays of your equipment, unsteady loading or transit that can damage your items, or a serious safety issue. Heavy Haulers is a licensed, bonded, and double-insured heavy equipment shipping company ready to move a single backhoe or an entire construction fleet across North America – or across the world. We've been it this business a long time, and we understand the best ways to ship oversized loads. From planning the best route, whether across vast highways, tight city streets, or rough terrain to following your timeline so your equipment is at your next job site ready to work when you are – Heavy Haulers is the first heavy equipment transport company that contractors and developers call when they need unusual and oversized loads moved anywhere. We'll provide you a FREE, no-obligation quote for your heavy equipment shipping – just give us a call at (800) 908-6206 to get started!
Expert Heavy Equipment Transport Experts: One Call Away
Moving heavy equipment is more than just having a large trailer and a rig with enough torque to haul it. Proper heavy equipment transport begins with determining the specs of each piece you need to ship, including weight and any unique features of your machinery. Once the load is on the trailer, it's properly secured, protecting your expensive equipment and ensuring safe travels.
Heavy Haulers employs expert logisticians to plot your route, making sure that your equipment is not delayed by road closures or areas with heavy traffic. When possible, we streamline your transport to avoid any delays. You'll receive a code to keep up with your shipment in real time, allowing you to plan your project accordingly.
Your heavy equipment shipping service from Heavy Haulers is all-inclusive in North America – we offer door-to-door shipping that includes loading and unloading from one destination to the next. We also handle paperwork for weigh stations and customs and plan your route in accordance with local, state, and federal regulations through every place your machinery travels.
Heavy Equipment Shipped by Heavy Haulers
Heavy Haulers has made a reputation for moving oversized loads that many other shippers simply aren't able to move. We've moved everything from airplanes to backhoes, tires, and drum shipping, we're the go-to heavy equipment transport service for many industries. Here are some of the industries and heavy equipment we transport:
Compact Utility Tractors
Utility Tractors
Row-Crop Tractors
Four-Wheel Drive Tractors
Combines
Cotton Strippers
Cotton Pickers
Heavy Haulers Transports Industrial Machinery!
Shipping excavation equipment is difficult – the swinging booms, hydraulic arms, and loading up heavy machinery with tracks versus wheels is something for professionals. Transporting Caterpillar or John Deere construction is a necessity of any construction company. These vehicles can be large and need professional drivers to transport them. Here are some that Heavy Haulers has moved across North America:
We Transport Equipment Including: Mining Equipment
Shipping mining equipment can be tricky, especially since many destinations are in rough country. Heavy Haulers has the heavy equipment shipping experience to make sure that your equipment gets there safely – even through dirt roads and steep terrain. Here are some of the mining equipment pieces we've successfully shipped: