Local and Long Distance Heavy Haul Trucking
Heavy haul trucking can present an array of challenges even more than routine trucking. Choosing an expert in heavy shipments means that you're getting a professional company that personally verifies all licensing and route to be sure your haul is done expertly, timely and at a reasonable rate. Affordable heavy haul trucking is essential to many different types of businesses. When you're moving your equipment and materials from one job site to the next, keeping the costs down is essential to remaining profitable.
At Heavy Haulers, we plan the best route for your shipment, taking into account fuel costs and mileage. To give you the best rate, Heavy Haulers relies on the experience of over a decade working with only professional, certified drivers who have the experience to quickly and safely deliver your items. There are no hidden fees, surcharges, or add-on charges after the fact. We only receive payment when you're confirmed that your heavy haul is loaded, secured, and delivered, door-to-door.
Contact Our Expert Shipping Specialist's
(800) 908-6206
Affordable Heavy Haul Shipping
While most businesses understand that higher mileage means higher heavy haul trucking rates, but not all miles are created equal. In fact, when traveling across multiple states, you may end up paying less per mile, depending on where the majority of freight opportunities are. The regulations for heavy haul carriers vary from state to state, and country by country, so you'll need permits from the relevant authorities in order to move cargo that exceeds legal load limits. Heavy Haulers can obtain all the necessary permits for your move.
The time of year that you're shipping also comes into play. It may be cheaper to move your equipment in the summer, for instance, than during peak winter holiday shipping times. Heavy Haulers works with your budget and timeline to give you the absolute best rate, a fair quote that reflects the changing costs of heavy equipment transport.
Why Choose Heavy Haulers for Your Trucking Services?
The logistics involved in specialized heavy haul shipping require a freight forwarding company with the right experience handling this type of project. Heavy Haulers excels at transporting cargo that is too heavy or awkwardly-shaped for other shipping providers to move. With over a decade in the freight forwarding industry and an excellent track record for on-time deliveries, we're the company you can rely on.
Our team includes a network of professional drivers that are trained and bonded for your safety and ours. We determine the dimensions of your items to safely transport it, whether it's through tight city streets or across the continent. We can even provide equipment such as liftgate equipment, pallet jacks, and cranes for use when needed to make sure that your cargo is safely loaded and unloaded from our trailers and trucks. You'll also get peace of mind when you ship with Heavy Haulers. We give you a unique online code that lets you track your shipment, as well as handle all of the necessary paperwork, ensuring that your machinery isn't bogged down at weigh stations or through customs.
Common Shipments from Heavy Haulers:
● Airplane wings
● Mining and extraction equipment
● Construction trucks
● Cranes and rigging
● Backhoes
● Tractors
Common Trailer Types Available from Heavy Haulers
Heavy Haulers specializes in hauling heavy loads such as construction equipment, oil field rigging and Super Loads. We are wideload experts! We offer an extensive range of trailer choices, including:
Max Weight: 48,000 lbs. | Max Length 53 ft. | Max Width 8.5 ft. | Max Height 11 ft.




Max Weight: 45,000 lbs. | Max Length 29 ft. | Max Width 8.5 ft. | Max Height 11.5 ft.
Max Weight: 150,000+ lbs. | Main Deck Length 29 ft. | Well Width 8.5 ft. | Legal Height Limit 11.6 ft.




Max Weight: 48,000 lbs. | Max Length 53 ft. | Max Width 8.5 ft. | Max Height 8.5 ft.
See what you need?
Call us for a FREE Shipping Estimate at (800) 908-6206
HEAVYHAULERS.COM
START YOUR SHIPMENT TODAY!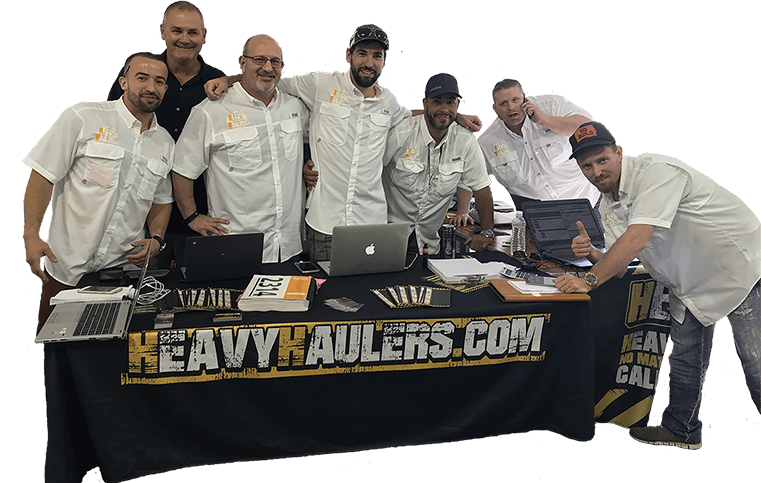 We Are Ready To Help You Haul Your Equipment!
See what you need?
Call us for a FREE Shipping Estimate at (800) 908-6206