Delivery Services
There are a wide array of delivery services that you can get from Heavy Haulers. If you require the heavy equipment within a short time, our expedited delivery services will suit all your needs. Our drivers will let nothing distract them while they are on the road. At the same time, they accord your cargo maximum attention so that everything goes as planned and within the schedule. By the time it is getting into your hands, it will be just as we received it.
Also, our short distance transport services are top-notch. If you want your load at home by the time you get there from work, all you have to do is let us know. We are never late, and we will follow your all your instructions. You never have to worry about where your home is located, our trailers are quality, and ideal for even off-road locations. Alternatively, you can hire our site delivery services if you need the heavy equipment at your current job location.
Contact Our Expert Shipping Specialist's
(800) 908-6206
Why Our Heavy Equipment Delivery Services are Critical
Heavy Hauler's heavy equipment delivery services are your number one choice because since inception, we've always believed in putting our clients first. This belief underscores everything we do. Focusing on our customers' success is what defines our business model. For instance, you may need specific agricultural equipment for the harvesting of your crop product. When we deliver them on time, we ensure that you can harvest as planned, and make your sales when the demand is still high.
Furthermore, our services allow for the continuity of your business operations because you can access all the tools or items you require. Consequently, this enables you to realize the dreams you had in mind for your organization and make as much profit as possible.
How to Prepare for Heavy Equipment Delivery
If you are waiting for the delivery of your heavy equipment from Heavy Haulers, you must adequately prepare yourself to receive it. You can do this in many ways. For instance, consider creating storage space to keep the equipment when you are not using it. You may also tell your workers that you are expecting some heavy items, so that in case you are not around when we get to your location, they can receive us properly. Another thing that you can do is clear paths around your business premises or home. This will make it easier for us to bring in the equipment.
Common Trailer Types Available from Heavy Haulers
Heavy Haulers specializes in hauling heavy loads such as construction equipment, oil field rigging and Super Loads. We are wideload experts! We offer an extensive range of trailer choices, including:
Max Weight: 48,000 lbs. | Max Length 53 ft. | Max Width 8.5 ft. | Max Height 11 ft.




Max Weight: 45,000 lbs. | Max Length 29 ft. | Max Width 8.5 ft. | Max Height 11.5 ft.
Max Weight: 150,000+ lbs. | Main Deck Length 29 ft. | Well Width 8.5 ft. | Legal Height Limit 11.6 ft.




Max Weight: 48,000 lbs. | Max Length 53 ft. | Max Width 8.5 ft. | Max Height 8.5 ft.
See what you need?
Call us for a FREE Shipping Estimate at (800) 908-6206
HEAVYHAULERS.COM
START YOUR SHIPMENT TODAY!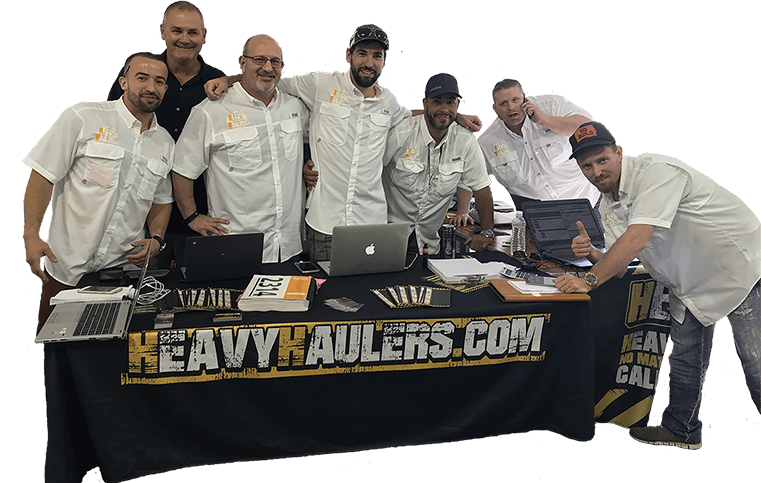 We Are Ready To Help You Haul Your Equipment!
See what you need?
Call us for a FREE Shipping Estimate at (800) 908-6206