Extensive Heavy Equipment Dropshipping Services Expertise
We understand that no matter what heavy equipment you're transporting and where, it's essential to your day-to-day life, your home, or your business. Dropshipping services cut down on the amount of inventory you need to hold on-site. With the reliable drop shipping service from Heavy Haulers, you don't need to worry about transporting inventory from elsewhere, either. Call now for a free shipping estimate! (800) 908-6206
It doesn't matter to us if you're in the business of moving heavy equipment, oversize machinery or bulk shipping smaller items, we have a dedicated support network that can handle every type of shipment throughout the U.S., Mexico, and Canada. Our drivers are fully trained in all aspects of dropshipping, and we have more than a decade of experience handling bespoke projects. We can handle everything from print-on-demand shipments to large, commercial restaurant deliveries.
Contact Our Expert Shipping Specialist's
(800) 908-6206
The Heavy Haulers Oversize Load Dropshipping Service Advantage
Drop shipping is a method that allows many retailers not to keep stock on site. Instead, partner with a supplier that stocks its own inventory, and transfer the customer order and shipment details to the carrier who then ships directly to your customer. In this way, you can utilize Heavy Haulers drop shipping services to save time, fulfill large orders and supply large items without needing to worry about inventory space, cost of storage, delivery, and the time it takes to handle all of the intricate details. Details such as scheduling, paperwork, and logistics such as escorts, drivers, trucks, and route planning. We offer superior dropshipping services, and we take pride in our versatile fleet that is capable of shipping every type of item.
Common Heavy Equipment Dropshipping Cargo
● Construction Equipment
● Heavy Machinery
● Industrial Equipment
● Tractors
● Oversize Loads
● Excavators
● Commercial Restaurant Equipment
● Farm Equipment
● Heavy Duty Trucks
How to Ship Using Dropshipping Service
Heavy Haulers provides a free, accurate, and comprehensive quote service so you can find out exactly what it's going to cost for the drop shipping service you need. Our experienced logistics team is here to help you get started with our range of dropshipping services. We will match your delivery requirements to drivers and trucks in your area. We will handle everything from scheduling to delivery, making sure your items are shipped from the supplier directly to your customers. Give one of our representatives a call to get started on your dropshipping journey. (800) 908-6206
Common Trailer Types Available from Heavy Haulers
Heavy Haulers specializes in hauling heavy loads such as construction equipment, oil field rigging and Super Loads. We are wideload experts! We offer an extensive range of trailer choices, including:
Max Weight: 48,000 lbs. | Max Length 53 ft. | Max Width 8.5 ft. | Max Height 11 ft.




Max Weight: 45,000 lbs. | Max Length 29 ft. | Max Width 8.5 ft. | Max Height 11.5 ft.
Max Weight: 150,000+ lbs. | Main Deck Length 29 ft. | Well Width 8.5 ft. | Legal Height Limit 11.6 ft.




Max Weight: 48,000 lbs. | Max Length 53 ft. | Max Width 8.5 ft. | Max Height 8.5 ft.
See what you need?
Call us for a FREE Shipping Estimate at (800) 908-6206
HEAVYHAULERS.COM
START YOUR SHIPMENT TODAY!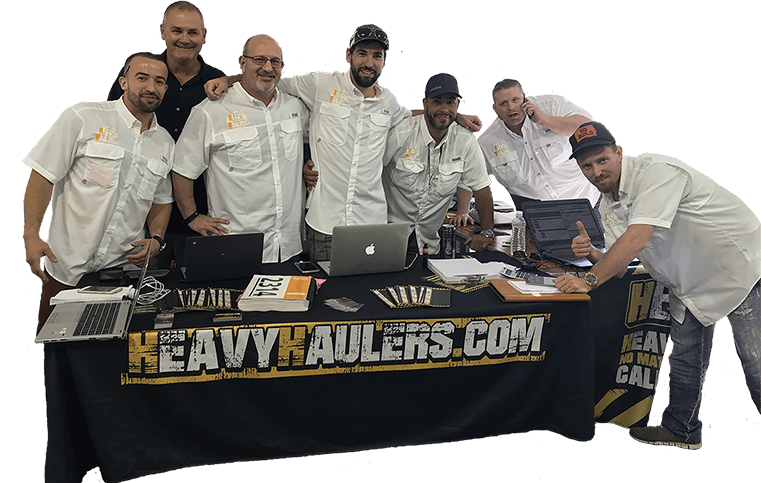 We Are Ready To Help You Haul Your Equipment!
See what you need?
Call us for a FREE Shipping Estimate at (800) 908-6206