Reliable Heavy Equipment Trucking Services
For quality and comprehensive heavy equipment trucking services turn to Heavy Haulers capable fleet of high capacity tractor-trailers. Our highly trained logistics team will handle all the paperwork, no matter where you're shipping heavy equipment, whether be in the United States, Canada, or Mexico. If you're ready for a free heavy equipment trucking quote, call now. (800) 908-6206
We have a trusted, experienced crew of heavy equipment trucking specialists that undertake machinery shipping for companies seeking comprehensive services. Professional solution providers at Heavy Haulers expedite full packages of industrial, commercial, and individual heavy equipment relocation. Just give us your specifics and the manufacturer's models of heavy equipment that needs trucking, and we shall do the rest.
Contact Our Expert Shipping Specialist's
(800) 908-6206
Heavy equipment trucking at Heavy Haulers has serviced construction contractors, federal institutions and private companies. A heavy equipment trucking company with over ten year's dominance in the freight shipping sector, Heavy Haulers provides impeccable transport from load to unload. Our dispatchers procure permits and insurance for heavy equipment trucking that crosses state and international borders.
Choosing Heavy Haulers for Your Heavy Equipment Trucking Needs
Our company is registered to undertake all manner of heavy equipment trucking and removal of towable machinery. Specialized and expedited heavy equipment trucking trailers accommodate all styles of dozers, graders, combined harvesters, and other industrial machines. Heavy Haulers trailers are wide and versatile to handle all oversize and overweight loads. The need for specialized heavy equipment trucking permits is minimized by Heavy Haulers dispatch managers who procure all the necessary paperwork on your behalf. This specialized heavy equipment trucking company does not cut corners in delivering the oversize consignment to your door.
Common Industries Heavy Haulers Transports for:
• Aeronautics and Space
• Shipyards and Shipbuilders
• Transporters and Trailer Manufacturers
• Construction and Building Equipment
• Oil and Mining
• Materials and Chemicals
• Utility Companies
• State and Federal Institutions
• Clean Energy Generation
• Agriculture
• Science and Research
Heavy Equipment Trucking Dominance by Heavy Haulers
An affordable heavy equipment shipping plan is available to get your load underway with simplicity. Heavy Haulers logistics and crews rely on capable truck and trailer fleets to securely complete the delivery of your heavy equipment. Call now for a free shipping estimate. (800) 908-6206
See what you need?
Call us for a FREE Shipping Estimate at (800) 908-6206
Looking For Transport
With a Specific Trailer?

Max Weight: 150,000+ lbs. | Main Deck Length 29 ft.
| Well Width 8.5 ft. | Legal Height Limit 11.6 ft.

Max Weight: 48,000 lbs. | Max Length 53 ft.
| Max Width 8.5 ft. | Max Height 8.5 ft.
Max Weight: 48,000 lbs. Max Length 53 ft. |
Max Width 8.5 ft. | Max Height 11 ft.
Max Weight: 45,000 lbs. | Max Length 29 ft.
| Max Width 8.5 ft. | Max Height 11.5 ft.
HEAVYHAULERS.COM
START YOUR SHIPMENT TODAY!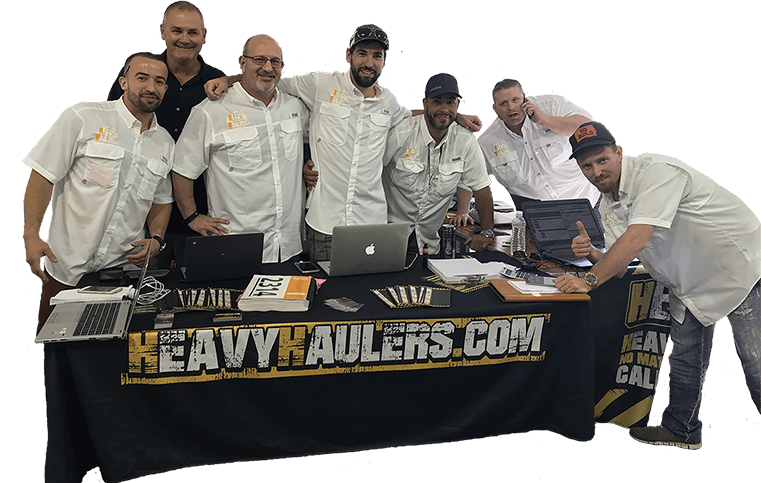 We Are Ready To Help You Haul Your Equipment!
See what you need?
Call us for a FREE Shipping Estimate at (800) 908-6206