Exceptional Snowbird Car Transport Services
Are you the individual who transports cars from the northeast to the southeast in search of favorable weather in late summer? Well, we understand what snowbird season means to you, and that's why we are here to offer you reliable and consumer-centric freight and shipment services. Our company representatives will plan the snowbird car transport, looking for the cheapest interstate routes to also help you save cash. For more than ten years, it has been our implicit mandate to provide unmatched heavy-equipment shipping services. We enjoy low staff turnover. Both our logistics and driving teams are experienced in what they do. They will ensure every aspect of the shipment is streamlined for successful towing and delivery.
At Heavy Haulers, we understand that our clients have individual needs. Let us know your shipment concerns, and we will tailor the services to make sure the vehicles you want to be shipped reach their destination on time and safely. Call us now and let's get your car moved! (800) 908-6206
Contact Our Expert Shipping Specialist's
(800) 908-6206
Countrywide Snowbird Car Shipping
To haul vehicles across the US requires a capable shipper who can serve you wherever you are. You will find Heavy Haulers' offices in your state. Our industry-seasoned drivers have driven under snowy weather for years. Therefore, they can maneuver through the ice-covered roads of New England and Canada to your vacation home in Florida.
Snowbird is a term used to define a particular type of consumer demography. They are individuals or organizations that transport vehicles from northeast to southeast to look for warmer weather that is fit for their cars. Thus, snowbird car transport is the shipping of these cars across several states to their intended destination. That's where Heavy Haulers comes in. We have the necessary resources and trailers that can handle the payload and tow it safely to the receiving area.
How to Move Snowbird Cars with Heavy Haulers
We can help you skip driving for thousands of kilometers to Miami when it gets cold up north. We have capable 17- and 18-axle trailers that can haul your automobile safely through high-speed highways and on city streets smoothly for safe delivery. Furthermore, we also provide shipment tracking services. Our customer support agents are available for you every day, and you can contact them to get feedback about your in-transit vehicle. Call us today, and we will organize the shipment at discounted prices without low-ball incentives. (800) 908-6206
Common Trailer Types Available from Heavy Haulers
Heavy Haulers specializes in hauling heavy loads such as construction equipment, oil field rigging and Super Loads. We are wideload experts! We offer an extensive range of trailer choices, including:
Max Weight: 48,000 lbs. | Max Length 53 ft. | Max Width 8.5 ft. | Max Height 11 ft.




Max Weight: 45,000 lbs. | Max Length 29 ft. | Max Width 8.5 ft. | Max Height 11.5 ft.
Max Weight: 150,000+ lbs. | Main Deck Length 29 ft. | Well Width 8.5 ft. | Legal Height Limit 11.6 ft.




Max Weight: 48,000 lbs. | Max Length 53 ft. | Max Width 8.5 ft. | Max Height 8.5 ft.
See what you need?
Call us for a FREE Shipping Estimate at (800) 908-6206
HEAVYHAULERS.COM
START YOUR SHIPMENT TODAY!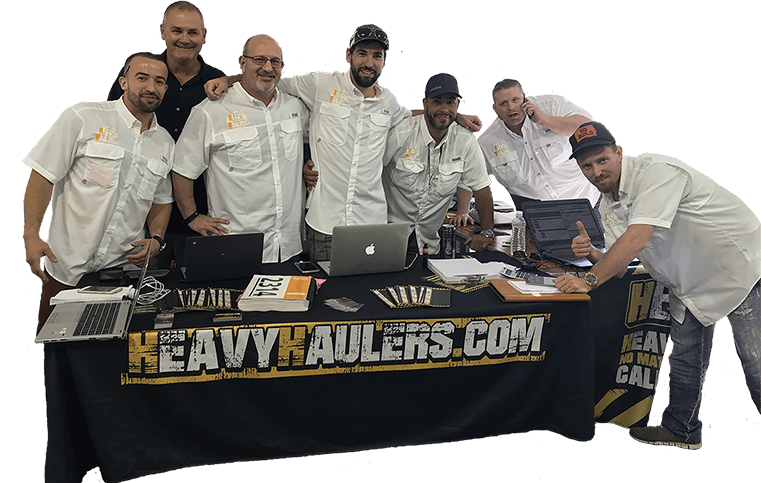 We Are Ready To Help You Haul Your Equipment!
See what you need?
Call us for a FREE Shipping Estimate at (800) 908-6206