Transporting Your Dump Transfer Truck Seamlessly
Are you looking for a capable hauling company to transport your dump-transfer trucks? This is not an overwhelming task. Transporting transfer trucks across the globe is a heavy hauling company specialty, so there are many viable offers. However, you must look for hauling services from credible heavy haulers that can meet your needs. Reliable heavy haulers can offer quality guarantees and insurance covers as well as dedicated customer service throughout the transit. Call now! (800) 908-6206
From equipment capacity to driver experience, there are various aspects to review before contracting heavy haulers to transport, tow, haul or ship your dump-transfer truck. At Heavy Haulers, we specialize in providing heavy equipment and freight transportation services. We also offer seamless updates on the location, condition, and safety of your dump-transfer trucks. Our heavy hauling services cover door-to-door, port-to-ground, and port-to-port deliveries across North America.
Contact Our Expert Shipping Specialist's
(800) 908-6206
Dump Transfer Truck Shipping Done Right
Dump transfer trucks are dump trucks towing another dump container behind it. They can often be seen on construction and architectural sites for hauling dirt, rocks, and other essential work materials. Heavy Haulers provides shipping and transport for dump transfer trucks with ease. Call us today! (800) 908-6206. There are numerous aspects to examine before you select a hauling company. You should review all the key areas to guarantee a smooth process. Some of the essential elements to evaluate include:
• Reliability - A heavy hauling company meets the client's deadlines and schedules even when under pressure.Great trucking companies articulate what to do, how, and promise when to do it.


• Scope of Service - You need to consider checking if the hauling company can transport your dump-transfer. Also, check if the haulage company can deliver heavy freight within your locality.


• Insurance covers - Choose on a heavy hauling company that offers safety guarantees and covers to protect your property. Great hauling companies also offer unbeatable quality guarantees.


How to ship Dump-transfer trucks
Shipping your dump-transfer truck should not be a burden with a reputable hauler. At Heavy Haulers, we can seamlessly transport your dump-transfer truck across North America. We offer competitive insurance covers, quality guarantees, expert personnel and free transport estimates to all our customers. We also have experienced heavy hauling truck drivers and streamlined frameworks to ensure your assets arrive safely in their new destination. You can contact our customer support desk today for any queries about dump-transfer trucks shipping and other heavy hauling services.
Common Trailer Types Available from Heavy Haulers
Heavy Haulers specializes in hauling heavy loads such as construction equipment, oil field rigging and Super Loads. We are wideload experts! We offer an extensive range of trailer choices, including:
Max Weight: 48,000 lbs. | Max Length 53 ft. | Max Width 8.5 ft. | Max Height 11 ft.




Max Weight: 45,000 lbs. | Max Length 29 ft. | Max Width 8.5 ft. | Max Height 11.5 ft.
Max Weight: 150,000+ lbs. | Main Deck Length 29 ft. | Well Width 8.5 ft. | Legal Height Limit 11.6 ft.




Max Weight: 48,000 lbs. | Max Length 53 ft. | Max Width 8.5 ft. | Max Height 8.5 ft.
HEAVYHAULERS.COM
START YOUR SHIPMENT TODAY!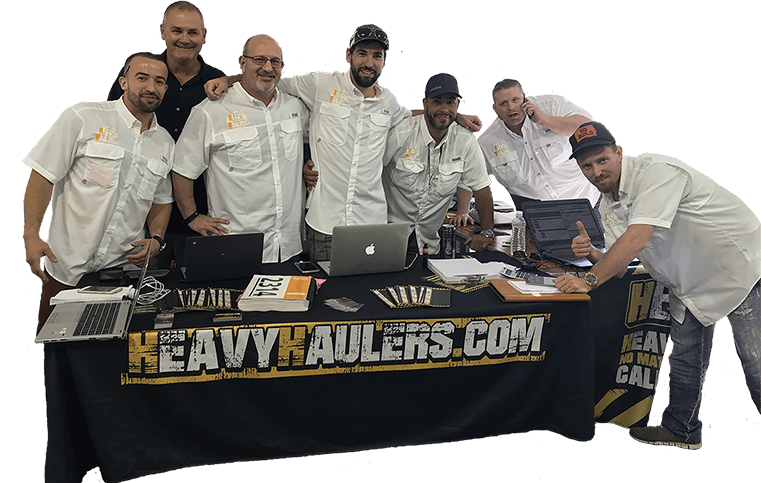 We Are Ready To Help You Haul Your Equipment!
We transport many brands of Trucks across the country and North America
Trust Heavy Haulers to transport any brand of truck you own. We are experienced in handling all types of brands and manufacturers, we have hands-on experience shipping all truck manufacturers there is on the road! Some of the truck brands we commonly ship include:
See what you need?
Call us for a FREE Shipping Estimate at (800) 908-6206