Choose Heavy Haulers to Transport Your Water Tank | (800) 908-6206
At Heavy Haulers we put the interest of clients first as we seek to create a permanent relationship with them. Client's satisfaction is very important to us because the same clients will give referrals to their peers. We have professionally trained individuals who have been operating vacuum trucks for a long time and thus are familiar with how the business works. Other than that, we have an online team that is at your service 24 hours a day throughout the week. Don't be afraid to ask any questions before you make this crucial decision of having us transport for you the water tanks.
Meet the Heavy Hauler Team!
At Heavy Haulers. No water tank is too big or heavy for us, no distance is too long for us, and definitely, no task is too urgent for us. Our team of seasoned experts will load any size of the water tank and deliver them anywhere in the United States, Canada, and even Mexico.
We Can Haul Any Sized Water Tank
No water tanks that are too big for us as we have a wide array of trucks to choose from. Oversize water tanks are no problem, all you need to do is to call us and book our services. Our experienced drivers will load the water tanks and transport them to your destination anywhere in the United States, Canada, or Mexico. Heavy Haulers services are rated the best in an out of United States. So, trust the professionals to handles all your heavy hauling needs. Give Heavy Haulers a call today at (800) 908-6206 for a FREE, no-obligation estimate!
Recent Water Tanks Transported by Heavy Haulers
Loading Six Water Tanks
Heavy Haulers recently assisted a client on this shipment of water tanks. This client called in needing a same day pick up after the original company hired for this shipment could not produce a trailer. Stephen Ladd at Heavy Haulers was able to secure a trailer to pick up these water tanks in California and have them delivered to their destination in Georgia. If you need any freight or implements transported anywhere in the United States, Mexico or Canada call Stephen Ladd! (754) 242-9946
Transporting Water Tanks
Let Stephen Ladd at Heavy Haulers manage your next shipment! This shipment of 6 water tanks was recently hauled from California all the way to Georgia. Stephen Ladd was able to get all 6 water tanks on the same trailer by maneuvering the equipment to fit properly! Heavy Haulers can transport your freight anywhere in the United States, Mexico and Canada! Call today to speak to Heavy Haulers agent Stephen Ladd! (754) 242-9946
Shipping More Water Tanks
This is a shipment of 6 water tanks that Stephen Ladd at Heavy Haulers recently coordinated! These water tanks were picked up in Norco, CA and delivered approximately 2,150 miles away in Fort Benning, GA. The total dimensions of this shipment of water tanks were 53 feet long, 8 feet 5 inches wide, 8 feet 5 inches high with a total weight of 40,000 pounds. Let the professionals at Heavy Haulers handle your next load by calling Stephen Ladd today! (754) 242-9946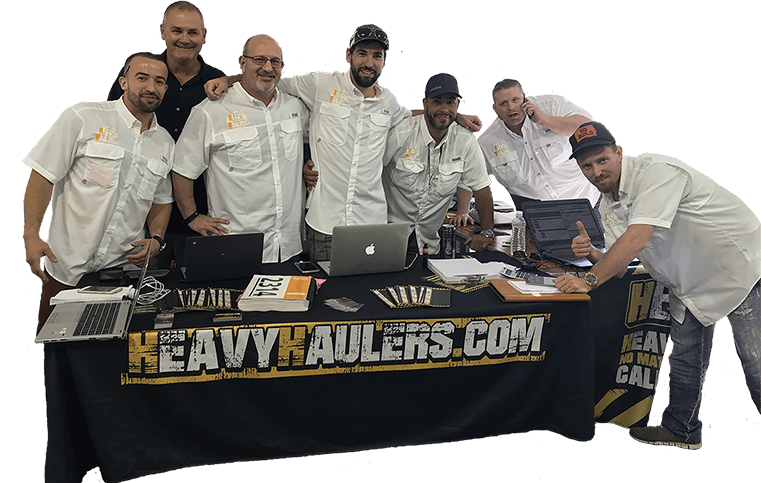 How to Transport a Water Tank
We offer a wide range of services to our clients. Many clients come in asking how w ship water tanks. As such, there are different methods employed when shipping water tanks.
Depending on the size and the number of the tanks, we follow up your requests with a team of experienced experts to recommend the right method that best suits your needs; For instance, if the tank is made of polymers, it will require a delicate approach compared to steel.
See what you need?
Call us for a FREE Shipping Estimate at (800) 908-6206
We Calculate the Most Efficient Shipping Distance Your Water Tank Will Need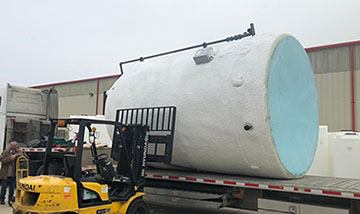 We need to know the distance that will be covered to get the water tanks their final destination. This will help us in determining the overhaul trucks that are best for this expedition. We have a team of experienced logistics who understand the regulations concerning road weights in every state. They will carefully select the best route to ship your water tank and will be in constant communication with our skilled drivers to ensure your equipment reaches its destination safely and timely. Therefore, no distance is too long for us. We can transport your equipment to any part of the United States or across the borders to Canada or Mexico. Our team will provide you with an overview that indicates the rates we charge per mile. These rates are standard, and you can only find such an offer from our company.
Loading Urgency of Your Water Tank Load
We know that you can lose a lot of business opportunities if we don't deliver the tanks on time. Our vacuum trucks run at a standard speed that will ensure that we reach our destination on time. We also do regular service to the transportation trucks to avoid any inconvenience that is caused due to breakdowns. We value your time and believe that any loss of time can cause damage to your business operations. We'll work day and night to make sure that the tanks finally their final destination without any delays whatsoever.Our company has precisely what you need. We understand that the water tanks are delicate and that is why we have personnel in charge of handling the cargo to avoid any damages. We have a wide array of trailers that fit all your needs. Try us today and experience the difference.
Common Trailer Types Available from Heavy Haulers
Heavy Haulers specializes in hauling heavy loads such as construction equipment, oil field rigging and Super Loads. We are wideload experts! We offer an extensive range of trailer choices, including:
Max Weight: 48,000 lbs. | Max Length 53 ft. | Max Width 8.5 ft. | Max Height 11 ft.




Max Weight: 45,000 lbs. | Max Length 29 ft. | Max Width 8.5 ft. | Max Height 11.5 ft.
Max Weight: 150,000+ lbs. | Main Deck Length 29 ft. | Well Width 8.5 ft. | Legal Height Limit 11.6 ft.




Max Weight: 48,000 lbs. | Max Length 53 ft. | Max Width 8.5 ft. | Max Height 8.5 ft.
Common Equipment Manufacturers Heavy Haulers has Experience Transporting
Trust Heavy Haulers to transport any tupe of size load you own. Most of our drivers are experienced heavy-machinery operators who can safely maneuver your loads aboard our trailers. Some of the brands we have shipped include:
The hauling weight of Your water tank also determines the shipping cost
Different water tanks have different weights depending on the size and material that they are made of. Get to know the tonnage of your tanks before you choose the suitable transportation mode. What's best; involve our team to get the best guideline and a suitable trailer. We will give you the standard ratings of the cost per ton. Generally, heavy tanks require transport types of machinery that have a lower center of gravity to enhance their stability. At Heavy Haulers, we will handle the weight no matter how unusual it is and your tanks will be delivered at our doorstep within the scheduled time. Call (800) 908-6206 or email us at dispatch@heavyhaulers.com and enjoy an extensive range of trailer choices for your water tank.







11423605

MILES TRAVELED






1214292

LOADS SHIPPED







1315658103

TONS TRANSPORTED






921637

CLIENTS SATISFIED