4 Things to Know When Heavy Hauling on Snowy Roads
With winter in full swing, there are some key things to note about heavy hauling on snowy roads that can not only improve the safety of heavy haulage transport but the safety of all road users traveling this winter. Taking Alaska as an example, throughout winter, Anchorage and the surrounding areas will see almost 75 inches of snowfall, with up to 10 inches per snowfall. Out of 365 days of the year, 149 days will have at least 1 inch of snow, and 128 days will have at least 3 inches of snow. That's a lot of snow to contend with if you need to travel this part of the world! Alaska isn't the only state prone to snowfall, though; many others are too.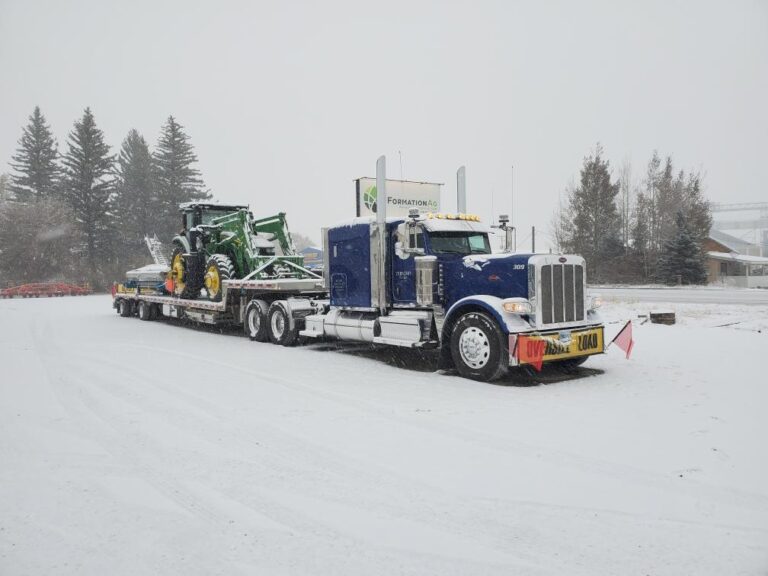 1 – There Are At Least 11 States That Have Brutal Winters
We're using data from the National Centers for Environmental Information to illustrate our point here, a study that recorded the highest average snowfalls across all cities in each state. Somewhat surprisingly (although probably not if you live there!), New York retains the top spot for the state with the snowiest winters. Syracuse, in particular, is exceptionally prone to wintry weather, and New Yorkers can generally expect to see over 120 inches of snow per year.
Wyoming sits at number two with an average annual snow measurement of 90 inches. While it receives a lot of snow, the snowfall is accumulated over much fewer days – Wyoming can see 90 inches of snow in as little as a month. Vermont sees almost double the number of snowy days, with 54 on average, and as much as 80 inches falls annually in the state. One unsurprising contender for the snowiest state is Alaska, but other states that receive a surprising amount of snow include:
– West Virginia
– Maine
– New Hampshire
– Utah
– Minnesota
– North Dakota
– Michigan
Click on eatch state to find out more about our transport services.
2 – It is Essential yo Adapt Your Driving Style When Heavy Hauling in Snow
Especially on snow-covered and icy roads, you'll need good maneuvering skills and skid control. Many accidents this time of year are due to driving too fast. During snowy and icy conditions, lower speeds are necessary to increase safety. Try to avoid traveling as part of a 'pack' while driving in cold, icy conditions and keep as much distance between your vehicle and others when possible. This leaves you plenty of room to take advantage of longer stopping distances and avoid collisions. When braking, your cab slows, but your trailer will not, so you'll need longer distances to come to a full stop safely. When snow is heavy, and visibility is low, driving close enough to see someone else's tail lights means you're following them too closely, so drop back. Most of these driving rules apply, regardless of whether you're truck driver, escort vehicle, or other road user.
3 – A Clean Vehicle is Safer and More Practical When Heavy Hauling Equipment in Winter
While it's cold and you don't want to be stood outside your vehicle making sure it's clean, there is a good reason for cleaning as much as possible: it makes driving much, MUCH safer. Removing snow and ice from the windshield in front of the steering wheel is necessary, but so is cleaning off the rest of the windshield. When possible, knocking the snow off the roof so that it doesn't fall while driving. Snow and ice blowing off the top of your vehicle can limit other's visibility, including those traveling behind you. Ensure all lights are as clean as possible so that you give yourself as much chance as possible to see and be seen during inclement weather.
4 – The Right Tires are Essential for Heavy Haul Transport in Snow
When it's icy, snowy, or you need to drive on dry roads during freezing temperatures, before you set off, you must make sure you have the right tires fitted. All-season tires can suffice, but winter-specific tires are better. Summer tires become stiff in colder temperatures, and their tread is less suitable for driving on snow, so you'll have less grip. Keep an eye on the wear of the tire, and it's age. If your tread is wearing out, the advantages you gained from using winter-specific or all-season tires diminish. If you know the age of the tires – great! A good rule of thumb is that winter tires should be used for no longer than four consecutive years. Your truck should be fitted with good quality 'lug' tires or winter tires if you're expecting to drive in snowy weather. Inspect your trailer tires often, especially if you've just hooked up a trailer to your cab.
Get Your Equipment Transport Quote Now!
Step 1:

Fill Out Quote Form

Fill out the short & easy quote form.
Step 2:

Speak With An Agent

We'll pick up your heavy equipment or vehicle.
Step 3:

Get Transported On Time

We deliver on time so you can get back to work.