Hassle-Free Lawn Mower Transport
Choose Heavy Haulers to move your lawn mower, no matter how large or small. Oversized mowers are great for clearing large swaths of grass on afield or over a golf course. These larger lawn mowers aren't road-worthy, though, and when you're moving from one job site to the next, you'll need a safe, reliable company for transporting a lawn mower. Heavy Haulers, a shipping company that specializes in moving heavy equipment, has the fleet and knowledge to safely handle any lawn mower hauling that you need.
Even if your riding lawn mower has sturdy tires, it's not designed for traveling along roads or sidewalks. If you're moving a fleet of mowers, or if you just need a newly purchased mower delivered to you, trust the experts at Heavy Haulers. With over ten years specializing in oversized equipment that other companies can't handle, Heavy Haulers have made a name for themselves with lawn mower towing, in addition to our other oversized equipment moves.
Even if you're moving your personal mower from your old home to your new one, a riding lawn mower may not transport well in your moving van. In fact, some moving companies may not even ship your lawn mower, meaning that you'll have to look into separate lawn mower shipping. The team at Heavy Haulers has you covered, whether you're moving across North America, or just across town.
Safe Lawn Mower Transport and On-Time Delivery
Picking the right lawn mower towing service doesn't have to be a hassle. One quick call to the team at Heavy Haulers gets you started. We offer safe, reliable lawn mower transport, not just riding mowers, but everything that your landscaping business needs to function reliably. This includes edgers, hedge trimmers, weed whackers, and anything else you need.
At Heavy Haulers, we understand that time is money, so you need your lawn mower transport on time, every time. We take the guesswork out of moving a riding lawn mower for you – with a fleet capable of shipping everything from a small John Deere home mower to airplane wings and backhoes, we have just the right truck or flatbed trailer for hauling a lawn mower. Call us now and let's get started! (800) 908-6206
Shipping a lawn mower with Heavy Haulers begins with a quick phone call to one of our logistics managers. They'll ask the dimensions and weight of your mower, along with the make and model. Our team then determines the best rig to move your mower, whether its an extended bed pickup truck or a larger flatbed with a ramp to drive the mower up.
Loading your mower for transport is a job for professionals. We'll ensure that it's secured and all the fluids and gas are drained out of it for safety. The drivers at Heavy Haulers are licensed and bonded, insured for your protection. They're professionally trained to properly load your lawn mower and any other landscaping equipment and delivery are fast, on your timetable. The route planners determine the best way to ship your lawn mower, so that it's on time, ready for you to get to work. We'll even give you an online code so that you can track your shipment in real-time.
Contact Our Expert Shipping Specialists
(800) 908-6206
See what you need?
Call us for a FREE Shipping Estimate at (800) 908-6206
We transport many brands of lawn Mowers across the country and North America
Trust Heavy Haulers to transport any brand of lawn mower you own. We are experienced in handling all types of brands and manufacturers, we have hands-on experience shipping all lawn mower manufacturers there is on the road! Some of the lawn mower brands we commonly ship include:
Common Trailer Types Available from Heavy Haulers
Heavy Haulers specializes in hauling heavy loads such as construction equipment, oil field rigging and Super Loads. We are wideload experts! We offer an extensive range of trailer choices, including:
Max Weight: 48,000 lbs. | Max Length 53 ft. | Max Width 8.5 ft. | Max Height 11 ft.




Max Weight: 45,000 lbs. | Max Length 29 ft. | Max Width 8.5 ft. | Max Height 11.5 ft.
Max Weight: 150,000+ lbs. | Main Deck Length 29 ft. | Well Width 8.5 ft. | Legal Height Limit 11.6 ft.




Max Weight: 48,000 lbs. | Max Length 53 ft. | Max Width 8.5 ft. | Max Height 8.5 ft.
HEAVYHAULERS.COM
START YOUR SHIPMENT TODAY!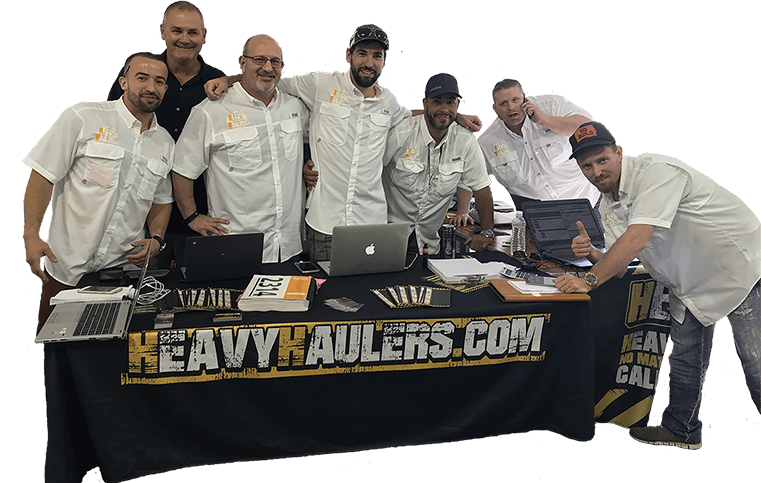 See what you need?
Call us for a FREE Shipping Estimate at (800) 908-6206