Transport Machinery Locally or Long Distance with Heavy Haulers
Heavy Haulers provides comprehensive machinery shipping in all 50 states, including Alaska and Hawaii. Whether you're transporting industrial machinery, factory machinery, conveyors, generators, and more, we can provide you with quality machinery transport and delivery. At Heavy Haulers, we take pride in our machinery hauling capabilities. One call to our logistics team will provide you with a free machinery equipment shipping cost estimate. (800) 908-6206
Whether you're transporting your heavy machinery locally or across the country, Heavy Haulers has the right tractor trailers to get it there safely. We take into account the machinery type, weight, height, shape, and more to ensure that your cargo is shipped in the safest manner possible. Machinery shipping is done right with us, because we care about your equipment. Call now! (800) 908-6206
International Machinery Transport Options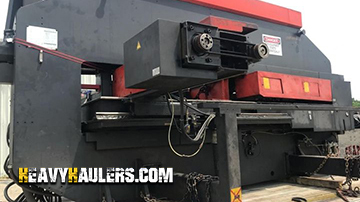 Turret Press 720 Shipping
We've got the paperwork covered too. A logistics agent will handle all paperwork and permits necessary, so your heavy machinery is moved where it needs to be. That includes custom forms as well. Whether you're shipping locally, across the country, or internationally, Heavy Haulers ensures a hassle-free machinery transport experience.
The logistics specialists plan out the best route for your shipment, taking into account the weight and size. We understand that different states and roadways have different regulations for transport, so we always make sure that we're in compliance with state and local laws. We also make sure to adhere to port-to-port protocol to ensure there's no delay on our part. We plan every step of machinery transport. Heavy Haulers has a decade of experience and understands how much your heavy machinery cargo means to you and your livelihood. That's why we strive to deliver your machinery on time, so you can get back to work.
Heavy Haulers is YOUR Professional Heavy Machinery Shipping Company
Heavy Haulers enjoys a challenge. That's why we are the first – and often only – shipping service that construction company owners, government contractors, and oil rig specialists call to move their equipment from one job site to the next. Warehouse operations trust Heavy Haulers to move delicate specialty machinery without damaging expensive computer grids or gears. Even agricultural companies ask us to help move small planes, helicopters, and food processing machinery.
Shipping Heavy Machinery is Affordable and Reliable with Heavy Haulers!
Heavy Haulers understands your machinery is necessary to your livelihood. Whether you're moving your machinery for a new project or shipping heavy machinery to a new owner, we will find you the most affordable prices. We don't just provide a driver, we provide the best driver to ship machinery for you. Each heavy equipment transport is different and needs a unique transport solution. Our professional and highly skilled logistics agents will gather all the information to provide you with a reliable heavy machinery shipping experience.
Discover what Heavy Haulers can do to improve your next project. One phone call to (800) 908-6206 and you'll receive a FREE, no obligation quote for your machinery shipment.
See what you need?
Call us for a FREE Shipping Estimate at (800) 908-6206
See More of Our Recent Machinery Shipments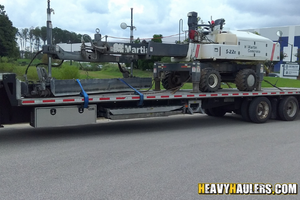 Transporting a 2015 Somero S-22E Laser Screed
Origin:Summerville, SC 29486
Destination:Portland, TN 37148
Specs: 2015 Somero S-22E Laser Screed; 13600lbs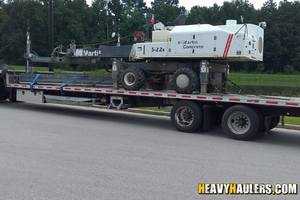 Transporting a 2015 Somero S-22E Laser Screed
Origin:Summerville, SC 29486
Destination:Portland, TN 37148
Specs: 2015 Somero S-22E Laser Screed; 13600lbs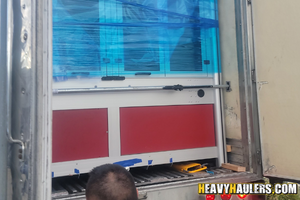 Transporting a 3D Imaging Machine and Office Supplies
Origin:VALLEY STREAM, NY 11580
Destination: MIRAMAR, FL 33023
Specs: 576L x 102W x 95H; 20000lbs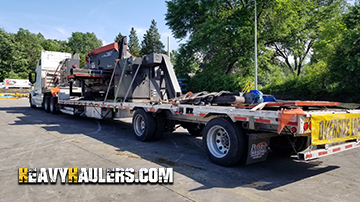 Turret Press Shipped on a Flatbed Trailer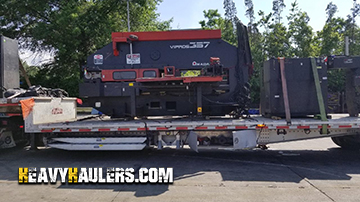 Turret Press Being Hauled by Heavy Haulers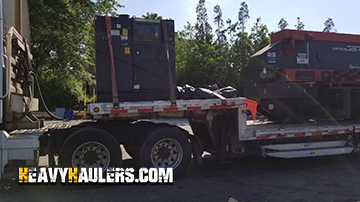 Turret Press Being Shipped on an Upper Flatbed Trailer
Heavy Machinery Shipping Info and Tips:
● Have the make, model, dimensions, and weight for the logistics agent.

● Make your agent aware of any specialty equipment needed for transportation.

● If you are unsure, ask your logistics agent if the machinery will need to be crated.

● Machinery shipping costs vary based on machinery specs, timeframe, freight class, and distance to travel.

● If your machinery cargo is considered to be an oversize load pilot and escort cars will be required.
Heavy Haulers Will Ship Your Heavy Machinery Carefully and On-time!
Once you decide on the right shipping service to suit your needs, we will then work closely alongside you to work out the right price, so that you will always be able to enjoy our service without paying an arm and a leg. Moreover, we want to be sure that you are receiving a tremendous price on your machinery shipping, and we always provide fabulous deals on all our machinery shipping services. We have also hired some of the most qualified professionals in the transport industry, and we are consequently in a position to provide you with fantastic service.
Keep in mind that Heavy Haulers has experience transporting plasma machines, engraving machines, laser machines, and milling machines. You ought to consider the fact that we are a high-quality provider of all sorts of industrial machinery shipping services. Therefore, whether you need help with moving, shipping, hauling, towing, or transporting your machinery, we will be able to help.
Heavy Haulers can Transport all Types of Heavy Machinery Including: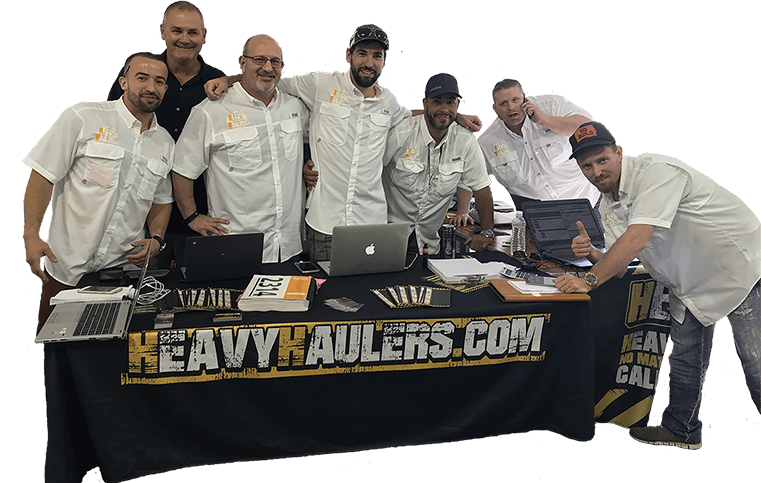 How to Transport Heavy Machinery
We are a team of experts that specializes in the transportation, relocation, and moving of heavy machinery. From agricultural, forestry, and construction equipment, we have fine-tuned our logistics to make your work more adaptable. Whether you are a contractor or a firm, out team f pilot cars, drivers, and carriers are always on standby to see each project to the end.
When it comes to transporting heavy machinery, we simply breakdown the whole process into manageable tasks each handled by an exclusive team of our specialized employees. Find out more on what it takes to deliver your heavy machinery to its destination by calling us or chatting with any of our agents countrywide.
F
Common Equipment Heavy Haulers Transports
Trust Heavy Haulers to transport any brand of equipment you own. Most of our drivers are experienced heavy-machinery operators who can safely maneuver your loads aboard our trailers. Some of the brands we have shipped include:
Heavy Haulers Ships Across All 50 States
Alabama - Alaska - Arizona - Arkansas - California - Colorado - Connecticut - Delaware - Florida - Georgia - Hawaii - Idaho - Illinois - Indiana - Iowa - Kansas - Kentucky - Louisiana - Maine - Maryland - Massachusetts - Michigan - Minnesota - Mississippi - Missouri - Montana - Nebraska - Nevada - New Hampshire - New Jersey - New Mexico - New York - North Carolina - North Dakota - Ohio - Oklahoma - Oregon - Pennsylvania - Rhode Island - South Carolina - South Dakota - Tennessee - Texas - Utah - Vermont - Virginia - Washington - West Virginia - Wisconsin - Wyoming
Looking For Transport
With a Specific Trailer?

Max Weight: 150,000+ lbs. | Main Deck Length 29 ft.
| Well Width 8.5 ft. | Legal Height Limit 11.6 ft.

Max Weight: 48,000 lbs. | Max Length 53 ft.
| Max Width 8.5 ft. | Max Height 8.5 ft.
Max Weight: 48,000 lbs. Max Length 53 ft. |
Max Width 8.5 ft. | Max Height 11 ft.
Max Weight: 45,000 lbs. | Max Length 29 ft.
| Max Width 8.5 ft. | Max Height 11.5 ft.
Heavy Haulers Pilot Car Services
Are you looking for a reliable pilot car
for your transport?
Get Started
HEAVYHAULERS.COM
START YOUR SHIPMENT TODAY!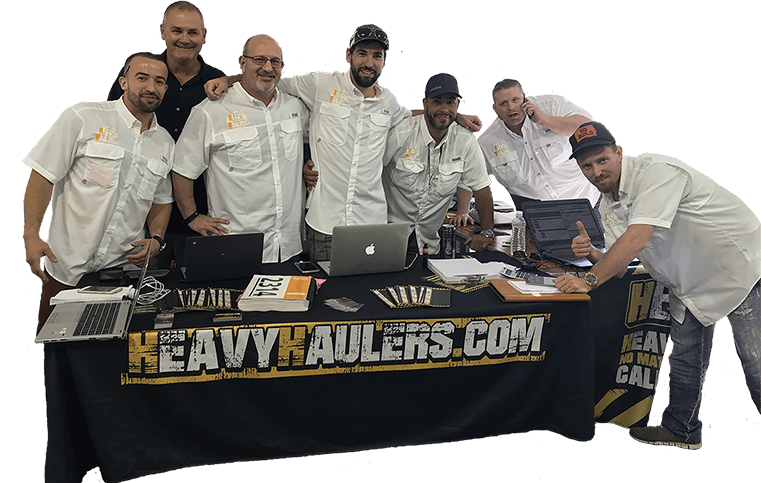 We Are Ready To Help You Haul Your Equipment!
Determining the Freight Class When Shipping Machinery
Machinery is one of our most commonly shipped items. One of the first questions our logistics agents are asked is, "What freight class does machinery fall into?" Well, that depends on the machinery. Here are some factors that go into deciding machinery shipping freight class
● Size, weight, and dimension all factor into machinery freight class.

● Will your machinery fit in a shipping crate or crates?

● Does your machinery need to be transported as an oversize load?

● Density is always the biggest key in determining machinery shipping freight class.

● Liability is also a factor that comes into play when determining freight class. The greater the risk, the greater the freight class, the greater the cost.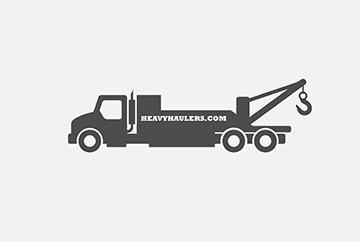 Our Heavy Machinery Services Include:
● Shipping heavy machinery equipment

● Transporting heavy machinery equipment

● Hauling heavy machinery equipment

● Heavy machinery shipping, transporting, and hauling to US, Canada, and Mexico

● Industrial machinery transport

● Factory machinery shipping

● Machine parts hauling

● Local heavy machinery transport

● International heavy machinery shipping

● Machinery shipping and transport tips
Visit Heavy Haulers for All Your Machinery Transport Needs
The information provided by our employees allows a shipper to have the support they require to choose their next machinery shipper with peace of mind, with confidence, and without the difficulty of trying to find a qualified machinery shipping company. You merely have to consult with our specialists to determine the accurate price. Also, by hiring Heavy Haulers, you will be able to relax with the satisfaction of knowing that you are receiving a top of the line machinery shipping service at a fantastic price.
Consequently, this fact signifies that you will be able to visit our business and we will then help you determine the right shipping service for your needs. Forget about the hassle of visiting different providers with the aim of discovering a competent machinery shipping service provider. Therefore, you ought to be cognizant that all you have to do is contact us and we will take care of the rest. Give us a call toll-free at (800) 908-6206 or click the button below to fill out a form to request a shipping quote. We look forward to serving you!