An All-Inclusive RV Transport Company With Competitive Shipping Rates
Heavy Haulers is the best RV transport company in the country. We provide complete RV transport services to move your motorhome across the country. If you need to ship a motorhome across the country or haul your RV to the shop, we'll get it delivered safely. Our total transport solutions include driveway, trailer transport, towing, and more. We also provide RV transport for everything, including travel trailers, 5th wheel trailers, campers, and more. Heavy Haulers has over a decade of experience shipping motorhomes and RVs. For moving your RV, we find the best driver and trailer for transport and deliver on time.
Heavy Haulers is a one-stop-shop for all RV transport services. As an all-inclusive motorhome shipping company, we handle everything from permits to loading assistance. A dedicated logistics agent finds the most affordable rates and pre-plans the route before shipping. We also find the most competitive rates based on your motorhome transport needs. At Heavy Haulers, safety is our top priority. That means we pay attention to every detail of RV transport because we want you to have a confident shipping experience. Call now and get a motorhome shipping rate! (800) 908-6206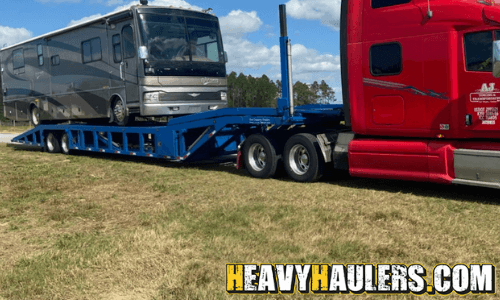 Contact Our Expert RV Transport Specialists
(800) 908-6206
Heavy Haulers: The Best Motorhome Shipping Services For Local and Long Distance Transport
Heavy Haulers is the best company to ship your motorhome. Your RV transport specialists will determine the best way to move your motorhome or trailer based on the information you provide. Your dedicated logistics agent will be with you from dispatch to delivery, answering questions you may have for transparent transport. Heavy Haulers is licensed, bonded, and insured, so you can be confident with your motorhome shipping solutions. Your RV move is important to you, and that makes it important to us. We handle every transport as if it's our own equipment being moved. We handle your RV or motorhome transport with the quality service we'd expect for ourselves.
Families and travelers use RVs, also known as recreation vehicles, when taking trips across the country, or just camping out for the weekend. Some RVs are motorized—which is why they're called motorhomes. Other types of RVs include campers, 5th wheel, travel trailers, toy haulers, and more. Some are RVs are made for cross-country trips, while others are perfect for a nature outing near home. Heavy Haulers has the dedication and experience to ship your motorhome across town, or transport it across the country. We offer top-quality motorhome shipping services that fit your needs. We believe in making the motorhome moving experience the best it can be. Transport your RV or motorhome with us today. Get your RV transport rate today! (800) 908-6206
As your go-to RV shipping company, we provide custom shipping services. These include:
• Tow-Away RV Services: RV Tow-away services are when you need to have your travel trailer, 5th wheel, or camper hitched to another vehicle and towed away.


• Flatbed RV Transport Services: This is the most common method of RV transport. Depending on the type of motorhome, travel trailer, etc, a logistics agent will determine the best type of trailer to ship your RV. This may be a flatbed, RGN, or drop deck, just for example. If load assistance is needed, we also provide that.


• Drive-Away Motorhome Services: Drive-Away motorhome transport is when we dispatch a qualified driver, who will then drive your motorhome wherever you need it delivered.
Common Motorhomes and RVs Heavy Haulers Transport
● Class A Motorhomes and RV Transport

● Class B Motorhomes and RV Shipping

● Class C Motorhomes and RV Transport

● Towable RV Shipping

● Campers Transport Shipping
● Fifth Wheel Trailer Transport

● Travel Trailer Transport

● Expandable Trailer Shipping

● Toy Hauler Transport
See what you need?
Call us for a FREE Shipping Estimate at (800) 908-6206
Recent RV Shipments by Heavy Haulers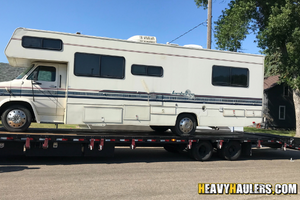 Shipping a 1194 Chevy 454 Chassis Jamboree Motorhome
Origin: Jamestown, ND 58401
Destination: Backus, MN 56435
Specs: 16,000# 30ft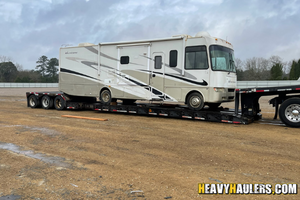 Shipping a 2006 Hurricane Motorcoach
Origin: Theodore, AL 36582
Destination: Fort Lauderdale, FL 33332
Specs: 25,000# 34L 6W 12H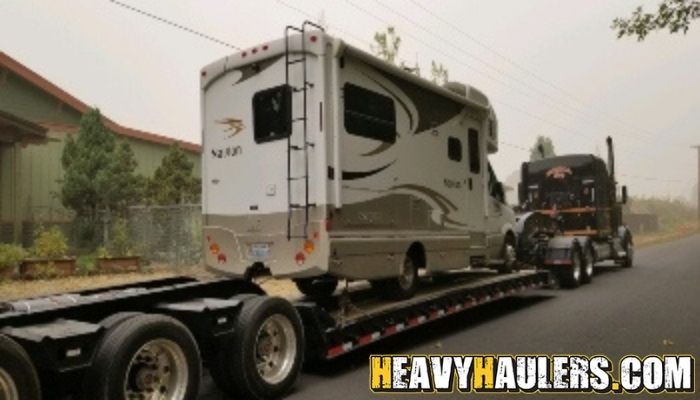 Shipping a 2012 Davion Itasa RV
Origin: Vancouver, WA 98664
Destination: Nashua, NH 03062
Specs: 11,000# 25L 7.5W 11.3H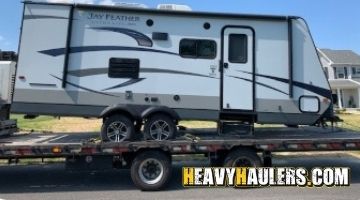 Transporting a Jayco RV to Colorado
Origin: Bridgeton, NJ
Destination: Greeley, CO
Specs: 2015 Jayco RV 4550# 25L 8W 10H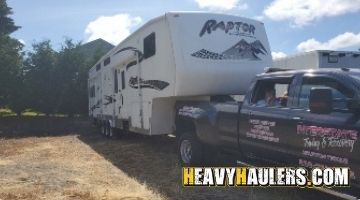 Shipping a Raptor Toy Hauler
Origin: South Prairie, WA
Destination: Yakima, WA
Specs: 2006 Raptor Toy Hauler #12000 35x8x11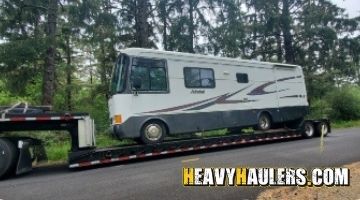 Hauling a Holiday Rambler Admiral RV on a step deck trailer
Origin: Long Beach, WA
Destination: Payson, AZ
Specs: 2001 holiday ramble admiral 30d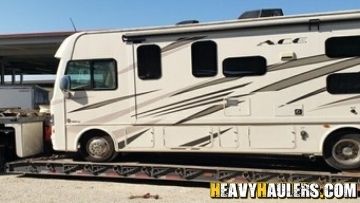 2018 Thor Ace RV Transport
Origin: Frisco, TX 75034
Destination: Manistique, MI 49854
Specs: 2018 Thor Ace RV; 31.6L X 8.6W X 12.2H; 23,000 lbs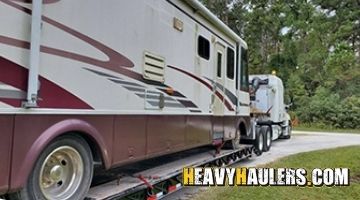 Shipping a Mountain Aire RV
This Mountain Aire RV was shipped from Palmetto to Jacksonville, in Florida by Ray Wilson, a specialist mobile home equipment shipping specialist. The 26,000-pound RV had a length of 38 ft. and a height of 11 ft. which required a capacity handling Heavy Haulers RGN trailer. Hal and his Heavy Haulers load handlers tied down the 8.5 ft. wide Mountain Aire RV for the 70-mile within-state journey.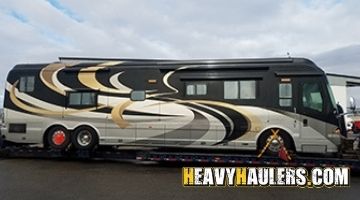 Magna Motorhome Outrigger RV transported on a trailer
This 52,000 pound Magna Motorhome RV bus was shipped from Saskatoon, SK to Edmonton, AB by Milos Visnjic, a Heavy Haulers logistician and dispatch coordinator. The 10 ft. high and 8 ft. wide Magna Motorhome Outrigger Haul required permits, after which it was loaded onto an RGN trailer and tied down with belts and chains. Its 45 ft. length was accommodated entirely by the Heavy Haulers RGN trailer for the 539-mile journey.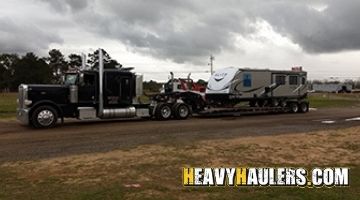 Keystone Travel Trailer RV being hauled on a trailer
William Thomas, the Heavy Haulers equipment shipping specialist for RVs and mobile homes, performed the logistical planning and dispatch coordination for this Keystone Travel Trailer RV. The move was from Newton, Alabama, to Jacksonville, Florida, and William Thomas loaded the 8,500 pounds Keystone Travel RV onto an RGN lowboy trailer, which comfortably accommodated its 37 ft. length, 10.5 ft. height and 15 ft. width for the 512-mile journey.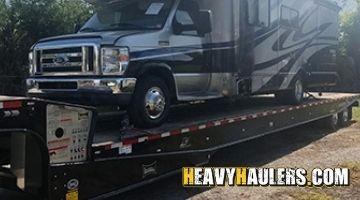 Transporting a Ford RV on an RGN
William Thomas from Heavy Haulers shipped this Ford RV from Palmetto to Jacksonville, Florida, on an RGN trailer. He loaded the 15,000 pound Ford box truck RV by lowering the gooseneck capability of the platform and tied it down with chains. The ford RV had dimensions of 25 ft. length, 8.5 ft. width and 10.5 ft. height, for which delivery was made within the stipulated time frames within its intrastate shipping package.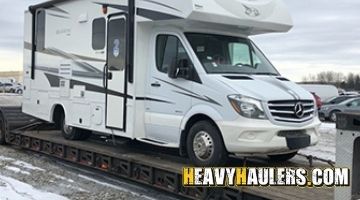 Teardrop Mercedes Motorhome RV being hauled to Baltimore, MD
This 15,000 pound Mercedes Motorhome was loaded on a Heavy Haulers RGN trailer by William Thomas for delivery in Baltimore, Maryland, from Louisville, Kentucky. The 11.5 ft. high and 8.5 ft. wide Mercedes box truck Motorhome was tied down for securing as an on-width transport, before being driven 593 miles along I-65 N and US-31 N. the 24 ft. long Mercedes Motorhome had been conveniently timed, and its route plat made delivery possible within schedule.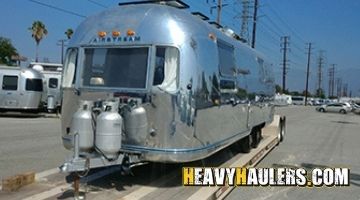 Vintage Airstream RV Transport
The shipment of an 8,500-pound Vintage Airstream RV was made by William Thomas from Heavy Haulers, using a capacity handling RGN trailer. After pick up in Franklin, MA, the 8 ft. wide and 10.5 ft. high Vintage Airstream RV was hauled 2,060 miles to Los Angeles, CA. William Thomas and his Heavy Hauler load vintage classic handler made the delivery of the 27 ft. long Vintage Airstream RV with time on the estimated schedule to spare.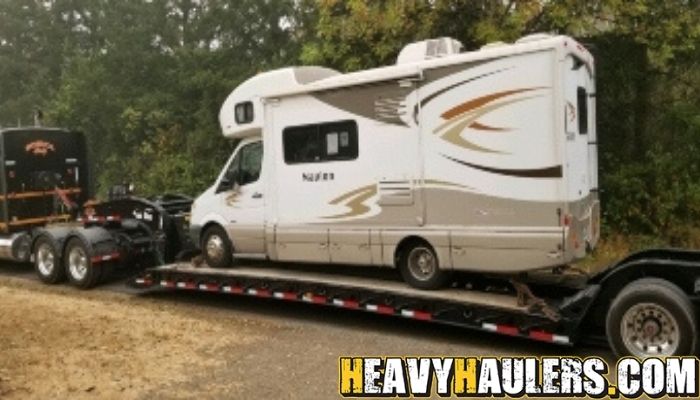 Shipping a 2012 Davion Itasa RV
Origin: Vancouver, WA 98664
Destination: Nashua, NH 03062
Specs: 11,000# 25L 7.5W 11.3H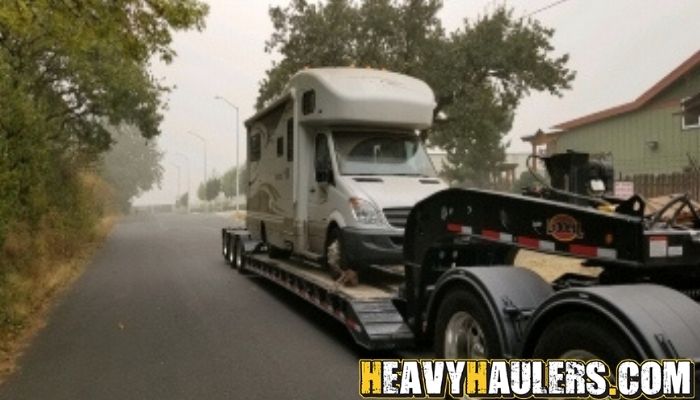 Shipping a 2012 Davion Itasa RV
Origin: Vancouver, WA 98664
Destination: Nashua, NH 03062
Specs: 11,000# 25L 7.5W 11.3H
How Much Does RV Transport Cost?
The price of shipping an RV is based on multiple things. A few of these rate factors include the type of RV, how far you plan to transport it, along with details that may vary, such as the price of gas and toll charges. It can cost anywhere from a couple hundred to a couple of thousand dollars for RV transport. Since the price varies greatly depending on the route, time of year, size of the RV, and several other factors, it's best to call one of our logistics agents. They'll take all the provided information and find the best possible solution for RV transport.
Heavy Haulers offers:
Door-to-door transport
24/7 Customer Service
Free Cancellations
Contingency Insurance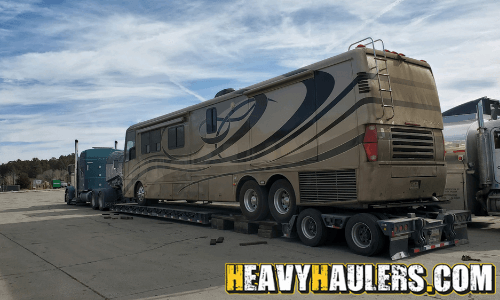 How To Prepare An RV For Transport
At Heavy Haulers your logistics agent will guide you through the full process of RV transport. Here are a few tips to prepare your RV for shipping.
● Have the RV make, model, dimensions, and weight for the logistics agent. This helps us determine the best trailer to haul your RV or motorhome.




● Remove all personal items that are important to you. This ensures they aren't lost or damaged during the RV transport.




● Turn off and unplug all electronics. Make sure to disconnect the gas and power supply.




● Make sure all interior compartments of your motorhome, RV, or towable are latched and sealed.




● If you are using drive away or tow away services, double check that your wheels, fluid levels, engine, and brakes are in working condition. This is for the safety of your RV and the driver.



Let's get started! Call Heavy Haulers for a free RV transport quote! (800) 908-6206
See More of Our Recent RV Transports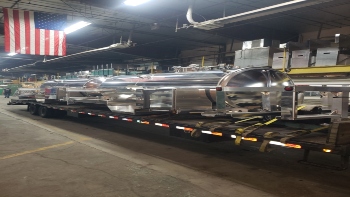 Transporting Two Metal Tanks
Origin: Bellefonte, PA 16823
Destination: Denver, CO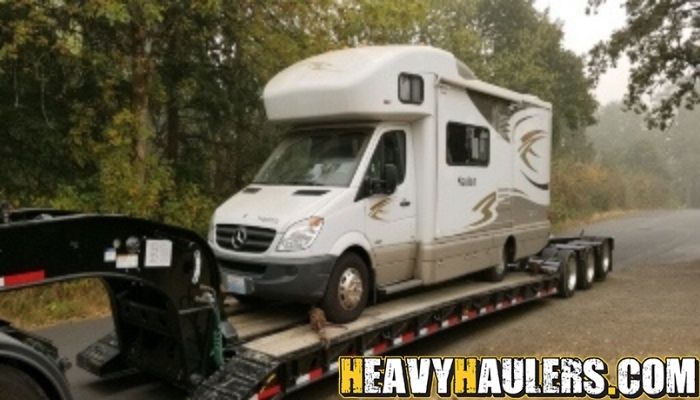 Shipping a 2012 Davion Itasa RV
Origin: Vancouver, WA 98664
Destination: Nashua, NH 03062
Specs: 11,000# 25L 7.5W 11.3H
See what you need?
Call us for a FREE Shipping Estimate at (800) 908-6206
Things to Know About Motorhome Shipping Companies
Clients look for an RV transport company more than you might think. But when it comes to shipping a motorhome, you want to find a company that pays attention to detail. Your RV is important to you. Most likely you've made plenty of memories traveling across the country. That's why when you're searching for RV transport companies, you need the best. At Heavy Haulers we do it all. We provide custom shipping solutions, offering load assistance, and plan the best route available. We make sure the driver has experience transporting RVs and motorhomes. Heavy Haulers is license, bonded, and insured, meaning your RV is always safe with us. As one of the nation's leading RV transport companies, we make sure to haul your RVs and motorhomes safely and delivery on time. Call now! (800) 908-6206
Heavy Haulers offers:
Door-to-door transport
24/7 Customer Service
Free Cancellations
Contingency Insurance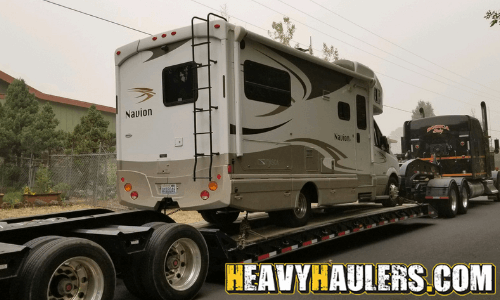 Dependable Motorhome and RV Transport Services with Heavy Haulers
With over a decade of experience, Heavy Haulers has become one of the leading RV transport companies in the industry. We provide a variety of options to fit whatever motorhome, towable, or RV shipping needs you have. Heavy Haulers picks up and delivers your RV on time. Let's get started!
● Most reliable RV transport company.

● Affordable RV and motorhome shipping prices.

● Hassle-free motorhome shipping and transportation services.

● Industry-leading international RV transport company.

● Experienced RV and motorhome transport drivers provide you with a confident experience.
Common RV Manufacturers We Transports
Trust Heavy Haulers to transport any brand of equipment you own. Most of our drivers are experienced heavy-machinery operators who can safely maneuver your loads aboard our trailers. Some of the brands we have shipped include:
Looking For Transport
With a Specific Trailer?

Max Weight: 150,000+ lbs. | Main Deck Length 29 ft.
| Well Width 8.5 ft. | Legal Height Limit 11.6 ft.

Max Weight: 48,000 lbs. | Max Length 53 ft.
| Max Width 8.5 ft. | Max Height 8.5 ft.
Max Weight: 48,000 lbs. Max Length 53 ft. |
Max Width 8.5 ft. | Max Height 11 ft.
Max Weight: 45,000 lbs. | Max Length 29 ft.
| Max Width 8.5 ft. | Max Height 11.5 ft.
Heavy Haulers Ships Across All 50 States
Alabama - Alaska - Arizona - Arkansas - California - Colorado - Connecticut - Delaware - Florida - Georgia - Hawaii - Idaho - Illinois - Indiana - Iowa - Kansas - Kentucky - Louisiana - Maine - Maryland - Massachusetts - Michigan - Minnesota - Mississippi - Missouri - Montana - Nebraska - Nevada - New Hampshire - New Jersey - New Mexico - New York - North Carolina - North Dakota - Ohio - Oklahoma - Oregon - Pennsylvania - Rhode Island - South Carolina - South Dakota - Tennessee - Texas - Utah - Vermont - Virginia - Washington - West Virginia - Wisconsin - Wyoming
Heavy Haulers Pilot Car Services
Are you looking for a reliable pilot car
for your transport?
Get Started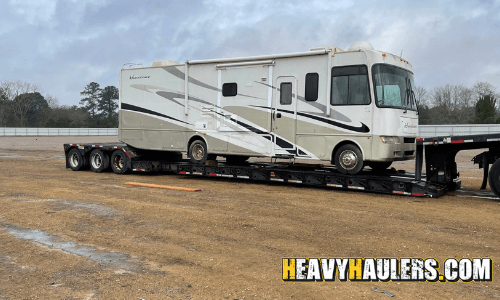 Why Transport Your RV or Motorhome?
There are a variety of reasons that you might want to ship your motorhome or RV. While they're made for long distance trips, vacations, and even long-term living, there are some instances where transporting with a professional company instead of driving or hauling your RV might be a better solution. We come in when you need the best RV service at affordable rates. If you've just purchased a motorhome and need it delivered to your doorstep, we find the best driver to get it done. Sometimes, after a cross-country trip, families opt to fly home instead of a drive. A reputable transport company, like Heavy Haulers, delivers your RV safely, so you don't have to worry. If your RV or motorhome breaks down on the side of the road, we can also provide the best towing service. Heavy Haulers offers a variety of RV shipping services with quality customer service at affordable rates. Find out how we can transport your RV today.
HEAVYHAULERS.COM
START YOUR SHIPMENT TODAY!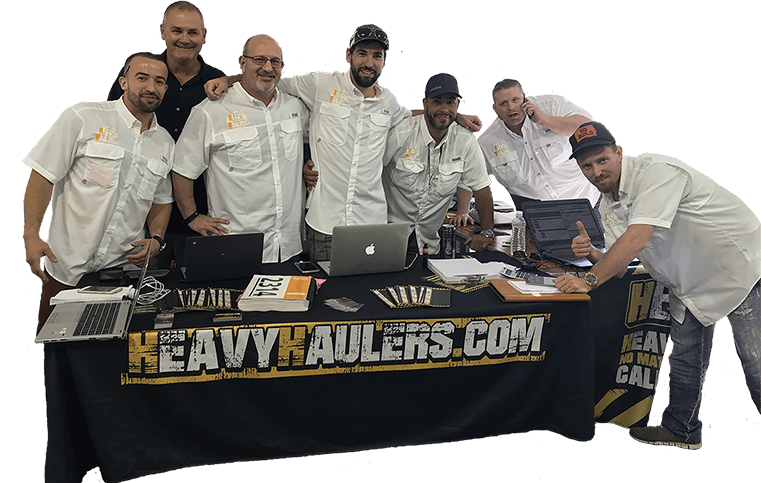 We Are Ready To Help You Haul Your Equipment!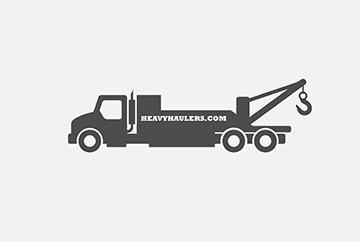 Heavy Haulers RV Shipping Services Include:
● Motorhome and RV Transport

● Shipping RVs across the country

● Transporting RVs locally

● International RV shipping, transporting, and hauling

● Transporting motorhome fleets

● Driveaway RV and motorhome transport services

● Motorhome, RV, campers, and towables shipping services

● All RV class motorhomes hauling

● Towable RV transportation services

● RV and motorhome towing services