Choose Heavy Haulers to Transport Oversized Loads to All 50 States, Canada & Mexico!
Heavy Haulers is a comprehensive heavy equipment shipping company with a sterling reputation for timely and safe hauling across the U.S. and North America - and even marine shipments. Our heavy machinery and construction equipment services include oversized loads and heavier shipments, many of which are beyond the capability of an ordinary transport service. Heavy Haulers partners with experienced drivers that are licensed and bonded, capable of navigating oversized loads along busy highways and through tight city streets. Professional logistics planers create a route that delivers your oversized load safely and in compliance with state and municipal regulations. When you need your oversized loads and unusually configured equipment transported anywhere, from rural to urban, contact Heavy Haulers. One phone call to (800) 908-6206 gets you started!
Heavy Haulers Ships Oversize/Overweight Loads Insured with A+ Rated and Experienced Drivers!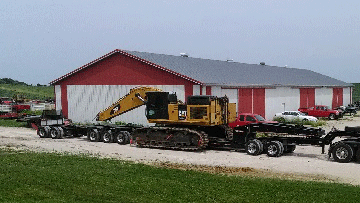 An oversized load can be anything, form an aircraft fuselage to a spool of cable to a multi-tonne excavator. Heavy Haulers has moved them all. The composition of these loads can vary widely, but they all share one thing – they're huge. Oversized loads require different types of permits, as well as specifically rated trailers and rigs. Escort vehicles, designed for safety and required in many areas, are part of the oversized load transport service. Most of the oversized transports require RGN's or extended RGN's to overcome height and weight issues when dealing with equipment of this size and scale. Heavy Haulers arranges the correct type for you, ensuring that your expensive machinery arrives on time, and ready for you to get to work.
Moving Oversized Loads with Heavy Haulers is Seamless!
The logistics specialists at Heavy Haulers make it a priority to understand the different regulations for state, local, and international travel. We compile all the paperwork and permits, from weigh stations to customs, making sure that your drivers can pass quickly. Time is money – and Heavy Haulers prides themselves on saving you both. We're the preferred hauling service for aircraft manufacturers, agricultural industries, raw land developers, and building contractors. Our oversized loads are secured and balanced, protecting your investment. Services include loading and unloading, even into rural areas or oil fields. We pay specific attention to your oversized load and can ship your machinery either alone or as part of a convoy of your entire fleet. Call Heavy Haulers today at (800) 908-6206 for a FREE, no-obligation quote for your oversized load.
Transporting a 2005 Caterpillar 517 Dozer
Heavy Haulers recently transported this 2005 Caterpillar 517 Skidder from Ridgway, PA to Parks, AZ on this cross country 2,200 mile journey. This Caterpillar Track Skidder was 20 feet long, 10 feet wide and 10 feet 8 inches tall and weighed 41,000 lbs. Due to it being over the legal width of 8 feet 6 inches, this shipment required permits to be legally transported and we take care of all of the details so you don't have to. Schedule your next skidder dozer shipment with Brian G. at Heavy Haulers today! - 954-603-1344
Shipping a Caterpillar 926M Wheel Loader
Heavy Haulers recently transported this Caterpillar 926M Wheel Loader from Woodland, Alabama, to Perris, California. The trip was nearly 830 miles long. Weight: 29,000 pounds. Length: 25 feet. Width: 8 feet 4 inches. Height: 10 feet 11 inches. To haul your Caterpillar wheel loader to its next destination, speak with Brian at Heavy Haulers directly at (954) 603-1344.
Hauling a John Deere JD700 Dozer on an RGN
Travis at Heavy Haulers recently transported this John Deere JD700 Dozer. Mr. John Deere dozer was picked up in Milford, MI and delivered in Lobelville, TN in record time with safety being the priority. This dozer weighed over 29,000 pounds and is 16' long x 9' wide and 9'8" tall. If you need your heavy machinery and/or implements transported call Travis at Heavy Haulers for your quick quote. We invite you to experience the Heavy Haulers difference. - 727-388-4339
See what you need?
Call us for a FREE Shipping Estimate at (800) 908-6206
How To Ship Oversized Equipment
There are various types of oversize transports but they all come in one size - HUGE! There are numerous concerns when dealing with transporting oversized equipment and our experts here at Heavy Haulers can assist you with your logistics needs. There are issues to overcome when moving oversized equipment, such as weight issues, obtaining permits, routing and scheduling issues, escort vehicles and more that Heavy Haulers would be happy to arrange for your transport.
Most of the oversized transports require RGN's or extended RGN's to overcome height and weight issues when dealing with equipment of this size and scale. Here at Heavy Haulers we have the experience to deal with all the logistical concerns when moving oversized shipments.
Common Trailer Types Available from Heavy Haulers
Heavy Haulers specializes in hauling heavy loads such as construction equipment, oil field rigging and Super Loads. We are wideload experts! We offer an extensive range of trailer choices, including:
Max Weight: 48,000 lbs. | Max Length 53 ft. | Max Width 8.5 ft. | Max Height 11 ft.




Max Weight: 45,000 lbs. | Max Length 29 ft. | Max Width 8.5 ft. | Max Height 11.5 ft.
Max Weight: 150,000+ lbs. | Main Deck Length 29 ft. | Well Width 8.5 ft. | Legal Height Limit 11.6 ft.




Max Weight: 48,000 lbs. | Max Length 53 ft. | Max Width 8.5 ft. | Max Height 8.5 ft.
HEAVYHAULERS.COM
START YOUR SHIPMENT TODAY!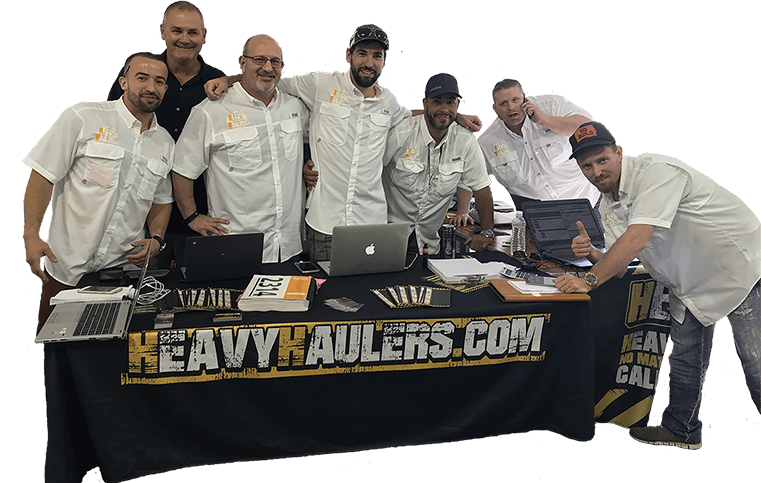 Types of Equipment Heavy Haulers has Experience Transporting
Trust Heavy Haulers to transport any brand of equipment you own. Most of our drivers are experienced heavy-machinery operators who can safely maneuver your loads aboard our trailers. Some of the brands we have shipped include:
Heavy Haulers Ships Oversized Equipment
Heavy Haulers ships oversized equipment. Speak with one of our logistics professionals to arrange efficient and affordable transportation for your oversized equipment. Your representative shops for the best rates for you, dispatches your load when you're ready, and shepherds your transport to a successful conclusion. Let's begin our relationship today.
Heavy Haulers offers:
Door-to-door transport
24/7 Customer Service
Free Cancellations
Contingency Insurance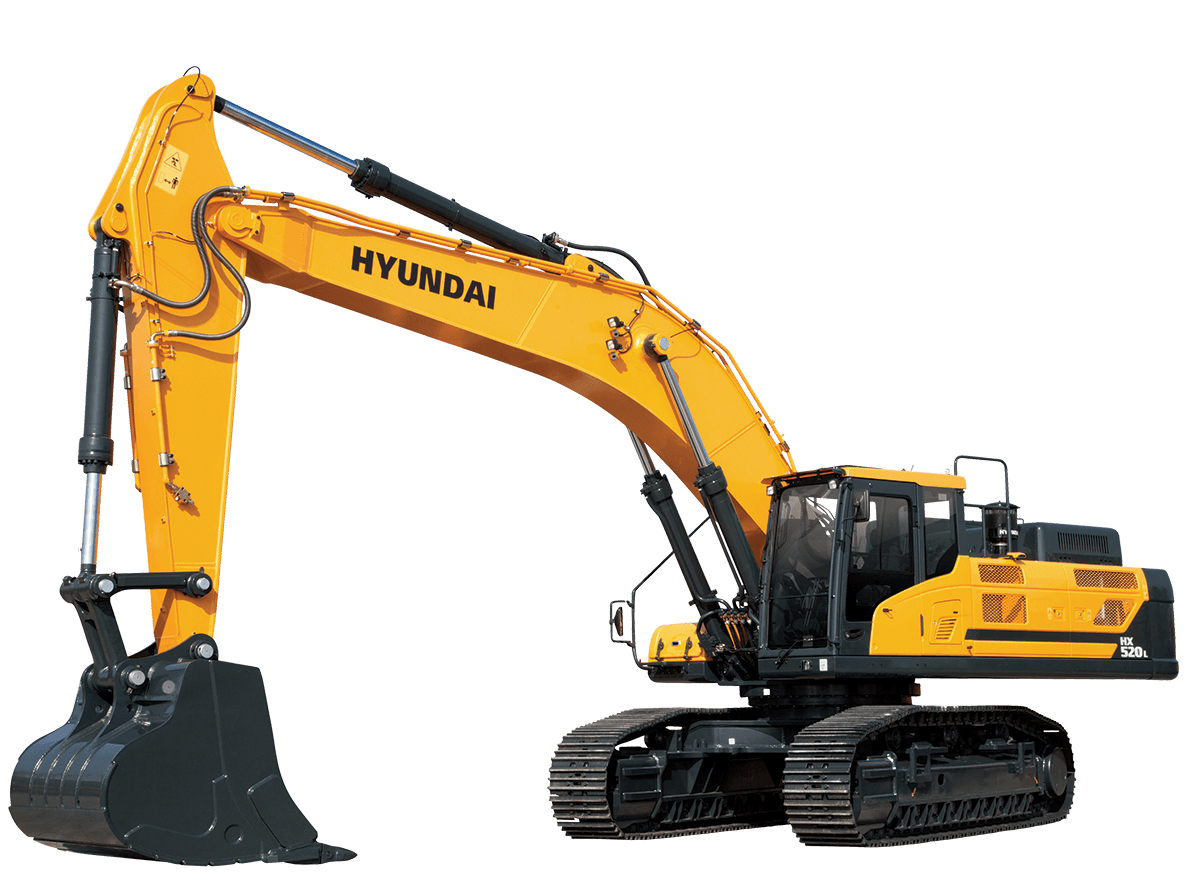 Oversized Equipment Transportation Services
Heavy Haulers places the same care and dedication into your oversized shipment as we do with every transport we handle. We do not shy away from any type of project and our team can handle all types of transports no matter of size, weight or special handling needs!
Whether local, regional or long distance, Heavy Haulers has the staff at your disposal to get your oversized/overweight transports addressed. In our years in the industry, we have moved massive dump trucks, bulldozers, excavators and even an airplane so we are confident our company can handle your transport needs!