Excavator Shipping Services in All 50 States, Canada, Mexico and Now Internationally!
Heavy Haulers is one of the most comprehensive and reputable large equipment transport services in North America. We pride ourselves on being the best, from beating deadlines to delivering your excavating equipment to even the most remote locations. We understand that time is money – and we respect yours. Your delivery is under constant supervision, and we only contract with licensed, certified, and bonded drivers. Choose Heavy Haulers when you need your multi-tonne hydraulic excavator moved. Call one of our logistics specialists and see the difference professional heavy equipment transporters makes.
Move Your Excavator with Heavy Haulers at Affordale Local or Long-Distance Costs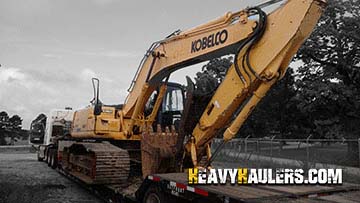 Hauling a Kobelco SK210 Hydraulic Excavator
We have the right rigs to handle the weight and flatbeds and trailers that are rated to pass on every road your excavator takes. Need the rest of your pipe laying equipment shipped? Heavy Haulers can ship multiple machines or just single pieces. We make transportation of your excavation machinery as easy as possible, including door-to-door delivery. Our licensed, bonded drivers understand how to carefully negotiate your Caterpillar or Hitachi excavator through busy urban areas or into rough terrain.
Your Heavy Haulers Experience Shipping Excavators
Excavators and equipment must be at the job site before anything else can proceed, When your contracts stipulate that you're at a certain place and time, Heavy Haulers makes sure your equipment is, too. Our logistics planners ensure that all paperwork, including weigh station and customs forms, are prepared before your equipment leaves, so you aren't bogged down with red tape. Heavy excavators require a step-deck trailer and professional loading. Cutting corners may mean risking safety of your team and the integrity of your equipment. Trust Heavy Haulers with your excavators. Give us a call for a FREE, no-obligation quote at (800) 908-6206.
Recent Hydraulic Excavators Hauled by Heavy Haulers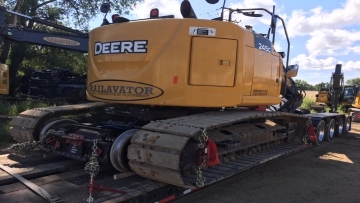 John Deere Excavator Shipped on an RGN Trailer to MO
Shipping From: Rockford, IL 61104

Transporting To: Hamilton, MO 64644

Specs: 2017 John Deere 245G Excavator; 32L X 10.6W X 10.7H; 75,000lbs

Transport Specialist: Sam Duncan
(561) 931-6741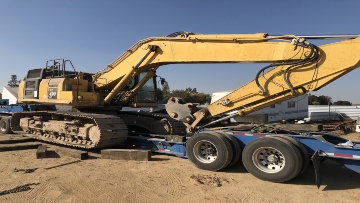 Komatsu PC490LC-10 Hydraulic Excavator Hauled from California
Shipping From: Fresno, CA 93705

Transporting To: Candler, NC 28715

Specs: Komatsu PC490LC-10 Excavators; 40L X 11.11W X 11H; 109,000lbs

Transport Specialist: Milos Visnjic
(754) 203-9257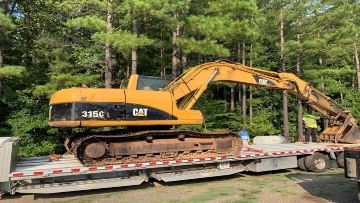 Caterpillar 315C Excavator Transported to Illinois
Shipping From: Oxford, NC 27565

Transporting To: Walnut Hill, IL 62893

Specs: Caterpillar 315C Excavator;
28L X 8.5W X 9.5H; 36,200lbs

Transport Specialist: Jay Hays
(561)214-4984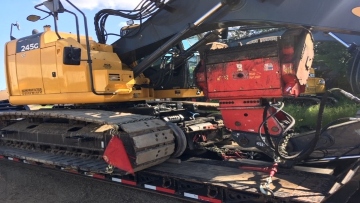 2017 John Deere 245G Excavator Hauled to Missouri
Shipping From: Rockford, IL 61104

Transporting To: Hamilton, MO 64644

Specs: 2017 John Deere 245G Excavator; 32L X 10.6W X 10.7H; 75,000lbs

Transport Specialist: Sam Duncan
(561) 931-6741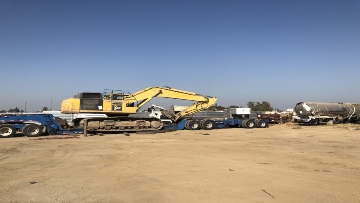 Komatsu PC490LC-10 Excavator Shipped on an RGN Trailer
Shipping From: Fresno, CA 93705

Transporting To: Candler, NC 28715

Specs: Komatsu PC490LC-10 Excavators; 40L X 11.11W X 11H; 109,000lbs

Transport Specialist: Milos Visnjic
(754) 203-9257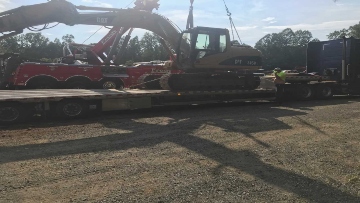 Caterpillar 315C Excavator Being Loaded and prepped for transport
Shipping From: Oxford, NC 27565

Transporting To: Walnut Hill, IL 62893

Specs: Caterpillar 315C Excavator; 28L X 8.5W X 9.5H; 36,200lbs

Transport Specialist: Jay Hays
(561)214-4984
Komatsu PC228 Excavator Shipped to Wisconsin from New York
Shipping From: Tonawanda, NY 14150

Transporting To: Green Bay, WI 54304

Specs: 2014 Komatsu PC228 Excavator;35.6L X 10.5W X 11.3H; 62,000lbs

Transport Specialist: Milos Visnjic
(754) 203-9257
Caterpillar M315 Mobile Excavator Hauled with attachments
Shipping From: Newark Valley, NY 13811

Transporting To: Abington, MA 02351

Specs: Caterpillar M315 & (2) Small Buckets; 29L X 8.2W X 10.6H; 36,000lbs; 122HP

Transport Specialist: Mike Phillips
(754) 203-8914
Shipped a Caterpillar 345B Hydraulic Excavator on an RGN
Travis at Heavy Haulers recently transported this Caterpillar 345B Excavator from Macon, GA and delivered in record time and ahead of schedule. This Caterpillar 345B measured 38 feet 5 inches in length, 11 feet wide and was 11 feet 4 inches tall and weighed a total of 95,000 pounds. This particular shipment did require permits for width and weight and Travis took care of all of the details, as usual. Contact Travis at Heavy Haulers for your next quick quote. - (813) 492-8263