Domestic container transport means that you're only transporting it within the country. It could be state-to-state, business-to-business, or even a warehouse to your business and more. There are several factors that go into determining container shipping costs in the United States.
1. Ground Distance
The distance between the pickup and drop-off location helps determine the cost of transporting a container. The more the miles, the more the transport cost. Shipping a container from one state to another for example will be more expensive than transporting a container to a nearby city within the same state.
2. Loading and Unloading Assistance
Before a shipping container transport begins, it needs to be loaded on a trailer using cranes. If you don't have loading assistance, a crane crew must be acquired. This is often something handled by the transport company you work with. This increases the container shipping rate. Rigging services may also be necessary. All of the manpower and equipment add to the cost of shipping container transport.
3. Day Rates
For short distances that are under 400 miles, the standard fee for moving a container is calculated by time. This is because it will take a driver almost an entire day. Therefore, you pay for his/her day instead of the small amount of miles even if it's just around the block. A day service rate usually costs between $800 USD and $1,200 USD.
1. Season/Time of the Year
International shipping container transport rates are highly influenced by the season. For example, January to February and August to September is termed as the peak seasons. Therefore, the cost of shipping a container within this period will be higher than the rest of the year.
2. Route
The cost of shipping a container overseas is highly determined by the route used. Using a common route will cost you less. For example, shipping a container from Shanghai to Los Angeles is less costly because it's used for transport quite often.
3. Shipping Type
International container shipping rates are highly dependent on whether you use air or sea. Air container shipping rates are almost five times higher than using the sea. This is because it takes much more resources and fees to fly a cargo plane than it does in transport containers by sea. In addition to that, shipping cargo by air is much quicker and more convenient.
4. Weight/Size
Depending on the type of container shipping method used, container shipping rates are highly influenced by weight and size. The cost of shipping a container by air is determined by the weight of your goods because the aircraft has a limit on how much it can carry during flight.

However, the cost of transporting a container by sea on the other hand is determined by the dimensions of your container since it has to be stored in a ship that has many other containers.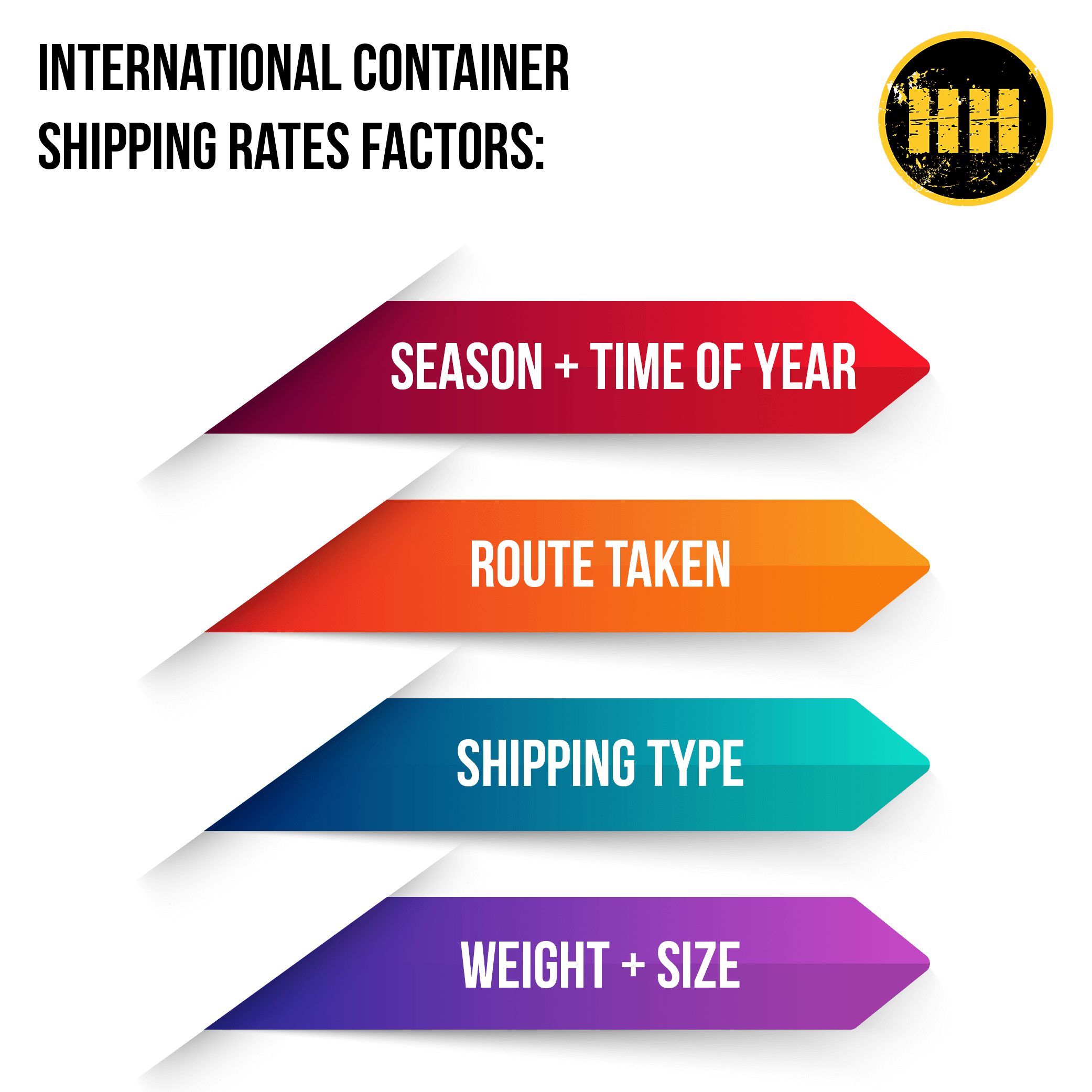 Packing goods for overseas shipping should be done carefully to ensure they're delivered in the very condition they were packed in. Depending on the type of container you use, it's important to be strategic about where everything is placed. Here are some tips to safely pack items in a shipping container.
1. Use pallets. The use of pallets helps you maximize space and secure loose boxes stacked together. Choosing pallets that are the right size for your goods is important.
2. Use moisture-resistant boxes and shipping containers. Receiving goods that are damaged by water is everyone's nightmare. Ensure that your items are tightly sealed to avoid water leakage from storms or rains.
3. Distribute weight evenly. Loading items in a shipping container unevenly can cause items to shift during transport, resulting in damage. Stability is important when it comes to any form of transport.
4. Use shrink wrappings. This helps protect your delicate goods because they tightly shrink on the item and hold it in place protecting it from damage, moisture, and even dirt.
5. Use correct labeling guidelines. A correctly labeled shipping container should have port marks, gross and net weight, customer identification code among other labels. Mentioning specific items in a container is discouraged because it can encourage theft.