Moving Mobile Homes With Reliable and Quality Service
Heavy Haulers has over a decade of experience moving mobile homes all across the United States. Over the years we've dedicated ourselves to providing stress-free mobile home transport for every client. A specialized mobile home mover specialist takes down all the details in order to find solutions that fit your needs. Mobile homes, sometimes called manufactured homes, come in a variety of sizes, with the most common being single and doublewide mobile homes. The transport process must be planned in advance, which means acquiring everything necessary including permits for a safe mobile home move. Hiring an experienced mobile home moving company is essential, because you want your home delivered safely and on time.
We understand that your mobile home is just that—your home, which means when you need transport, you need it to be reliable. Whether you need local mobile home shipping or need to haul it across the country, Heavy Haulers makes sure it's done right. Depending on the type of mobile home, you may be able to utilize the homes own axles and wheels. Otherwise, Heavy Haulers works with the best drivers with the best trailer to get your mobile home delivered safely. Our goal is to make sure your mobile home is moved safely, reliably, and with quality service. Customer satisfaction is our top priority. Call now for a free mobile home transport estimate! (323) 210-7593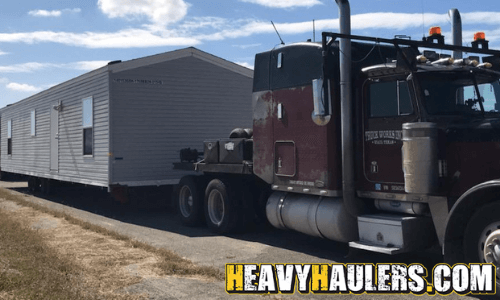 Contact Our Expert Mobile Home Transport Specialists
(323) 210-7593
Local and Nationwide Mobile Home Transport
When it comes to mobile home transport, you want a moving company that is licensed, bonded, and insured, so you have the best protection available. Heavy Haulers is not only licensed, bonded, and insured, but we also have over a decade of experience moving mobile homes locally and nationwide. Dedicated transport specialists will walk you through every detail of your mobile home. That includes how to prepare your mobile home for transport, mapping out the best route, obtaining all the permits, and more. Heavy Haulers is the mobile home moving company you can rely on.
There are a wide variety of mobile or manufactured homes, but the most common types are considered single or double wides. There are different procedures and trailer types used for each. Knowing the model and dimensions of your mobile home ahead of time, will help your moving specialist provide you with an accurate quote. Heavy Haulers transports all mobile homes anywhere you need it to be.
• Single Wide Mobile Home Transport - The typical single-wide mobile home is 15 feet wide and 72 feet long. Usually your single-wide mobile home fits on one extended, heavy-duty transport trailer.


• Double Wide Mobile Home Shipping - The basic double-wide mobile home is 26 feet wide and 56 feet long. Some models are 90-feet long. Double wide mobile homes must be split in half width-wise for shipping. That may mean your mobile needs more than one truck or more than one trip for transport.
Mobile Home Transport Costs and Other Details
Undoubtedly, the first question you have about mobile home transport is how much it will cost. Many sites offer general shipping estimates and online quote forms. You will see a variety of average cost quotes, starting anywhere from $5,000 and up. However, there are so many variable factors when it comes to mobile home transport, the best thing to do is call a Heavy Haulers specialist. We will be able to find you the best price for shipping and delivery. A few of the factors that come into cost factoring include:


• Size (For instance, is your mobile home a single or doublewide?)


• Weight (Heavier mobile homes may require trailers with more axles and more materials for transport.)


• Distance (Longer mobile home moves tend to be more expensive.)


• Permits (Mobile homes often require transport permits, and these vary based on where you're moving.)


• And more.


When moving a mobile home, you'll want to be prepared. Make sure to verify the legal requirements of your new location and your mobile home will need to be up to code for transport. Because so many details go into mobile home shipping, speaking with one of our professionals is the best way to get all the details for transport, along with a personalized quote based on your needs. Heavy Haulers is dedicated to providing total and complete mobile home transport services. Get your free shipping estimate now! (323) 210-7593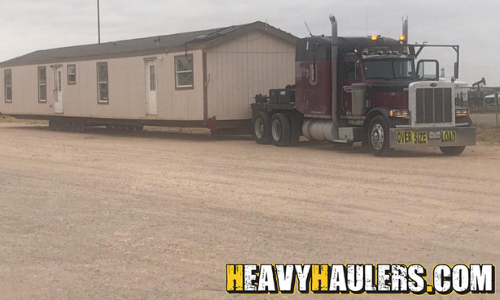 Contact Our Expert Mobile Home Transport Specialists
(323) 210-7593
Call Our Mobile Home Movers Now! (323) 210-7593
Common Types of Mobile Homes and Buildings We Transport
Container Home Transport
Container homes are houses that are converted from standard shipping containers. Some even combine multiple shipping containers to make a uniquely structured home. Standard container homes are most commonly remodeled from 20ft and 40ft shipping containers.
Container Office Transport
Shipping container offices are professional dwellings created from shipping containers. They are versatile in that they can be picked up and easily shipped to the next job site. Container offices are used in many industries, and can often be found on industrial and construction job sites.
Modular Building Shipping
Modular buildings are built in a factory and then delivered to the final site. These types of buildings can have temporary or permanent placements. On-grade foundations are for permanent modular buildings, while raised foundations can be used for moth temporary or permanent buildings.
Modular Home Shipping
Modular homes are customized to the homeowners specifications. These are built section-by-section in a factory setting. Once transported, a homebuilder assembles them for the owner. Modular homes are also known as prefabricated or prefab homes and can look just like traditionally built homes.
Mobile Office Trailer Transport
A mobile office trailer, or MO, sits on a wheels and chassis trailer base for easy transport. Mobile offices are also known portable offices. Mobile office trailers require stairs or a ramp for entrance. Mobile offices can be found on a variety of construction and industrial worksites.
Precast Building Shipping
Precast buildings are made from precast concrete which means that the building is made with a reusable mold or "form". These buildings can take on nearly any shape or size, making them extremely customizable. Once the precast building is molded, it is transported to the site and lifted into place.
Mobile Medical Vehicle Transport
All you have to do is choose Heavy Haulers to ship your MRI, x-ray, radiology, and multipurpose medical vehicles to get access to a vast fleet of long-haul transportation services. Most mobile medical vehicles, such as X Ray clinics, can travel aboard a flatbed trailer as height and weight.
Move Your Mobile Home Now! (323) 210-7593
Heavy Haulers can Transport all Types of Mobile Homes Including:
Move Your Mobile Home Now! (323) 210-7593
Recent Mobile Home Transports by Heavy Haulers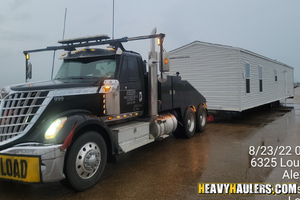 2018 Clayton Mobile Home Shipped to FL
Origin: Alexandira, LA 71303
Destination: Panama City, FL 32401
Specs: 2018 Clayton Mobile Home; 64L X 14W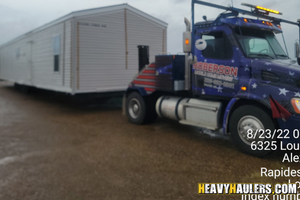 Transporting a 2018 Clayton Mobile Home to FL
Origin: Alexandira, LA 71303
Destination: Panama City, FL 32401
Specs: 2018 Clayton Mobile Home; 64L X 14W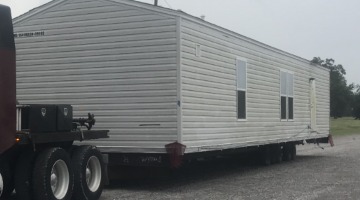 Oversize Loaded Mobile Home Model F1460 Shipped from LA
Origin: Baton Rouge, LA 70814
Destination: Dulce, NM 87528
Specs: 2017 Oak Creek Mobile Home Model F1460; 64L X 14W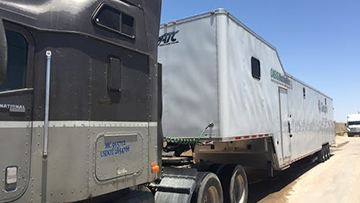 5th Wheel Trailer Using Our Power-Only Service
Origin: Midland, TX 79706
Destination: Pecos, TX 79772
Specs: 5th Wheel Trailer; 53L 8.6W 13.2H; 35,000lbs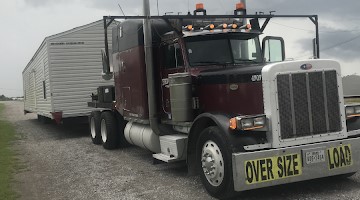 2017 Oak Creek Mobile Home Model F1460 Transport
Origin: Baton Rouge, LA 70814
Destination: Dulce, NM 87528
Specs: 2017 Oak Creek Mobile Home Model F1460; 64L X 14W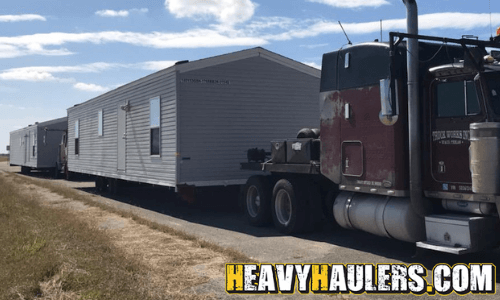 How To Prepare a Mobile Home For Transport
At Heavy Haulers your logistics agent will guide you through the full process of moving a mobile home. Here are a few tips to get you started.
● Have the make, model, weight, and dimensions of your mobile home ready for the transport agent.




● Exterior: Remove anything vulnerable to high winds. Reinforce loose sidings that may blow off. Secure doors to avoid opening during transport.




● Interior: Secure all loose items. Fasten all doors and cabinets. Remove as many home furnishings as possible.



Transport your mobile home today! (323) 210-7593
Move Your Mobile Home Now! (323) 210-7593
Moving a Mobile Home: What You Need To Know
Moving a mobile home can be overwhelming if you're not prepared for the transport ahead. Doing research based on where you plan to move is essential. This is because most areas require permits to both move and set up the home in its new location. You'll want to know ahead of time if the county or city has any restrictions when moving your mobile home. Making these calls ahead of time will save you hassle in the long wrong.
Once you have all the information, Heavy Haulers is ready to transport your mobile home. Our mobile home mover specialist will provide you with a free shipping estimate based on the details of your move. We provide all permits and paperwork for transport. If your mobile home requires load assistance, we can obtain that as well. Call Heavy Haulers now and let's get your mobile home on the road! (323) 210-7593
Two Primary Options for Mobile Home Transport:
Towing
This removes your mobile home's ground attachments and installs axles with wheels. We provide a truck, with an experienced heavy haul driver to tow your mobile home to its new address.


Trailering
This also involves lifting the house to install axles and wheels. Then we transfer your mobile home to a trailer designed to carry the load. Our experienced crew members are experts at loading and transporting your valuable home. You'll need a trailer if you're hauling your home long distance.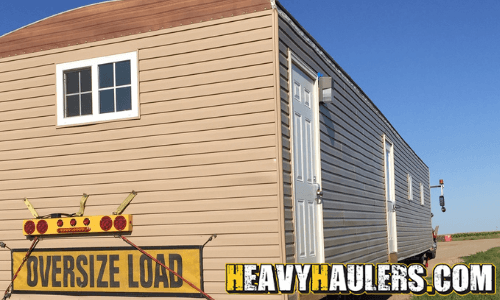 MOBILE HOME BREAK-DOWN AND SET-UP SERVICES
When you move a mobile home, you're going to need a few licensed professionals to help. Professional installers can disconnect and reconnect your utilities. A licensed electrician must handle the electric grid connections. And you'll need a separate professional to connect your air conditioner. That's a lot of people. So it's a good idea to speak to our team about hiring an installation crew. We try to help any way we can. Call now! (323) 210-7593
● Attaching axles and wheels.

● Adding hitch if needed.

● Securing foundation (block, level and tie down).

● Handling water and plumbing.

● Dealing with skirting.
Looking For Transport
With a Specific Trailer?

Max Weight: 150,000+ lbs. | Main Deck Length 29 ft.
| Well Width 8.5 ft. | Legal Height Limit 11.6 ft.

Max Weight: 48,000 lbs. | Max Length 53 ft.
| Max Width 8.5 ft. | Max Height 8.5 ft.
Max Weight: 48,000 lbs. Max Length 53 ft. |
Max Width 8.5 ft. | Max Height 11 ft.
Max Weight: 45,000 lbs. | Max Length 29 ft.
| Max Width 8.5 ft. | Max Height 11.5 ft.
Heavy Haulers Ships Across All 50 States
Alabama - Alaska - Arizona - Arkansas - California - Colorado - Connecticut - Delaware - Florida - Georgia - Hawaii - Idaho - Illinois - Indiana - Iowa - Kansas - Kentucky - Louisiana - Maine - Maryland - Massachusetts - Michigan - Minnesota - Mississippi - Missouri - Montana - Nebraska - Nevada - New Hampshire - New Jersey - New Mexico - New York - North Carolina - North Dakota - Ohio - Oklahoma - Oregon - Pennsylvania - Rhode Island - South Carolina - South Dakota - Tennessee - Texas - Utah - Vermont - Virginia - Washington - West Virginia - Wisconsin - Wyoming
Heavy Haulers Pilot Car Services
Are you looking for a reliable pilot car
for your transport?
Get Started