Transport Your Heavy-Duty Truck With Heavy Haulers Any Where in The United States, Canada, or Mexico!
Heavy Haulers is the country's premiere Super Load haulers. We specialize in towing everything from crane trucks and garbage trucks to moving trucks and passenger buses. Transport of heavy duty trucks typically requires oversized permits and regular weight inspections when being transported across state lines. We take care of securing the proper paperwork to deliver your heavy duty truck to your door, wherever you live in North America.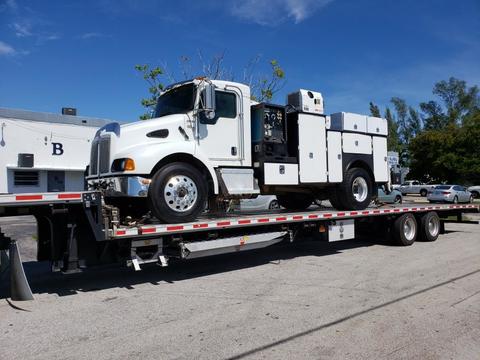 Contact Our Expert Shipping Specialists


(800) 908-6206
Why Transport Your Heavy Duty Truck with Heavy Haulers? Here's Why...
Heavy Haulers is the industry's leading heavy haul trucking company. Our company has made its reputation shipping equipment, mining and excavation equipment, construction rigs, and larger, heavy-duty trucks across North America. Most larger dump trucks and cargo trucks may not be road-rated – that is, they aren't able to travel along regular highways due to the size of the tires or weight of the truck. Even when your dump truck or heavy-duty truck is road-worthy, driving it from one job site to the next isn't always a great idea. These enormous, powerful trucks use a lot of fuel, and may not be cost-effective to travel along a highway. That's where the team at Heavy Haulers comes in. Using specialty trailers and powerful tow rigs, they're able to help you move you heavy-duty truck across the country – or just across town. For FREE, no-obligation quote, call today at (800) 908-6206.
Speak with a Member of Our Logistics Team Now!
(800) 908-6206
Recent Heavy-Duty Trucks Transported by Heavy Haulers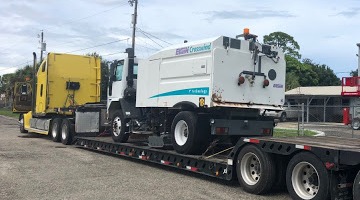 25,000 pound Sterling SC8000 Street Sweeper shipped to MA
This Sterling SC8000 Street Sweeper was shipped from Fort Pierce in Florida to Everett, Massachusetts by Hal Foster; a specialist equipment shipping specialist. The 25,000-pound street sweeper had a length of 24 ft. and a height of 10.5 ft. which required a capacity handling Heavy Haulers RGN trailer. Hal and his Heavy Haulers load handlers tied down the 8.5 ft. wide Sterling SC8000 Street Sweeper for the 1370 mile journey.
Transport Specialist: Hal Foster
(772) 227-1564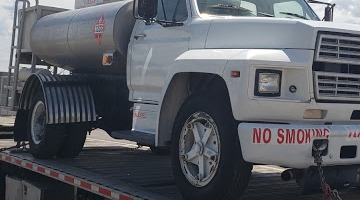 Ford F600 AvGas 1,200 Gallon Heavy Duty Truck Loaded and Hauled From Utah
This 1981 Ford F600 AvGas 1,200 Gallon Heavy-Duty Truck was shipped by Nick H. from Provo in Utah to Houston, Texas on a flatbed trailer. Weighing 18,000 pounds and having a width of exactly 8 ft. and a height of 22 ft., the heavy-duty LPG truck was tied down with chain rigging for secure shipping. The 7 ft. long fuel truck was delivered without hitches after a 1,370-mile journey.
Transport Specialist:Nick H.
(772) 238-2766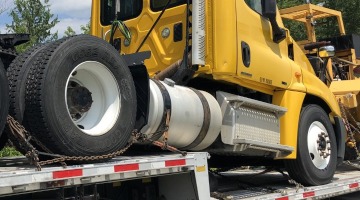 20,000 Lbs. Freightliner M2 Day Cab Truck Transported On a Step Deck Trailer
Milos Visnjic undertook the hauling of this 8.6 ft. 2013 Freightliner M2 day cab truck from Chesapeake, Virginia to San Diego, California. The 20,000 pounds and 10.2 ft. high day cab and chassis were winched onto a step-deck truck, with its rear axles on the upper platform. This 24 ft. load was tied down with chain riggings which Milos and the Heavy Haulers team checked every 50 miles of the cross country haul, a total of 2,719 miles.
Transport Specialist: Milos Visnjic
(754) 203-9257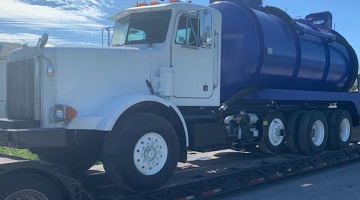 Peterbilt Heavy-Duty Pump Truck Shipped From Texas to Florida with Permits
Chad Cardoso, a Heavy Haulers truck shipping specialist undertook the logistics for this 8 ft. wide and 29,000 pound Peterbilt Pump Truck. The 32.7 ft. long and 13 ft. high pump truck required permits for height and length over-size after which it was loaded onto a Heavy Haulers RGN trailer at Channelview, Texas for delivery in Longwood, Florida. Clear skies and low traffic allowed the delivery of this pump truck to fall within the client's stipulated deadlines.
Transport Specialist: Chad C.
(954) 526-9393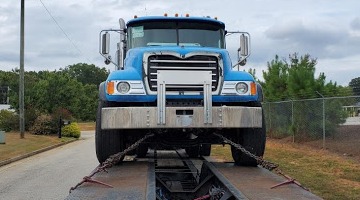 Mack Concrete Truck Transported From Interstate from Georgia to Florida
This 31,000 pound Mack Concrete Truck was hauled from griffin in Georgia to Miami, Florida by Jay Hays from Heavy Haulers on a step-deck trailer. Jay Hays, a specialist load handler took on the 33 ft. long and 12 ft. high concrete truck with its cab onto the lifted platform while the rear axles sat on the lowered deck. The 8 ft. wide Mack concrete truck was delivered safely after a 633-mile journey.
Transport Specialist: Jay Hays
(561) 562-4968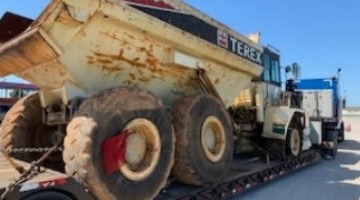 3066C Terex Articulated Heavy Duty Haul Truck Loaded and Transported
This 49,000 pound 3066C Terex Articulated Heavy Duty Haul Truck was shipped from Paragould, Arkansas to Hudson, Iowa by Nick H.; a Heavy Haulers logistician and dispatch coordinator. The 11.3 ft. high and 9.6 ft. wide articulated haul truck required permits, after which it was loaded onto an RGN trailer and tied down with chains. Its 31 ft. length was completely accommodated by the Heavy Haulers RGN trailer for the 539-mile journey.
Transport Specialist: Nick H.
(772) 238-2766
Haul Your Heavy Duty Truck with Professionals - Insured, and Door-To-Door
Heavy Duty trucks are considered transportation workhorses – doing a lot of the heavy hauling of debris and supplies around your job site. They're designated as vehicles with a Gross Vehicle Weight Rating (GVWR) of more than 26,001 pounds and belong in Class 7 or 8 of the commercial class designation. They're widely used in a variety of industries. Some of the Heavy Duty trucks Heavy Haulers can transport are:
Heavy duty trucks we transport include:
Learn Heavy Duty Trucks
Heavy Duty trucks are the transportation workhorses. Designated as those vehicles with a Gross Vehicle Weight Rating (GVWR) of more than 26,001 pounds, most require a Class B CDL to operate and belong in Class 7 or 8 of the commercial class designation. No matter which industry you work in, chances are you've owned or used a heavy-duty truck in some capacity, as they are the most widely used transport and service vehicle around.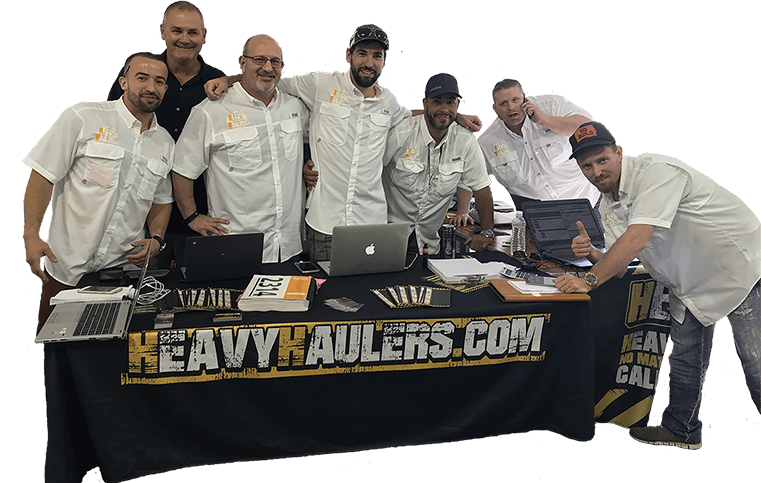 How to Transport Heavy Duty Trucks
Finding the right method to ship your heavy truck without the right company to back you up can seem like a nightmare. Luckily, our services are always on standby to help you get the job done. We use our lowboy and flatbed carriers alongside a pilot car to ship heavy-duty trucks to different destinations.
There are various methods we use to make the whole operation more streamlined. For instance, getting the right permits and insurance covers allows us to ship your heavy-duty truck without clashing with authorities. Whether it's an interstate shipment or local shipment, give us a call, and we will get to your request handled momentarily. You will receive the right expert advice from our agents.
Traveling Cross-Country With a Heavy Duty Truck
Many cities across the U.S. have strict legal requirements for the transport of large equipment or vehicles, including travel restrictions during rush hours and after dark. We make it our business to know the regulations in each state or territory we travel, and we handle the logistics of your transport from start to finish. Doubly insured and fully licensed to work throughout the North American continent, your heavy duty truck is safe with us.
Let Heavy Haulers fulfill your heavy duty truck transport and towing needs. Give us a call toll-free at (800) 908-6206 or click the button below to fill out a form to request a shipping quote. We look forward to serving you!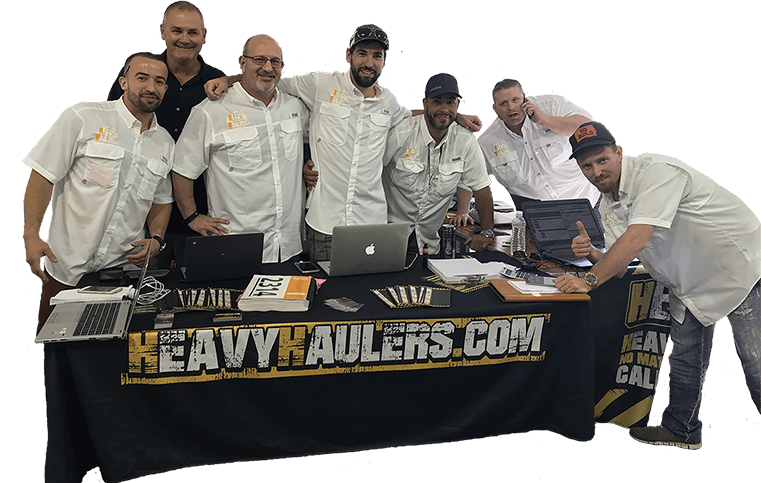 We Are Ready To Help You Haul Your Equipment!