Cross-Country Mobile MRI Transport
Shipping a Mobile and Portable MRI Scanner Machines Across 8 States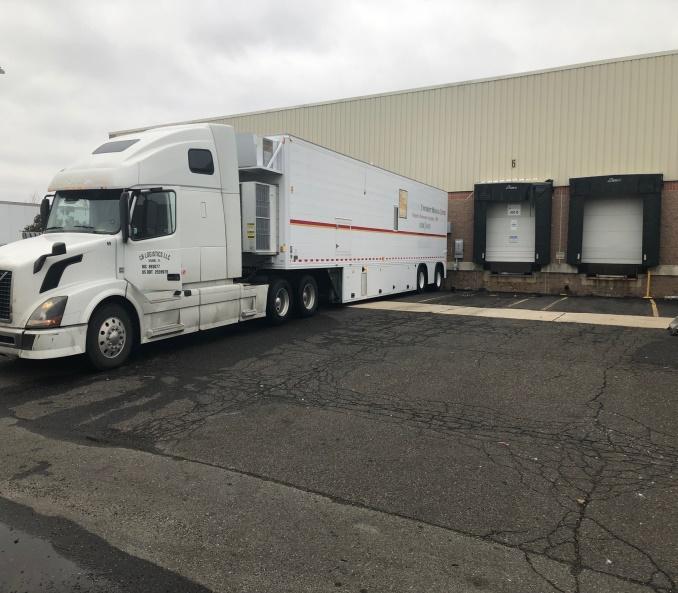 Heavy Haulers moves medical equipment with attention to detail, planning and unique execution maneuvers, and Willam Thomas was the professional that took lead on this project. This mobile MRI machine was shipped from University Park, Illinois to Fontana, California and the client was relying on our smooth and on schedule delivery.
Willam Thomas is well known for his excellent and punctual transport services at Heavy Haulers.
The first transport involved a power only solution for a mobile MRI unit on wheels consisting of a self-contained housing within which were a scanner, a control room and a patient changing area.
Built into a 48 ft. semi-trailer, the mobile MRI unit was coupled with our capacity tractor and hauled to a semi-permanent service location.
The pictures depicted an earlier dispatched mobile MRI that Willam Thomas delivered for MRPET CT and was being operated as an extension to a cancer hospital's imaging department.
The first transport involved a power only solution for a mobile MRI unit on wheels consisting of a self-contained housing within which were a scanner, a control room and a patient changing area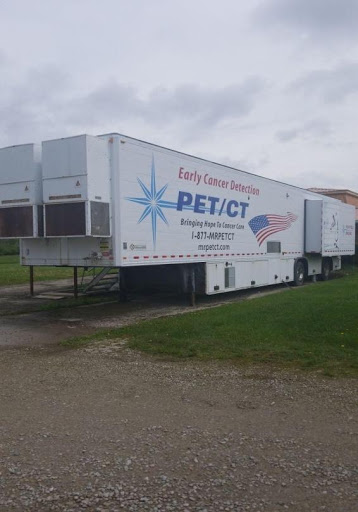 Magnetic MRI Machine Delivery
The second MRI job for delivery to Fontana California was a magnetic MRI machine that was in storage at University Park in Illinois.
When Willam Thomas went to do an evaluation for this project, he knew that utmost care was required since the MRI scanner was uncrated and not visibly magnetic shielded.
There was an increased risk of the MRI scanner attracting metallic objects, endangering computerized equipment, wiping out bank cards magnetic strips and knocking out passersby's heart pacemakers.
Luckily, Willam Thomas learned that the magnet within the MRI scanner was not permanently operational, and the transport could proceed without endangerment.
The second challenge involved moving the sensitive medical equipment from its storage location onto a Heavy Haulers flatbed trailer that Willam Thomas had deployed.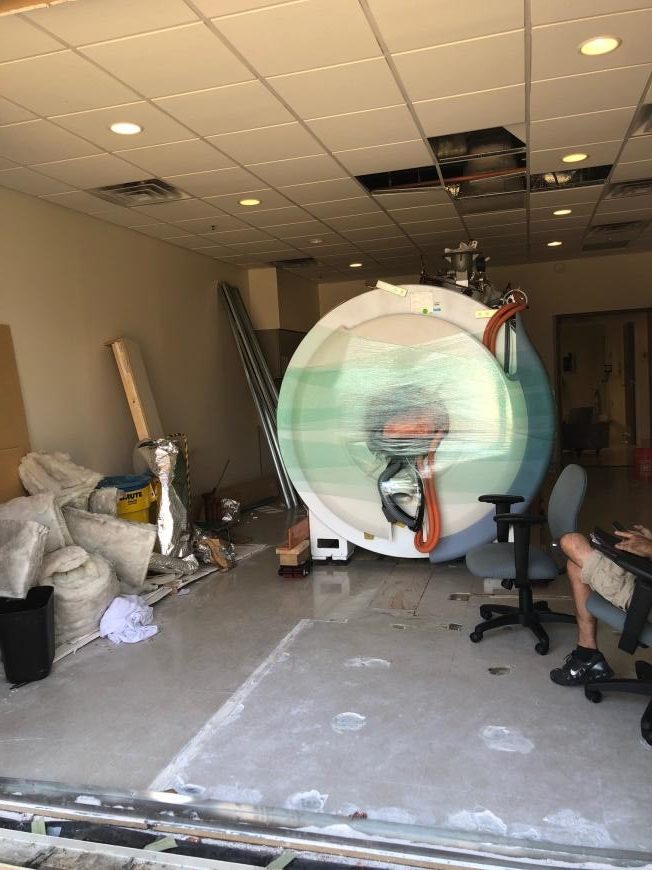 A fissure boardwalk had to be created for the forklift across a grass lawn to facilitate the removal of the MRI machine from the storage facility and bring it to the waiting flatbed trailer on the parking lot. Then the MRI scanner was carefully forklifted out of storage, with extra securing onto the forklift for stability.
Thanks to Willam Thomas quick thinking, this was loaded without incident. Willam Thomas experience in shipping and transport makes him read for all the challenges in the industry.
The MRI machine featured an open-top portion that had been completely covered with a waterproof tarp and industrial strength cling film.
The entire cargo was then completely covered in weather-proof tarpaulin for the cross country haul of 1,985 miles across 8 US states.
This load was shipped as a less than truckload or LTL freight, sharing the same flatbed trailer with other consignments.
This made it more cost effective for the client. Heavy Haulers always strives to find the most affordable pricing for transport.
After most of the other cargo had been delivered in Nebraska, the MRI scanner was protected by its self with a heavy-duty tarpaulin.
The driver made sure that it was covered in a secure manner, so that it would be safe from the elements and high speeds of the road.
Willam Thomas made a successful delivery after a combined driving duration of 39 hours, within which a tandem team of long-haul drivers took turns after every 800 miles. The transport had gone through Iowa, Nebraska, and Colorado on the I-80 W and later past Utah, Nevada and Arizona states on the I-70 W before arriving in California.
The expertise displayed by Willam Thomas and his team who undertook this transport is reflective of the heavy haulers guaranteed the promise of secure delivery.
Transport Your Mobile and Portable MRI Scanner Machines With Heavy Haulers Today!
Step 1:

Fill Out Quote Form

Fill out the short & easy quote form.
Step 2:

Speak With An Agent

We'll pick up your heavy equipment or vehicle.
Step 3:

Get Transported On Time

We deliver on time so you can get back to work.
Transport Specialist
Willam Thomas
Experienced Dispatch Manager with a demonstrated history of working in the transportation/trucking/railroad industry. Skilled in Operations Management, Customer Relationship Management (CRM), Driver Retention, Transportation Management, and Truckload Shipping. Strong operations professional with a Master of Business Administration – MBA focused in Business, Management, Marketing, and Related Support Services from University of Miami.