Everything You Need To Know About Step Deck Trailers Transport
When it comes to shipping many types of equipment and machinery, a one-size-fits-all approach doesn't always work. You might have already noticed that several different types of trailers can be used for shipping awkwardly shaped, oversized, or bulky machinery, and we're here to tell you what makes a step deck trailer an excellent choice for transport.
What Is A Step Deck Trailer?
Step deck trailer transport is a shipping platform that has no restrictive sides, roof, or doors. A step deck is a semi-trailer with two deck levels: a higher deck that's close to the truck cab and a lower deck towards the rear. The higher deck at the front is designed to clear the edge of a tractor safely, but it can also drop down to help the towing of taller cargo.
Perhaps the greatest advantage of hauling step deck trailers is that you can tow a wide variety of equipment using the same trailer type. The design of the step deck enables tandem step deck trailers to haul a range of equipment as part of the same shipment.
Construction equipment, especially, is well suited to step deck trailer shipping methods, as even the most awkwardly shaped machinery can often safely fit onto the trailer, and multiple different types can be shipped in tandem.
The Advantages of Step Deck Trailer Shipping
Step deck trailer haulage can be used to transport large equipment of a variety of shapes and sizes with ease. Some of the most significant advantages of step deck trailers include, but are not limited to:
• Easier to load via forklift
• Can transports taller loads without requiring additional permits
• Suitable for towing a wide variety of equipment
• Goods can be stacked on the lower level to transport more at a time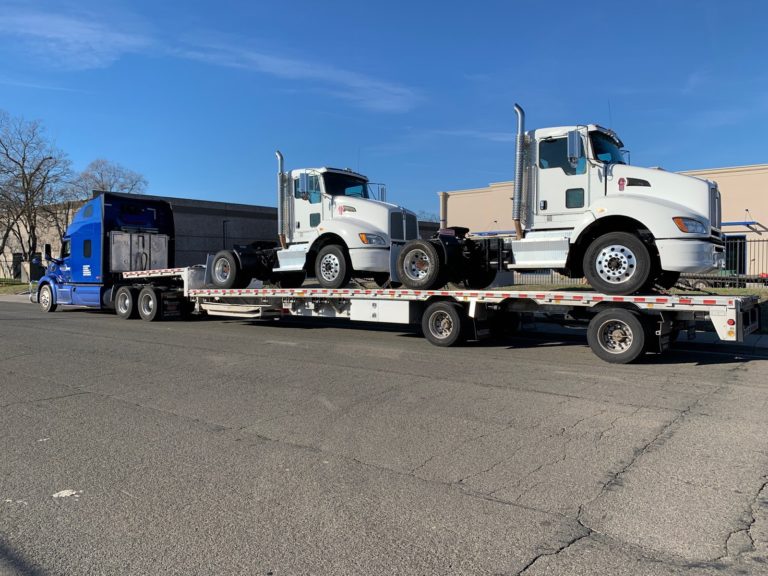 Loading equipment via forklift is common in many industries, and because the step deck trailer platform sits closer to the ground, it means forklift operators don't need to raise the forks as high to load and unload cargo. Thus, the loading and unloading process for step deck trailers is much safer for everybody involved.
Another essential advantage of shipping machinery using step deck trailers is that the lower deck height can allow up to 41″ of additional cargo height more than a standard flatbed trailer before you'll need to apply for a height permit.
Large cargo can be placed lower to the ground, ensuring that the shipment meets federal shipping and transport regulations without additional paperwork stress or delays. Using a step deck trailer tow, you can transport equipment up to 11ft in height, whereas flatbed trailers can carry equipment with a max height of 8ft.
How Many Step Deck Trailer Haulage Types Are There?
You may have come across multiple trailer names when looking into the right type of step deck trailer for your transport project. Step deck trailers can have a single drop or double drop deck, a detachable deck or flatbed, extended single drop deck, or extended double drop deck. The right step deck trailer towing trailer for your cargo will depend on its weight and dimensions.
How Much Weight Can a Step Deck Trailer Haul?
Typically, the maximum legal weight of a step deck is 48,000lbs. Step deck trailer towing can also be used to transport cargo that meets the following maximum dimensions: 48ft – 53ft length if using an extended trailer, 8.5ft width, and 10ft – 11ft height.
Get Your Step Deck Transport Quote!
Step 1:

Fill Out Quote Form

Fill out the short & easy quote form.
Step 2:

Speak With An Agent

We'll pick up your heavy equipment or vehicle.
Step 3:

Get Transported On Time

We deliver on time so you can get back to work.