Everything You Need to Know About Pup Trailer Transport
Have you ever seen a standard dump truck pulling another relatively shorter trailer with a movable cargo container? The second trailer being towed by the dump truck is usually referred to as a pup trailer. Freight companies use pup trailer transport when shipping LTL (less than truckload) cargo, as they have a lower load capacity than the truck's cargo capacity.
If you're seeking more insights into a pup trailer, this article is here to answer your queries. We will discuss in-depth what a pup trailer is, some of the reasons why freight carriers prefer them for their LTL freight transportation, and how to choose the best truck-n-trailer system to move the equipment.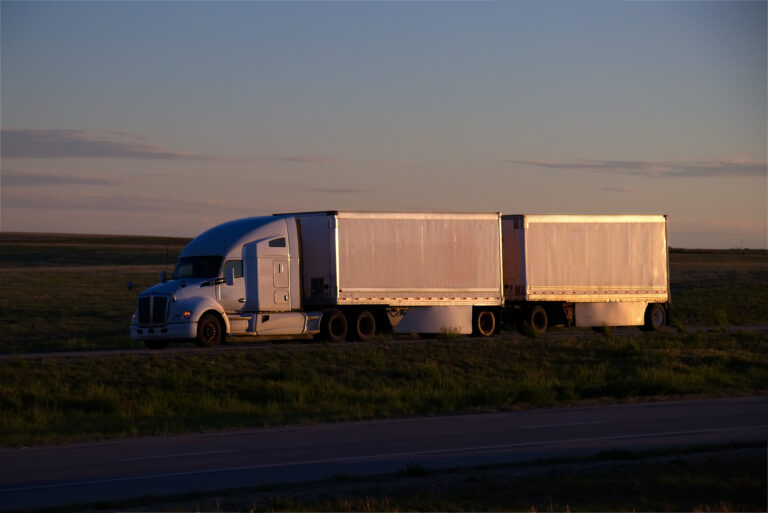 Understanding a Pup Trailer
Think of a pup trailer as a semi-trailer, but it is shorter, usually measuring 26-32 ft. long with a single axle, although some come with two axles. Hauling companies use them to transport soil, construction aggregate, and sand. It is usually operated through an electric motor or a hydraulic line controlled from the dump truck and trailer to which it is attached using a hitch system. Many bulk cargo transporters use pup trucks to maximize the payload without compromising the handling and maneuverability of the standard dump truck in front of it.
There are two primary categories of pup trailers: dead pup and live pup trailers. A pup trailer is referred to as dead when it features no power source, such as a pneumatic motor or hydraulic system. Hence, it relies on the power of the truck pulling it. On the other hand, a live pup trailer features its own hydraulic cylinders, independent of the truck's power supply. They can self-unload, thus saving the workforce needed to unload the cargo manually.
Advantages of Using Pup Trailers for Freight Transport
While pup trailers may seem like a drawback to efficient heavy-cargo hauling, they offer several benefits to heavy-load transport companies and the public in general.
Benefits to Freight Companies: Pup trailers allow cargo and heavy equipment hauling companies to deliver cargo to multiple clients efficiently. As mentioned earlier, wiggle trailers are an ideal choice when shipping LTL cargo. You can also deploy them when moving partial loads to a specific distribution point. That's great news to heavy-equipment shippers who deliver goods to several clients within a specific region or locality. With a pup trailer, you'll reduce the number of trips you make, saving you money and time. They might not have the same payload rating as the standard dump truck trailer, but they are an excellent means of shipping that extra load that a shipper could've otherwise hauled in a separate shipment.
Benefits to Infrastructure: Imagine how many trucks would be on the road if the same load transported in a pup truck were to be hauled with a separate truck. There could be as many additional trucks as the pup trailers running on the road. However, wiggle trucks allow heavy haulers to maximize the payload while still ensuring easy truck control. With the number of trailers on the roads decreased, there'll be a significant reduction in hours lost in traffic congestions. Moreover, the number of road accidents caused by trucks will also dwindle considerably.
Pup Trailers Help Protect the Environment: The use of pup trailers can reduce carbon gas emissions and toxic exhaust fumes that harm the environment. When shippers use extended pup trucks (those measuring around 30-32 ft.) more often, it reduces the number of standard trucks plying different routes at any given time. Not only does that reduce air pollution, but it also reduces fuel consumption, which in turn alleviates the pressure on natural resources.
Choosing the Best Hauling Method for Pup Trailer Transport
While it might not limit to transport a pup trailer on a flatbed trailer, their varying size and length sometimes warrant the need to use a lowboy or RGN (removable gooseneck) trailer. The exact trailer specs are primarily determined by the pup trailer's configuration and length, but there is reason logistics professionals would prefer RGNs and lowboys over flatbeds.
The primary benefit of using a lowboy trailer is that it offers a higher clearance that allows hauling professionals to move heavy equipment and cargo that exceed the DOT regulations on load dimension. That said, you can easily haul a pup trailer, excavator, forklift, wheel loaders, and rock wheels to a construction site without breaching the transport regulations.
However, if you plan to ship an end pup truck or a wiggle pup with a belly dump built on a trailer with two or three axles, it would be best if you transported them through drive-away services. The only downside is that drive-away solutions add to the truck's mileage and slightly increase the risk of damage during haulage.
Transport Your Equipment With A Pup Trailer Today!
Step 1:

Fill Out Quote Form

Fill out the short & easy quote form.
Step 2:

Speak With An Agent

We'll pick up your heavy equipment or vehicle.
Step 3:

Get Transported On Time

We deliver on time so you can get back to work.