Lowboy Trailer Hauling for All Heavy Equipment and Machinery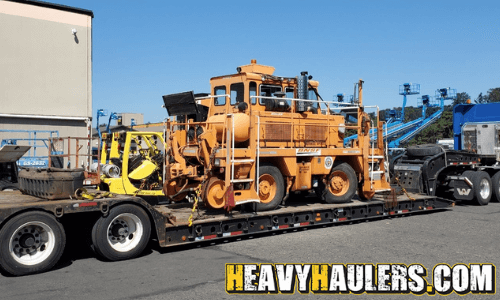 Contact Our Lowboy Hauling Experts Now!


(800) 908-6206
Lowboy trailers are the workhorses of the heavy equipment shipping industry. They're useful for moving equipment, machinery, and cargo for a variety of industries. These are almost ubiquitous in farming, mining, construction, and freight transport around the globe. Lowboy trailers are also known as a double drop, low loader, low-bed, or a float depending on what part of the world you are in. They're all referred to as a semi-trailer with a drop deck. Heavy Haulers provides lowboy hauling for just your trailer, or we can provide the lowboy trailer to transport your freight.
Lowboy trailers are used to move large machinery that isn't road rated, despite having wheels, such as bulldozers, backhoes, and dump trucks. They're constructed with two drops on the trailer, allowing taller equipment that can't be disassembled to ship through low-clearance areas. Typical freight height restrictions are 8', which many larger machines may exceed on a different type of trailer. The maximum weight for a two-axle lowboy trailer is 40,000 pounds, but the weight limit can be increased up to 80,000 pounds total weight of the trailer, and load depending on the number of axles required. At Heavy Haulers, we provide everything you need to transport equipment on a lowboy trailer. Call now for a free lowboy transport quote! (800) 908-6206
A Shipping Company That Provides Reliable Lowboy Trailer Transport
Shipping oversize cargo and equipment on a lowboy trailer is a job for professionals. The team at Heavy Haulers contracts with licensed, bonded drivers, vetted to ensure that their rigs and trailers comply with shipping regulations across North America. At Heavy Haulers, we don't work with just anyone. We make sure to find the best fit for your lowboy trailer transport. Heavy Haulers has over a decade of experience hauling lowboy trailers and oversize equipment. We understand the necessary steps for a safe transport experience.
If your freight needs loading or unloading assistance, we also provide cranes and forklifts. Most oversize lowboy trailer transports require pilot cars or escort vehicles, which is something we'll obtain for you. If you need power only shipping for your lowboy trailer, or need to haul it on a separate trailer, we'll get it done. Your dedicated logistics agent will find the best driver, truck, and trailer to for all your lowboy shipping needs. Call now for a free shipping estimate! (800) 908-6206
See More of Our Recent Lowboy Trailer Transports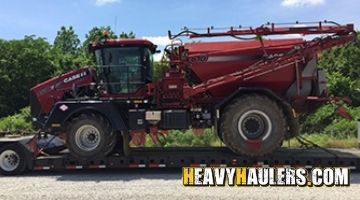 CASE IH FLX4530 Transported on a Lowboy Trailer
Origin: Byhalia, MS 38611

Destination: Twin Valley, MN 56584

Specs: Case IH FLX4530; 29L X 11.6W X 12H; 24,000lbs

Transport Specialist: Sam Duncan
(561) 931-6741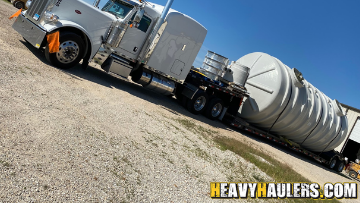 Oversize Tank Transported on a Lowboy Trailer
Origin: Lubbock, TX 79404

Destination: Phoenix, AZ 85034

Specs: Oversize Tank; 32L X 10.5W X 14H; 13,000lbs

Transport Specialist: Andrew Raucci
(954) 234-2861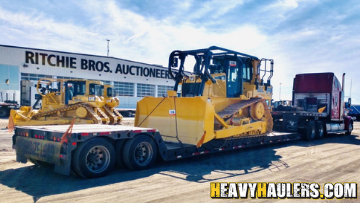 CAT Dozer Hauled on a Lowboy Trailer
Origin:Davenport, FL 33897

Destination: Burlington, IA 52601

Specs: Oversize Tank; 17L X 10.7 X 11.2H; 47,000lbs

Transport Specialist:Louis Santana
(407) 574-3173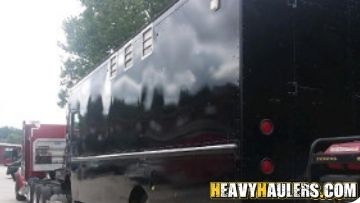 What is an Extendable Lowboy Trailer and When Do You Need One?
An extendable lowboy trailer, also known as a stretch lowboy trailer, is utilized when oversize loads are longer than the standard lowboy trailer maximum length dimensions. When this happens, the regular lowboy trailer can extend in length from 28ft to 50ft. It also has extension stops every 24 inches. This allows for safe transport for longer heavy equipment.
Heavy Haulers has the best extendable lowboy trailers ready for hauling. An expert logistics agent will determine if a stretch lowboy trailer is the best choice for your oversize load. Each lowboy extendable trailer haul is secured properly and transported by the best driver for the job. We provide dependable stretch lowboy trailer shipping, so you can be confident in your heavy equipment transport. Call now and let's get started!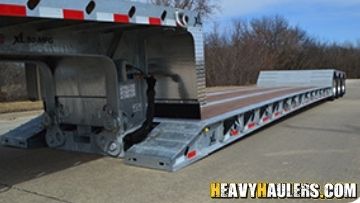 Heavy Haulers Provides Lowboy Trailer Shipping to All 50 States
Heavy Haulers offers lowboy hauling in all 50 states, including Alaska and Hawaii. Online auctions offer some of the best deals around on lowboy trailers. The problem with purchasing online is that you will need to arrange dependable transport for any new trailers you buy. With Heavy Haulers, there's no need to worry. We offer top-quality shipping of lowboy trailers anywhere in the United States. We will provide any permits or escorts you need to ship your lowboy trailer anywhere you need it, safely and efficiently. And, so you won't worry, you will be in continual communication with your transport team. For premium lowboy trailer transport, you can trust us to get the job done right.
We transport many brands of trailers across the country and North America
Trust Heavy Haulers to transport any brand of trailer you own. We are experienced in handling all types of brands and manufacturers, we have hands-on experience shipping all trailer manufacturers there is on the road! Some of the trailer brands we commonly ship include:
Looking For Transport
With a Specific Trailer?

Max Weight: 150,000+ lbs. | Main Deck Length 29 ft.
| Well Width 8.5 ft. | Legal Height Limit 11.6 ft.

Max Weight: 48,000 lbs. | Max Length 53 ft.
| Max Width 8.5 ft. | Max Height 8.5 ft.
Max Weight: 48,000 lbs. Max Length 53 ft. |
Max Width 8.5 ft. | Max Height 11 ft.
Max Weight: 45,000 lbs. | Max Length 29 ft.
| Max Width 8.5 ft. | Max Height 11.5 ft.
Heavy Haulers Ships Across All 50 States
Alabama - Alaska - Arizona - Arkansas - California - Colorado - Connecticut - Delaware - Florida - Georgia - Hawaii - Idaho - Illinois - Indiana - Iowa - Kansas - Kentucky - Louisiana - Maine - Maryland - Massachusetts - Michigan - Minnesota - Mississippi - Missouri - Montana - Nebraska - Nevada - New Hampshire - New Jersey - New Mexico - New York - North Carolina - North Dakota - Ohio - Oklahoma - Oregon - Pennsylvania - Rhode Island - South Carolina - South Dakota - Tennessee - Texas - Utah - Vermont - Virginia - Washington - West Virginia - Wisconsin - Wyoming
Heavy Haulers Pilot Car Services
Are you looking for a reliable pilot car
for your transport?
Get Started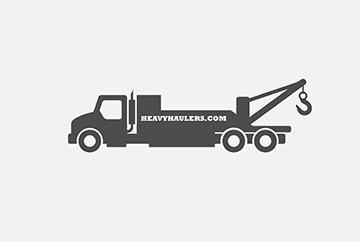 Heavy Haulers Comprehensive Lowboy Trailer Shipping Services
● Lowboy trailer carriers.

● Shipping lowboy trailers.

● Lowboy trailer transport services.

● Lowboy trailer shipping company.

● Transporting cargo on lowboy trailers.

● Lowboy trailer dimensions.

● Lowboy trucking company.

● How to use a lowboy trailer for transport.