Ship Your Cargo with Heavy Haulers' Low Boy Trailers in All 50 States, Canada, and Mexico!
Lowboy trailers are the workhorses of the heavy equipment shipping industry. They're useful for moving equipment, machinery, and cargo for a variety of industries. These are almost ubiquitous in farming, mining, construction, and goods transport around the globe, and as such, are known as a double drop, low loader, low-bed, or a float depending on what part of the world you are in. They're all referred to as a semi-trailer with a drop deck.
Lowboy trailers are sued to move large machinery that isn't road rated, despite having wheels, such as bulldozers, backhoes, and dump trucks. They're constructed with two drops on the trailer, allowing taller equipment that can't be disassembled to ship through low-clearance areas. Typical freight height restrictions are 8', which many larger machines may exceed on a different type of trailer. The maximum weight for a two-axle lowboy trailer is 40,000 pounds, but the weight limit can be increased up to 80,000 pounds total weight of the trailer, and load depending on the number of axles required.
Contact Our Expert Shipping Specialists


(800) 908-6206
The Heavy Haulers Lowboy Transport Experience is Easy! Find Out For Yourself!
Shipping cargo and equipment on a lowboy trailer is a job for professionals. The team at Heavy Haulers contracts with licensed, bonded drivers, vetted to ensure that their rigs and trailers are compliant with shipping regulations across North America. Our route planners take into account the size of your cargo or equipment, whether it's just one piece of equipment or your entire construction fleet.
One phone call to (800) 908-6206 gets you started. We prepare a custom quote for you, including wide load paperwork, customs forms, and weigh station information. We can also arrange an escort convoy if needed. Heavy Haulers offers door-to-door service for all cargo we ship on our lowboy trailers, ensuring tt your equipment and machinery is where you need it, on time and safely delivered. Call us today for a FREE, no-obligation quote!
Learn to Transport a Lowboy Trailer With Heavy Haulers
Lowboy trailers are essential for many businesses. The two deck drops of the lowboy maker it possible to legally carry loads up to 12 feet in height, which other trailers simply cannot do. They are used to haul a variety of heavy equipment, including bulldozers and industrial equipment. They are an essential part of many industries, including construction and manufacturing. Only a professional lowboy trailer shipping specialist should be trusted to move a lowboy trailer safely and legally.
See More of Our Recent Lowboy Trailer Transport
CASE IH FLX4530 Transported on an RGN Trailer
Origin: Byhalia, MS 38611

Destination: Twin Valley, MN 56584

Specs: Case IH FLX4530; 29L X 11.6W X 12H; 24,000lbs

Transport Specialist: Sam Duncan
(561) 931-6741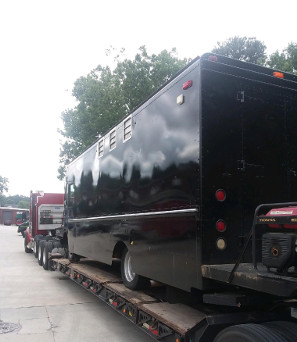 What is an Extendable Lowboy Trailer and When Do You Need One?
An extendable lowboy trailer, also known as a stretch lowboy trailer, is utilized when oversize loads are longer than the standard lowboy trailer maximum length dimensions. When this happens, the regular lowboy trailer can extend in length from 28ft. To 50ft. It also has extension stops every 24 inches. This allows for safe transport for longer heavy equipment.
Heavy Haulers has the best extendable lowboy trailers ready for hauling. An expert logistics agent will determine if a stretch lowboy trailer is the best choice for your oversize load. Each lowboy extendable trailer haul is secured properly and transported by the best driver for the job. We provide dependable stretch lowboy trailer shipping, so you can be confident in your heavy equipment transport. Call now and let's get started!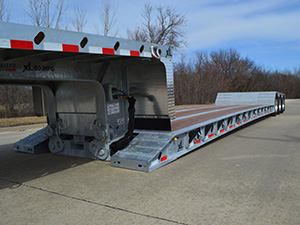 Heavy Haulers Provides Lowboy Trailer Shipping to All 50 States
Online auctions offer some of the best deals around on lowboy trailers. The problem with purchasing online is that you will need to arrange dependable transport for any new trailers you buy. With Heavy Haulers, there's no need to worry. We offer top-quality shipping of lowboy trailers anywhere in the United States. We will provide any permits or escorts you need to ship your lowboy trailer anywhere you need it, safely and efficiently. And, so you won't worry, you will be in continual communication with your transport team. For premium lowboy trailer transport, you can trust us to get the job done right.


Common Trailer Types Available from Heavy Haulers
Heavy Haulers specializes in hauling heavy loads such as construction equipment, oil field rigging and Super Loads. We are wideload experts! We offer an extensive range of trailer choices, including:
Max Weight: 48,000 lbs. | Max Length 53 ft. | Max Width 8.5 ft. | Max Height 11 ft.




Max Weight: 45,000 lbs. | Max Length 29 ft. | Max Width 8.5 ft. | Max Height 11.5 ft.
Max Weight: 150,000+ lbs. | Main Deck Length 29 ft. | Well Width 8.5 ft. | Legal Height Limit 11.6 ft.




Max Weight: 48,000 lbs. | Max Length 53 ft. | Max Width 8.5 ft. | Max Height 8.5 ft.
We transport many brands of trailers across the country and North America
Trust Heavy Haulers to transport any brand of trailer you own. We are experienced in handling all types of brands and manufacturers, we have hands-on experience shipping all trailer manufacturers there is on the road! Some of the trailer brands we commonly ship include: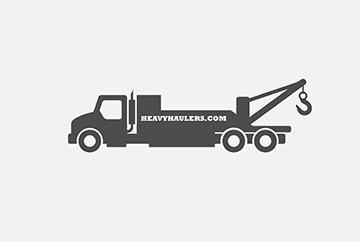 Heavy Haulers Comprehensive Lowboy Trailer Shipping Services
● Lowboy trailer carriers.

● Shipping lowboy trailers.

● Lowboy trailer transport services.

● Lowboy trailer shipping company.

● Transporting cargo on lowboy trailers.

● Lowboy trailer dimensions.

● Lowboy trucking company.

● How to use a lowboy trailer for transport.







11423605

MILES TRAVELED






1214292

LOADS SHIPPED







1315658103

TONS TRANSPORTED






921637

CLIENTS SATISFIED