Everything You Need To Know About Wheel Loader Transport
Transporting heavy equipment or construction machinery like wheel loaders is not easy. You will require to take extra measures to ensure that the equipment is secure and will reach the specified destination in good order. The transportation process requires you to be prepared with the right size of the vehicle or towing vehicle. Your loading should also be precise and accurate to ensure that the wheel loader is safe for transportation.
When transporting the wheel loader, safety should always be on top of your priorities. This will help you save time and money as well as ensuring that your transporting vehicle remains intact. Here are a few tips to make your wheel loader transportation easy and safe to the next Jobsite.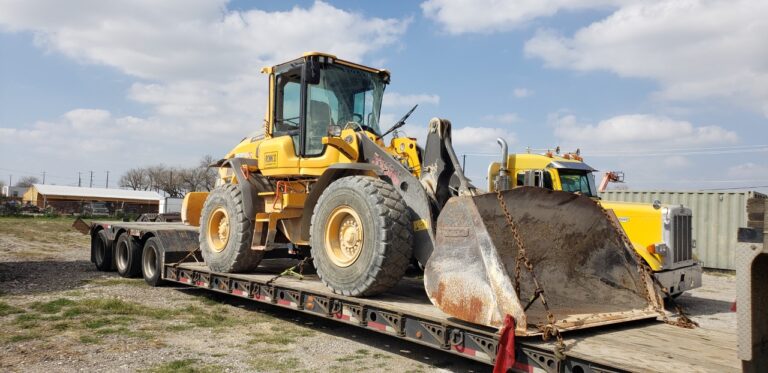 1. Choose the Right Transporting Vehicle
The first thing for successful wheel loader transportation is to ensure that your towing and transporting vehicles are the right size. This includes the size and total capacity that they can handle before loading the machine. Therefore, before deciding which vehicles to use, you should fast know the size of the wheel loader.
If the wheel loader is oversized, you will require to find an equally big vehicle to accommodate heavyweights. You will also need to have permits or approval from relevant bodies to satisfy transportation. The permit will also indicate the appropriate route you will use to get your equipment to the site.
Load rating varies from state to state; therefore, you should ensure to comply with the vehicle's maximum weight specifications in your state to avoid getting in trouble with the authorities.
2. Follow Loading Guidelines
Once you have the right vehicle, loading the wheel loader for transportation should be bliss. However, there are specific guidelines that you should follow to make the process smooth and convenient. Among other guidelines, ensure to observe the following:
Ensure that your wheel loader is parked on a level and firm ground
When loading or unloading, run the engine at low speed and drive as slow as possible
Have an overall idea of how to operate the wheel loader you are transporting
Use a ramp that is free from debris, grease, or mud to avoid sliding or slip of the machine
Ensure your ramp is designed to handle wheel loader; if possible, you can add blocking under the ramp to enhance safety
Beyond following these steps, you should ensure that your wheel loader is well balanced on the transporting vehicle. This will guarantee that the weight will be evenly distributed to avoid possible slides while on the move. A quick check to be sure that the machine is balanced is to check the vehicle's suspension.
3. Ensure the Wheel Loader Is Properly Secure
Apart from securing the machine on the transporting vehicle with ramps, being sure that it's properly secure is critical. To verify that the wheel loader on transit is safe, check the following:
Make sure that that all the doors are locked
The bucket is low and touching the floor of your transport vehicles,
Ensure that the engine is switched off completely. If possible, you can also disconnect the battery to be sure there are minimal chances of accidents.
Before takeoff, you should countercheck the wheel loader to ensure that it is in perfect condition. This involves placing chocks, wedges, cradles, and any other thing you find in front and behind the wheel of each truck. This will prevent the loader from shifting or rolling once you start moving, guaranteeing that your machine will remain in position.
Install tie-downs on both front and rear positions to ensure that your wheel loader remains in the same balanced position throughout the journey.
4. Remember the Wheel Loader Attachments
Also known as bucket loaders or front-end loaders, wheel loaders have attachments, and when transporting the machine, it is also essential to transport the attachment. Therefore if possible, when loading the wheel loader, ensure that the attachments are attached to the machine. However, if they are not attached, ensure to strap each attachment to the vehicle with strong chains for easy transportation.
Transporting a Wheel Loader Right
Transporting the wheel loader is a crucial exercise, and it can determine whether the job on site will be done or not. Since wheel loaders are large construction equipment, you should ensure that you march it with an equally big transporting trailer with all safety steps put into consideration.
Transport Your Wheel Loader With Heavy Hauler Today!
Step 1:

Fill Out Quote Form

Fill out the short & easy quote form.
Step 2:

Speak With An Agent

We'll pick up your heavy equipment or vehicle.
Step 3:

Get Transported On Time

We deliver on time so you can get back to work.