Four Things to Know About Tiny Home Transport
If you've invested time and money into building your dream tiny home from scratch, then you want to make sure you are fully prepared to move it safely, especially if this is your first time transporting. There's so much at stake. If you're planning to move your minimalistic, wheeled home, you need not worry, for this guide is here to guide on you how to successfully transport a tiny house, including why you need legal documents and a partnership with Heavy Haulers.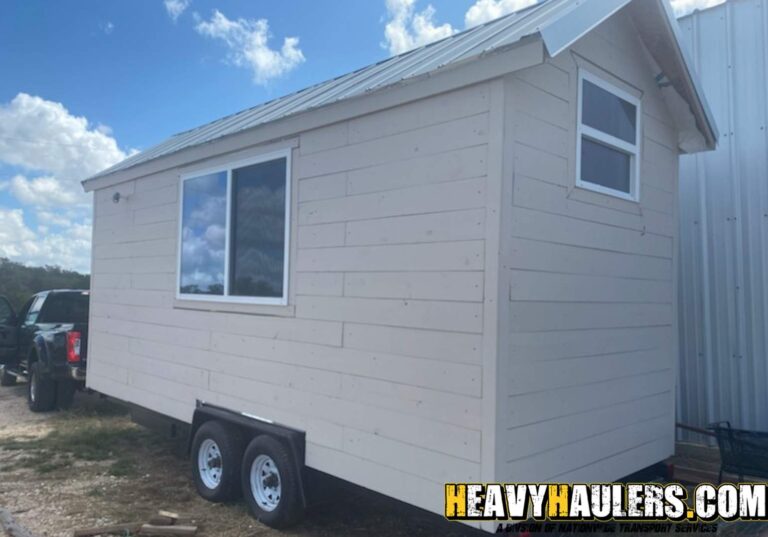 Why are Transport Permits and Licensure Critical for Tiny Home Shipping?
Every state in the United States has its own DOT regulations governing the shipping of out-of-the-norm cargo. While your tiny home's dimensions and weight may not require a special permit to maintain a legal shipment, you still need some permit and specific equipment because you're not carrying a standard/normal load. It would be best to have project-specific rigs and equipment to ensure safe hauling and protection of other motorists and public property.
Retrieving the correct legal documents means researching and visiting DOT and DMV offices within each state you wish to traverse. Transport authorities will require you to define your cargo dimension for classification, and subsequently, permit processing. That's because different loads require different permits.
Things to Know About Tiny Home Transport
The Tow Cab and Trailer Hitch System Are Key:
You need to carefully choose the rig and trailer system for your tiny home. Typically, a heavy- or super-duty pick-up truck is the ideal tow vehicle for moving small homes measuring a maximum width and length of 8.5 ft. and 40 ft., respectively. Alternatively, you can build your tiny mobile home on a standard trailer, and that means you'll attach it to the power truck using a standard ball hitch underneath the rear fenders. If you built the tiny house on a removable gooseneck (RGN) trailer, which arches in the rear tailgate and rises over the power cab's fenders, you'll couple it with a hitch-mounted on the truck's bed. It is crucial to have a hitch that properly connects the two and matches the tiny home's weight.
Always Assess the Weather Conditions:
As you map out your hauling route, you also need to evaluate the weather along your preferred path. It would be best to move the tiny home during calm, sunny weather. A tiny house has a high ceiling and narrow-side profile, which somewhat raises its gravity center. Therefore, high winds can quickly destabilize it while on the road, causing it to topple over, and that's the last thing you want. Furthermore, rainy weather only reduces road visibility and makes driving a challenge because of the weight being towed.
Have a Budget for Your Move:
Calculate the estimate or costs involved in moving a tiny home enables you to have a smooth haul while limiting your expenditure. Some basic essentials you need to budget for include fuel, truck maintenance, and insurance. Typically, your vehicle insurance cover will also cover the tiny home, considering its part of the truck-and-trailer system. You also need to factor in meal and accommodation costs in case you cannot stay in your in-transit home.
Stow and Secure Movable Items and Appliances:
You'll also need to ensure that you carefully arrange and pack any movable items and objects in one place. That prevents them from sliding or getting dented or damaged due to vibrations. Some tiny-home owners prefer boxing items, but that works for relatively shorter hauls. Long-distance moves with uncertainty in weather conditions might require hauling your valuables in a separate truck.
The Benefits of Partnering with a Professional Haulers for Tiny Home Transport
A professional hauling company makes the hauling process manageable and easy. Most reputable heavy haulers have vast networks of logistics professionals throughout the United States. They are authoritative companies that work together with DOT and DMV authorities in each state and can therefore maintain a legal load despite your over-dimensional tiny home. They also invest in state-of-the-art rigs and equipment to move tiny homes measuring more than 25,000 lbs. and 400 sq.-ft.
When you hire professional heavy-freight shipping companies, you get professional guidance on efficient and secure stowing your valuable items before shipping. Their expert shipping specialists have experience in moving mobile homes. Hence, they know what things to strap down and the large appliances that require special securing. With hauling professionals, you'll get a detailed list of instruction on how you can secure your tiny home for transportation, whether short- or long-distance haulage.
Transport Your Tiny House With Heavy Haulers Today!
Step 1:

Fill Out Quote Form

Fill out the short & easy quote form.
Step 2:

Speak With An Agent

We'll pick up your heavy equipment or vehicle.
Step 3:

Get Transported On Time

We deliver on time so you can get back to work.