How to Transport Wind Turbine Blades
There are only so many ways to create energy, and each source has its own unique set of challenges. Generators fired by oil and gas require a fuel source that potentially causes pollution, hydroelectric generators are better for the environment, but there are few opportunities to build these. Solar-powered generators are increasing in number but not a likely source for U.S. power grids. Wind power is a viable solution for energy in vast areas of the U.S.
To keep up with the demand for wind energy, which is growing by at least 10-percent per year, according to the Global Wind Energy Council, as many as 10,000 new wind turbines will need to be installed over the next two decades. A single wind turbine can be more than 100 meters, and the tower, nacelle, and blades each weigh several tons. As you may expect, these weights and dimensions often exceed U.S. infrastructure limits and can make wind turbines expensive, time-consuming, and challenging to coordinate.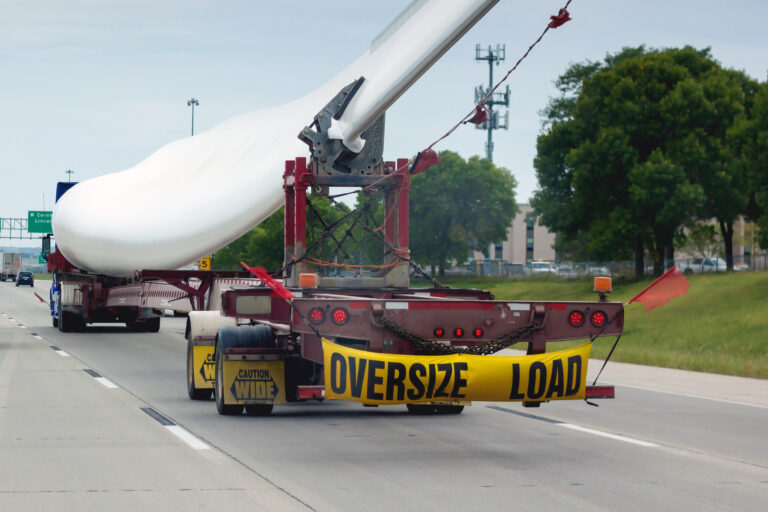 A Brief History of Wind Turbine Transport
The first wind farm was built in New Hampshire in 1980, at Crotched Mountain. From the mid-1970s through the mid-1980s, the U.S. government worked with the industry to create useful advancements, such as the steel blades used for windmills, and enable the completion of commercial wind farms. In addition to aiding the completion of commercial wind farms, wind power in North America was first used to generate electricity for local homes and businesses and help farmers and ranchers pump water used for irrigation.
Early wind turbines typically followed the 1.5-megawatt GE-built standard wind turbine formula, which could power up to 500 homes. In this turbine design, the nacelle sits approximately 260 feet above the ground, and each blade extends 116 feet. All-told, these early models utilize about 1.5 acres of air space. More modern wind turbines have much larger nacelles and longer blades capable of operating efficiently in light winds, meaning they can be installed in many more areas. Today, wind farms are found on both the east and west coast, throughout the country, and more are being built to keep up with growing demand.
In more traditional shipping projects, route planners often aim for the fastest, most cost-effective transport option. However, with transporting wind turbine blades routes often have to be adjusted. Due to the large size of the turbine blades, some routes can't feasibly be traveled. Each state may have regulatory requirements for shipping oversized equipment that might affect which roads you can travel.
Wind Turbine Blade Transport Options
Wind turbine components can be transported using various transport modes, including ship, rail, and truck. When it comes to building new wind farms and turbines, most of the assemblages that comprise the wind generator must be delivered on trucks at some stage during the transportation process.
The typical 3-blade assembly can weigh 36 tons combined. Even one blade alone can weigh up to 12 tons, and the extreme length of turbine blades can lead to some travel restrictions. Unlike some components, such as the tower, turbine blades can't be dismantled for shipping. Despite their length exceeding 110 feet, qualifying it as an oversized shipment, hauling a wind turbine is often done through coordinated road transport projects.
Modern generator blades won't fit typical 89 feet railroad cars, so specially designed cars may be required for rail transport. The height of blades may also pose problems for rail transport, as some underpasses and tunnels may not be large enough to accommodate wind turbine blades' transportation. To fully support wind transportation demand, transport agents will often use various specialized trailer truck equipment, including extended RGN trailers. Trailers fitted with steer axles are often used to help negotiate sharp turns and intersections.
How to Prepare for Wind Turbine Blades Shipping
Aside from route planning and coordinating the right trucks and trailers for the journey, one of the most crucial aspects of turbine blade shipping is arranging the correct road transport permits. Both the size and weight of the turbine blade come into play here since the heaviness, and excessive length, of a turbine blade, typically qualifies it as a superload shipment. As a superload shipment, permits often need to encompass the following:
– Route survey for bridges, crossings, and overhead obstructions
– Traffic pattern reviews
– Dimensional diagrams of load
– Practice run
– Escort services compliant with state regulations
– Seasonal considerations, e.g., ice and snow
– Surety bond
Get Your Wind Turbine Transport Quote Now!
Step 1:

Fill Out Quote Form

Fill out the short & easy quote form.
Step 2:

Speak With An Agent

We'll pick up your heavy equipment or vehicle.
Step 3:

Get Transported On Time

We deliver on time so you can get back to work.