Shipping a Tugboat from Florida to New York With Sam
Heavy Haulers has a comprehensive list of services offered to clients at affordable rates. Sam was tasked with the transportation of the tugboat from Florida to New York, a 934.3 miles journey. Our services have been offered to clients looking to transport boats in the past. With the resources and data we have accumulated in the past, transporting the heavy boat was done securely and on time. Sam had to dismantle the tugboat with a crane and loader before loading the parts on a flatbed trailer. All this was done with the help of highly skilled specialists from Heavy Haulers.
Getting Each Section of the Tugboat Ready For Transport
Sam understood that each section of the tugboat, from the cabin to the engine, had to be loaded on time. On average, a tug boat engine has 640 – 3300 hp. With these extremely large engines and uniquely shaped parts, the strapping of the parts on the flatbed trailers had to be done accurately. The escort tug boat, which was destined to be shipped at the docks, was carefully loaded by Fox and his team using cranes. After loading the different parts on the trailer, a record of all the different parts was handed over to the driver.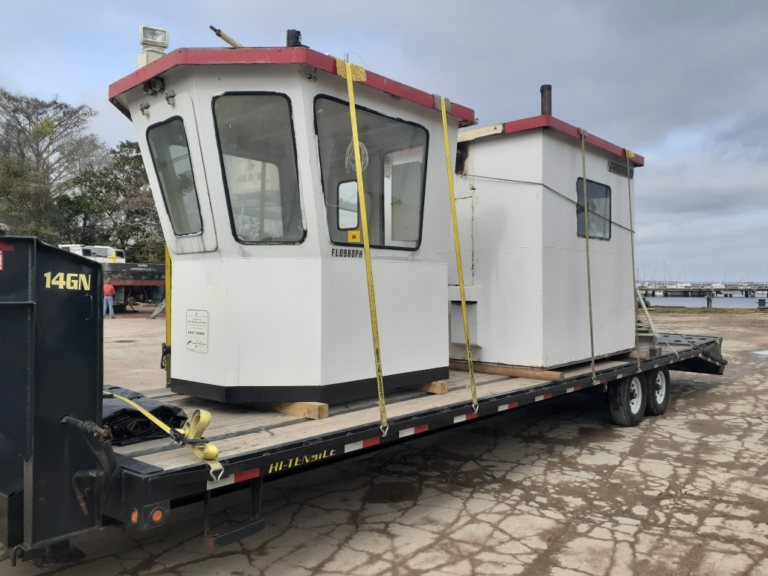 Heavy Haulers has been handling the transportation of tugboats for over a decade. On this particular operation, Fox had his team cover all the parts with waterproof tarps. The dispatch team relayed all the information regarding the operation, especially during the integrity checks made every 100 miles of the journey.
Quality Tugboat Transport Services
We have been shipping heavy boats for quite some time now. In our many years of operation, we have handled the delivery of different tugboats. We handle the transportation of escort tug boats, support tug boats, conventional tug boats, and azimuth stern drive tug boats. After the shipment had arrived in New York, Fox informed the dispatch team, and the information was passed on to the client. During assembly, the screw propeller on this particular tug boat required professionals to adjust the propellers and rudders, the shipment was successful, and the client impressed with the level of services we provided.
Get Your Tugboat Transport Quote Now!
Step 1:

Fill Out Quote Form

Fill out the short & easy quote form.
Step 2:

Speak With An Agent

We'll pick up your heavy equipment or vehicle.
Step 3:

Get Transported On Time

We deliver on time so you can get back to work.
Transport Specialist
Sam Duncan
Sam has been with NTS for years now, and he's proof positive that a positive attitude can take people far. He always comes to work ready to get the job done. He's never too busy to take a call, return a call, or ensure customer satisfaction. Sam is the branch manager in West Palm, and he's dedicated to his team's success.