Types of Forklifts and How to Transport
Forklifts are among the most powerful warehouse and construction vehicles. This also makes forklift transport one of the most common types of equipment hauling. They are normally used for lifting heavy items that are difficult to lift with human strengths, but they also have various purposes. However, the market is saturated with over seven types of forklifts, and unless you know what you are looking for, it is easy to get mixed up. And the whole mix-up can make the process of choosing the right one for your job quite daunting. If you are trying to find the appropriate forklift for your job but are unsure which one to pick, keep reading to learn different types and their uses.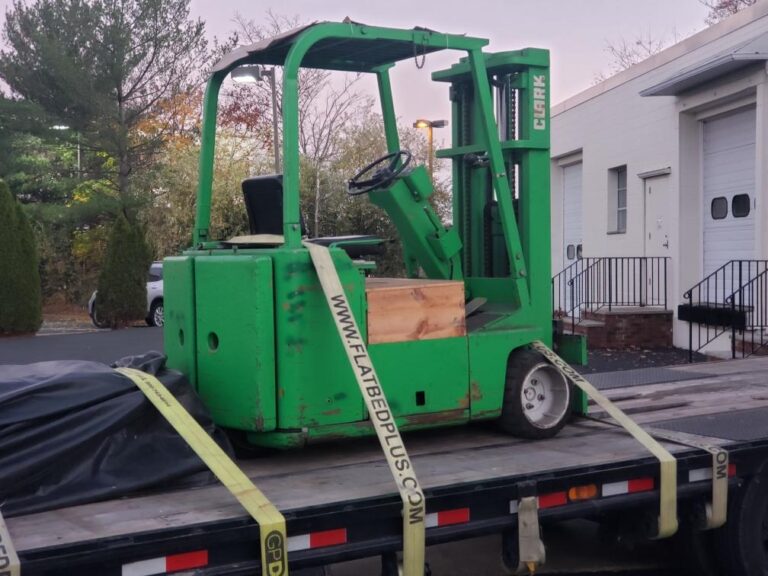 The Various Types of Forklifts Transported
Telescopic Handlers
This piece of machinery has a combination of forklifts and cranes, making it a hybrid. Unlike other forklifts, the telehandlers can move diagonally, backward, and forward. This type of movement makes the telehandlers suitable for working with loads that would be stressful to move with a regular forklift. The telehandlers also have long and extendable arms, making it possible to navigate tight spaces and angles at ease. This type of machinery is convenient for use on construction sites. It takes up less space compared to cranes, but it can handle almost the same jobs making it versatile.
Warehouse Forklift
This is one of the most recognized lift trucks. It has a unique shape almost similar to that of a golf cart, only that this has twin forks extending at the front. This forklift can be found in a facility where numerous large materials can be moved. It can also be used to load and unload pallets and transport items from delivery vehicles to the facility. There are also other subtypes of forklifts under warehouse forklifts, and they all have specific tasks that they handle in the warehouse. Here are the most common warehouse forklifts:
• Side loader
• Counterbalance forklift
• Top loader
Rough Terrain Forklifts
When you are operating in difficult terrain and have some materials to transport, looking for a rough terrain forklift will be much profitable. This forklift is designed using inflatable tyres with thicker threads providing it with stability on uneven grounds. It also has a more powerful engine for high speeds and easy maneuverability.
This type of construction makes the rough terrain forklift reliable for transporting heavy loads on difficult terrains. No matter how rough the working space or road is, this type will securely do the job. It has a well-designed counterbalance at the back to ensure it doesn't experience overbalancing in the tough terrains.
Walkie Stackers
This type of forklift has a strange appearance, but they are quite specific in utility. Unlike other types, this doesn't have cabs for the operator. Therefore, the worker walks behind the stacker and uses an attached handle to steer it towards lifting various items. The stacker doesn't have speed or maneuverability power. However, with its slow speeds, it is ideal for use in places where you need a taller pallet jack
Pallet Jack
Pallets jacks are operated almost similar to walkie stackers, only that these are pulled or pushed manually. Pallet jacks also have smaller footprints making them suitable for lifting small loads in tight spaces. Another downside of the pallet jacks is that they cannot be used for lifting items quite as high, but you are guaranteed that it will help you get the job done where applicable.
Reach Truck
Reach lifts are a powered version of walkie stackers and pallet jacks. This truck is suitable for lifting items placed at a higher height where other forklifts cannot reach. With this reach truck, getting items from top shelves is quite easy, assuring you that your items will be safe. Like the walkie stacker, the operator stands while driving this lift, but unlike the stacker, it is powered and can lift large items.
How to Ship a Forklift
Forklifts are not classified as automobiles. So, you cannot just drive them on the roads like other vehicles. However, these are crucial pieces of equipment in almost all warehouses and construction sites. This is to say that forklift transport is inevitable as they have to move from one site to the next.
Moving forklifts from point A to point B should be done in an efficient, secure, and safe mode. Safe forklift towing isn't rocket science. You can do it effectively is you employ just a small common sense—employ the recommended safety precaution and the right equipment to make it happen seamlessly. That's why we have outlined for you the top 5 forklift towing tips. Here we go!
• Know the weight of your forklift – Weigh your forklift to ensure that you employ the appropriately rated trailer to transport your machinery.
• Inspect the condition of your forklift before loading it into the trailer.
• Ensure that the wheels are chocked.
• Ensure your forklift is well centered in the transporting trailer, tilt the forks forward, and lower them to the floor.
• Disconnect the gas tank before transportation
• Use chains to tighten the forklift onto the trailer.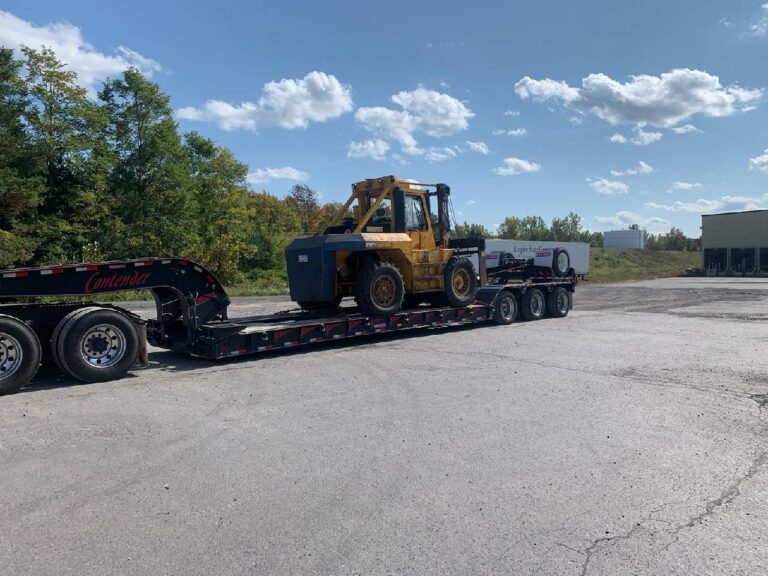 When choosing forklifts for your job, it is essential to know the type of jobs you have and the appropriate forklift for the job. This will guarantee that you get the right one for your services, and you will not stress while the job is half done. Before settling for a particular lift, you need also to check its power and operating techniques.
With so many types available on the market, you need to take your time and evaluate each type analyzing its capacity and operating techniques. This way, it will be easy for you to choose and be sure you are getting a forklift to ease the lifting job.
More importantly, when transporting the forklift from one place to the other ensure that you follow the due process and safety precautions.
Ship Your Forklift Today!
Step 1:

Fill Out Quote Form

Fill out the short & easy quote form.
Step 2:

Speak With An Agent

We'll pick up your heavy equipment or vehicle.
Step 3:

Get Transported On Time

We deliver on time so you can get back to work.