Transport Your Telehandler and Accessories with Heavy Haulers
Heavy Haulers understands the demands of the industrial construction and agriculture. When you need to transport your telehandler from one place to the next, cutting corners and improperly loading or shipping it can be dangerous. The transportation experts at Heavy Haulers are bonded, insured, and trained to treat your telehandler with care and diligence. Give us a call for a free, no-obligation custom quote (800) 908-6206.
Telehandlers are ideal to lift and reach in areas where a traditional forklift is unable to go. From obstructed job sites to rough terrain, the forklift attachment of your telehandler can move your items or debris safely over rough ground.
The bucket attachment for your telescopic handler is especially useful for farming and agriculture, moving loads to and from different places that a smaller bucket loader can't reach. Telehandlers can also work with crane jobs, allowing heavier or awkward loads to be lifted. Some models even have attachments for rotators, grain buckets, and other power lifts. The telescopic handler is a very versatile piece of equipment.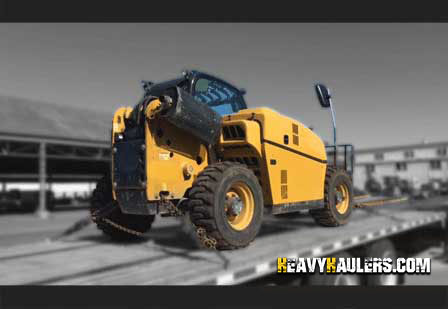 Telehandler shipping
Choose the Professional Telehandler Shipping Services Over the Rest!
We employ trained logistics professionals to determine the best route to ship your telehandler. Part of our job is examining rough terrain and back roads, planning the best way to get your gear even into remote areas of Mexico, Canada, or Alaska. We also handle the weighing and border paperwork, making sure that your delivery isn't tied up with unnecessary delays.
We take care to preserve the function of your equipment and accessories. Heavy Haulers understands that your heavy equipment needs to arrive safe and secure. We use properly rated trailers and trained loaders to ensure the pieces of the machine arrive intact.
Recent Telehandlers Transported by Heavy Haulers
Shipping a Caterpillar TH255 Telehandler to the next job site
Heavy Haulers recently shipped this Caterpillar TH255 Telehandler from Vallejo, California, to Orange Grove, Texas. The journey was nearly 1,860 miles long. Weight: 10,800. Length: 12 feet. Width: 6 feet 3 inches. Height: 7 feet 4 inches. To ship your Caterpillar telehandler where you want, when you want it, contact Sam at Heavy Haulers directly at: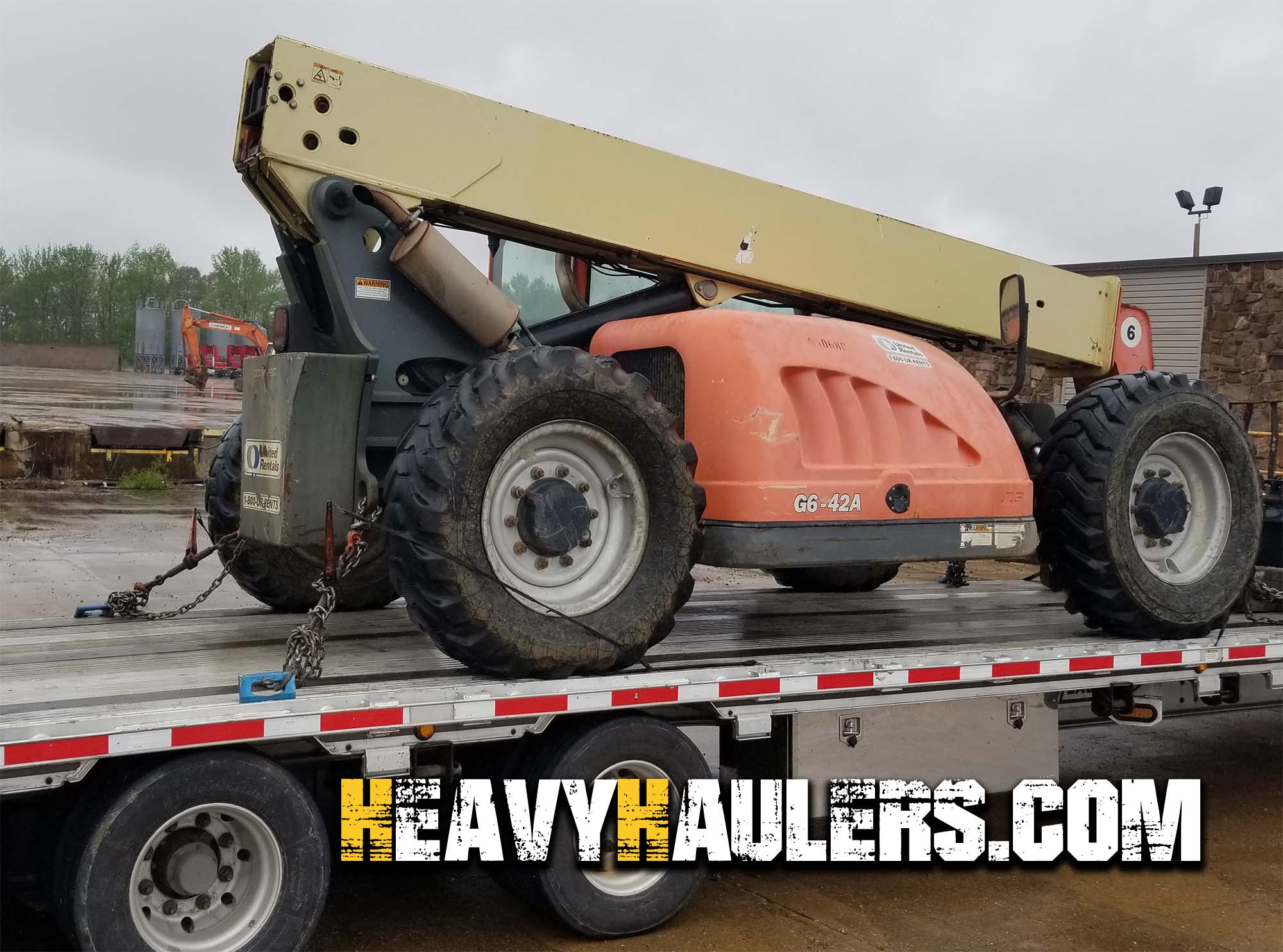 Hauling a JGB G642A Telehandler with Attachments
Heavy Haulers recently hauled this JGB G642A Telehandler from Colt, Arkansas, to Wylie, Texas. The journey was nearly 400 miles long. Four attachments also made the trip. Weight: 21,000. Length: 22 feet. Width: 7 feet. Height: 8 feet. To ship your telehandler where you want, when you want it, contact Tye at Heavy Haulers directly at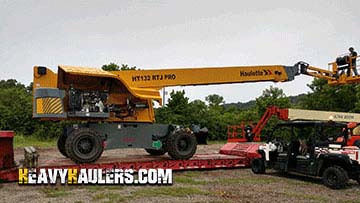 A Haulotte HA132RTJ Telescopic Handler Loaded on an RGN Trailer
Brian G. at Heavy Haulers was able to get this Haulotte HA132RTJ lift transported for one of his clients. This journey began in Birmingham, AL and ended 651 miles away in Shiloh, OH. Length: 38 ft. 8 in. Width: 10 ft. Height: 8 ft. 2 in. Weight: 48,000 lbs. If you need any equipment transported call Brian G. at Heavy Haulers today:
HEAVYHAULERS.COM
START YOUR SHIPMENT TODAY!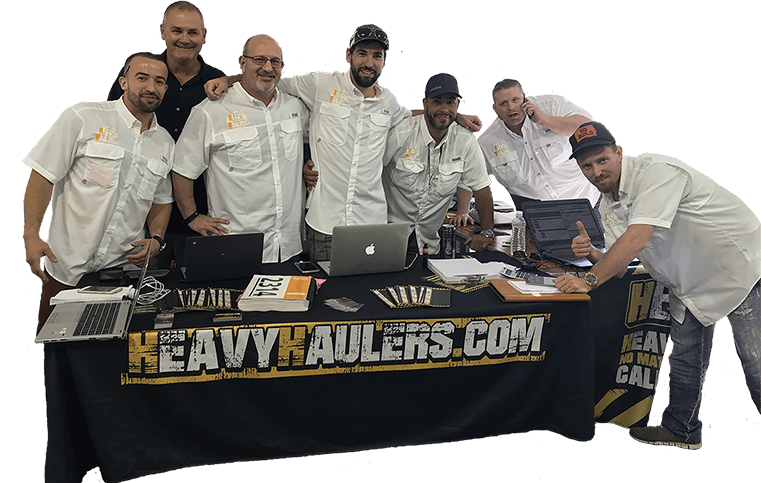 We Are Ready To Help You Haul Your Equipment!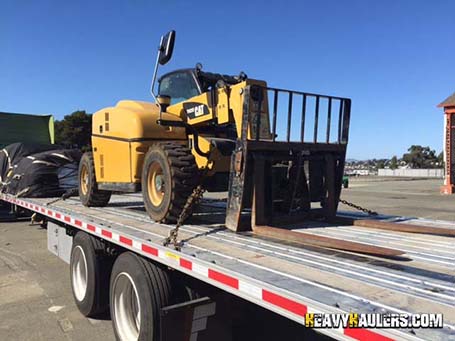 HOW TO SHIP A TELESCOPIC HANDLER
Heavy Haulers has the certified drivers and properly rated equipment to ship your telescopic handler. These larger vehicles typically ship as oversized loads, needing paperwork for weigh stations, larger trailers such as an RGN trailer or flatbed, and possibly an escort convoy through busy urban areas.
Heavier telescopic handlers require multi-axle trailers. Services from Heavy Haulers to safely transport your telescopic handler include properly securing the wheels with thick chains for safety, as well as the forklift portion, keeping the rig tight and preventing the arm from moving during shipment. Professional logisticians can make sure you have timely delivery and all necessary paperwork, especially when shipping internationally.
See what you need?
Call us for a FREE Shipping Estimate at (800) 908-6206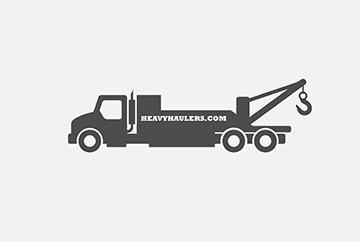 Towing Of Your Telescopic Handler Can Only Get Better With Heavy Haulers (800) 908-6206
Need excellent towing services for your telescopic handler? You will not be disappointed anytime you engage Heavy Haulers. Our drivers are experts when it comes to loading and offloading of your heavy equipment during the towing process. They have been in the industry for longer periods, and they are conversant with all the routes your towing equipment will take to reach its destination faster and secure. A call through (800) 908-6206 is all you need, and the towing of your machinery is done. Envío De Manipulador Telescópico.
Common Equipment Heavy Haulers Transports
Trust Heavy Haulers to transport any brand of equipment you own. Most of our drivers are experienced heavy-machinery operators who can safely maneuver your loads aboard our trailers. Some of the brands we have shipped include:
Heavy Haulers Ships Across All 50 States
Alabama - Alaska - Arizona - Arkansas - California - Colorado - Connecticut - Delaware - Florida - Georgia - Hawaii - Idaho - Illinois - Indiana - Iowa - Kansas - Kentucky - Louisiana - Maine - Maryland - Massachusetts - Michigan - Minnesota - Mississippi - Missouri - Montana - Nebraska - Nevada - New Hampshire - New Jersey - New Mexico - New York - North Carolina - North Dakota - Ohio - Oklahoma - Oregon - Pennsylvania - Rhode Island - South Carolina - South Dakota - Tennessee - Texas - Utah - Vermont - Virginia - Washington - West Virginia - Wisconsin - Wyoming
Looking For Transport
With a Specific Trailer?

Max Weight: 150,000+ lbs. | Main Deck Length 29 ft.
| Well Width 8.5 ft. | Legal Height Limit 11.6 ft.

Max Weight: 48,000 lbs. | Max Length 53 ft.
| Max Width 8.5 ft. | Max Height 8.5 ft.
Max Weight: 48,000 lbs. Max Length 53 ft. |
Max Width 8.5 ft. | Max Height 11 ft.
Max Weight: 45,000 lbs. | Max Length 29 ft.
| Max Width 8.5 ft. | Max Height 11.5 ft.
Heavy Haulers Pilot Car Services
Are you looking for a reliable pilot car
for your transport?
Get Started