What are Trailer Outriggers Used For?
Trailer outriggers are often used to support large equipment with a large separation between the wheels or tracks, e.g., oversized construction machinery transports. Many trucks and trailers are compatible with standard and customizable outrigger systems that securely stabilize the equipment and provide safe working conditions for loading crews and operators. When any heavy lifting is required, an outrigger will keep the truck stable during the lifting process by extending outward and adding ground stabilization a few feet away from the trailer. The extended brackets help provide a more stable base by distributing loads over a wider area.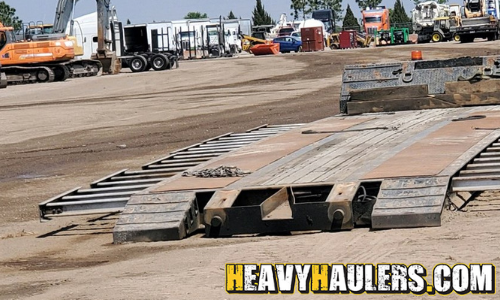 Types of Trailer Outriggers for Heavy Haul Transport
There are three main types of outriggers used in heavy haul transportation:
• Swing out
• Attached
• Pull out
Typically, swing out, or attached outriggers are used in conjunction with outrigger boards. When using outrigger styles with separate panels, the board can move once wheels or tracked vehicles begin to move across the boards. Precautions need to be taken to avoid erratic movements that could knock the panels out of alignment.
In comparison, pull out outriggers do not require a board. Instead, they utilize fixed ramps that provide a safe method for driving the vehicle right onto the trailer's outriggers without risking the supporting outrigger boards' accidental movement.
Trailers fitted with outriggers are generally 8 ft. wide or 8.5 ft. wide. Most often, 8 ft. wide trailers with outriggers are used for transporting agricultural equipment. They are used to support equipment that would otherwise require a wider trailer. For example, pull out outriggers can extend a traditional trailer's width to create a 13.5 ft. wide trailer base. Swing out, or other types of outriggers, often add a little less extra width, adding approximately 20 inches combined to a trailer's width.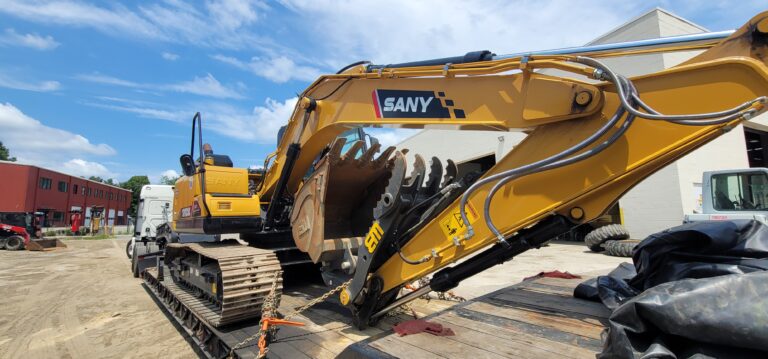 Aluminum vs. Wood Outriggers
Most trailer outriggers are constructed of two materials, wood or aluminum. Wood outriggers are often made from oak, which, while durable, may be prone to cracking unexpectedly. However, aluminum outriggers are more robust and have greater elasticity than their wooden counterparts. Greater elasticity allows aluminum to bend and flex much easier than wood, and it bounces back much more effortlessly than stiff wooden outriggers.
Aluminum is also most commonly used in pull out outriggers; a much more durable style that attached outriggers or swing out outriggers. As previously noted, the pull out outrigger negates the use of extra boards that may accidentally cause damage to the load rolling onto the trailer.
Outriggers, in general, enable trailers to be more versatile. Loads capable of being supported on the trailer can be heavier, larger, and broader than loads capable of being transported on trailers without outriggers in use. Aluminum outriggers can also be used on a wide variety of trailers, including gooseneck trailers.
How to Use Outriggers for Equipment Shipping
When loading a trailer equipped with outriggers, there are a few key safety concerns. If used correctly, outriggers can add up to an extra foot of width to each side of the main trailer deck. Proper loading protocols also need to be followed to ensure that equipment is loaded safely. When driving equipment onto trailer decks that use outriggers, at least half the tire, track, or grouser needs to be on the trailer deck, with the outriggers taking less than half the stress.
Outriggers are usually attached to trailers at considerable intervals, and outriggers should avoid concentrated loads where possible. When using swing out outriggers, crews must rotate and swing out the outrigger away from the trailer, then place the boards over the outriggers before starting to load cargo. With trailers equipped with removable outriggers, take the outrigger from its storage compartment and place them in the dedicated side pockets. Lock them into place using locking pins before attempting to load cargo.
Heavy Haulers provides outriggers for any load that requires it. We make sure each detail is taken care of so you can be confident in your transport experience.
Get a Heavy Haul Shipping Quote Now!
Step 1:

Fill Out Quote Form

Fill out the short & easy quote form.
Step 2:

Speak With An Agent

We'll pick up your heavy equipment or vehicle.
Step 3:

Get Transported On Time

We deliver on time so you can get back to work.