Eliminate the Hassle with Heavy Haulers Equipment Transportation
Heavy Haulers removes the hassle factor from heavy equipment transportation. Establish a relationship with Heavy Haulers, and you'll receive white-glove treatment from your dedicated transportation representative.
From the beginning, you're teamed with a personal representative who handles all your Heavy Haul business. You'll have a direct line to your rep, who's available to you almost any time of any day. Our one-on-one way of doing business is why we're successful.
Your dedicated representative negotiates with carriers, dispatches your shipment and marshals your load through delivery. Result: Great deals, on-time deliveries and fast shipments. For personalized service you can trust, choose Heavy Haulers.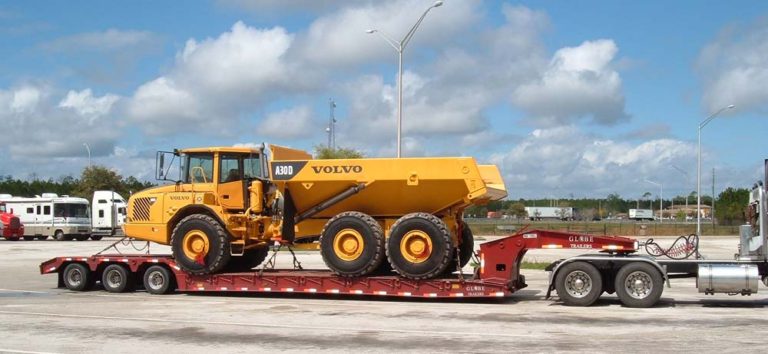 Why Work with a Heavy Haul Firm?
Work with a heavy-haul transport firm to save you aggravation, effort and money. Depend upon your professional transport agent to secure you the best deal possible for hauling your cargo.
Heavy Haulers logistics specialists are:
Dependable. Your Heavy Haulers agent does what he says he will. That's how you build trust. No sugar coating, you get the good with the bad. You can depend upon us to guide you in the right direction.
Available. When Heavy Hauler agents are out of the office, their calls are forwarded to their cell phones. You might have to leave a message, but if it's important your agent will get right back to you.
Knowledgeable. Experience counts in transport logistics. You need a representative who knows the heavy hauling game. Each of our Heavy Haulers experts has been in the business more than 5 years.
Valuable. You want an efficient transport at a favorable price. Your agent has a better chance of achieving that outcome than you do alone. Reduce your risk of a bad outcome by working with an agent.
Heavy Haulers has the experience that should provide you with peace of mind. Your valuable piece of machinery is in safe hands with us.
What Can a Heavy Haul Agent Do For You?
Establish trust with your logistics professional and benefit. If you let him, your representative will match you with a trustworthy driver hauling a high-quality rig that will deliver you cargo on time and intact.
Your Heavy Haulers representative helps you:
Choose the best transport trailer. Perhaps the most important service your agent offers. Selecting the trailer that can haul your load safely, and at the best price, is the crux of the job. Choose the right trailer, you're good.
Interview potential drivers. Your agent determines which available driver is best for your haul. Does he have ramps? The right set-up? Enough experience? Knowing which questions to ask, that's big.
Pick your driver. If possible, your agent will go with a driver he's worked with before. Multiple factors – ability to meet the schedule, cost per mile, carrier reputation – figure into that crucial decision.
Bargain with carriers. Your agent knows the going rates for transporting equipment. Like you, he doesn't want to pay the lowest rate (rip off) or the highest rate (bad deal). Expect a good deal.
Your Heavy Hauler agent seeks to establish a professional relationship with you. We want to be the first people you call when you need to move your equipment.
How Do You Choose a Heavy Haul Transporter?
Choose your Heavy Haul transporter by concentrating on the discussion. Beware of the representative who promises you everything. All you want is someone who can work with you to get the job done.
Keys to look for when choosing your transport agent include:
No upfront payments. You shouldn't pay a cent until the transport is arranged, with a driver confirmed and schedule proposed. Most heavy hauls are COD, with a small deposit after your driver says yes.
Business experience. There's no substitute for experience. Ask your transport agent how long they've been in the business. No rookies. Make sure your transport agency is licensed, bonded and insured.
Online reputation. Check the online reputation of your transport company. Two places to look: Transportreviews.com and Better Business Bureau. Your transporter should be top-ranked in both.
Contingency insurance. Reputable transport companies carry contingency insurance. The policy covers damage to your cargo if the carrier's insurance proves deficient. If they don't have it say goodbye.
Heavy Haulers is licensed, bonded and insured for transporting heavy equipment. Rated 5 Stars by Transportreviews.com and A+ by Better Business Bureau, Heavy Haulers offers free contingency insurance.
Transport Your Equipment Today With Heavy Haulers!
Step 1:

Fill Out Quote Form

Fill out the short & easy quote form.
Step 2:

Speak With An Agent

We'll pick up your heavy equipment or vehicle.
Step 3:

Get Transported On Time

We deliver on time so you can get back to work.