(800) 908-6206
Heavy Haulers
Specifications Database
We provide quality heavy haul transport
for every year, make, and model.
Trust the best in the industry.
Bobcat 763 Skid Steer Specs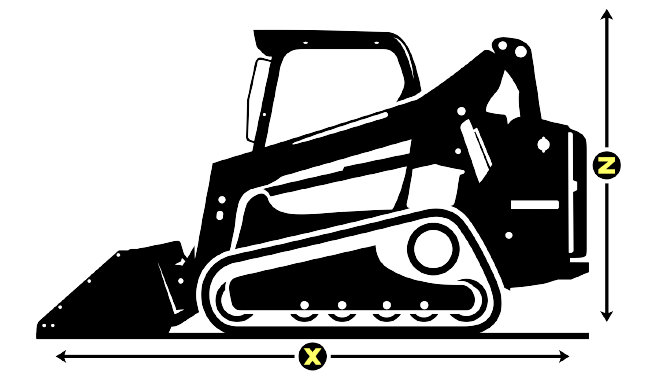 Need Bobcat Skid Steer Specs and Dimensions?
Heavy Haulers is your one stop shop for detailed specs and dimensions of Bobcat skid steer models. We provide you with all the necessary measurements, weight and specifications to help you buy a new or used Bobcat skid steer that will meet your needs. Through our specifications database, there's no room for making a mistake. All you need to know is what your jobsite requires and you will find a Bobcat skid steer with suitable specs and dimensions. In case you are selling your used Bobcat skid steer, you can search and find its specs and dimensions.This will help you provide potential clients with reliable information.
What Is a Bobcat Skid Steer Used For?
Bobcat skid steers are known for their power, performance and reliability. They are used for demolition, road work, material handling, loading, snow and debris removal, excavation, digging and trenching among others. Bobcat skid steers are versatile. With the right attachment for the job, they can help you do a lot. Bobcat is known to have invented the first skid steer. They've carried the legacy of manufacturing quality skid steers for more than 60 years. Over the years, Bobcat skid steers have been improved to offer you more comfort and productivity.
Bobcat 763 Skid Steer Specifications:
» Length With Bucket: 10.84 ft in


» Width Over Tires: 5.5 ft in


» Height To Top Of Cab: 6.45 ft in


» Wheelbase: 3.38 ft in


» Hinge Pin Height, Maximum Height: 114.53 in


Need Heavy Haulers to Verify Specs for You?
Call One of Our Specification & Dimension Specialists for a
FREE

Spec Verification at (800) 908-6206.
Removable Gooseneck
(RGN)

Max Weight: 150,000+ LBs
Main Deck Length: 29 FT
Well Width: 8.5 FT
Legal Height Limit: 11.6 FT