Agricultural Machinery Transport Services in All of North America | (800) 908-6206
Heavy Haulers provides reliable, cost-effective machinery transport to a wide range of industries. We have perfected the art of delivering on-time agricultural machinery and equipment transport. We offer door-to-door transport services across the United States, Mexico, and Canada. Our long history of transporting heavy machinery and equipment extends to agricultural hardware, from the use of specific carriers, step-frame flats to the low loader, we carry a wide range of agricultural equipment.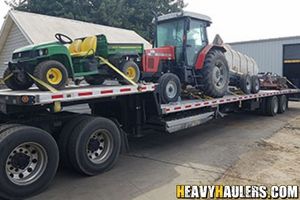 To actualize the delivery on time and safely, we use established route planning services, obtaining all the mandatory legal requirements from the authorities, and escort vehicles which continuously communicate with the driver when necessary.
Available Agricultural Machinery Transport Resources
It is impossible to transport heavy agricultural machinery without using state-of-the-art carriers and proper technology. The amount of effort it takes to deliver such machinery to its destination safely is accurately calculated. So much so that one little mishap could lead to injury or an accident on the road. That's why we let professionals oversee the whole operation.
Our flexible team of experts can conveniently handle your agricultural machinery transport. Despite decades of experience, they use updated transport technology to manage your equipment. Of course, these professionals are always on standby to help you select the right equipment for the job.
Recent Agricultural Machines Heavy Haulers Has Moved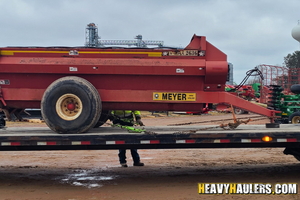 Hauling a Meyers SV2636 Manure Spreader on an Flatbed Trailer
Origin: WAUSAU, WI 54401
Destination: WILLIAMS, OR 97544
Specs: Meyers SV2636 7000# 20' LONG, 8' WIDE, 6' TALL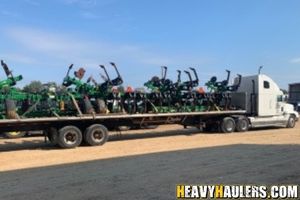 Hauling 3 John Deere 2100 Rippers
Origin: Yazoo City, MS
Destination: Elyria, OH
Specs: 3 JD 2100 Ripper 28000# 53L 10W 8.10H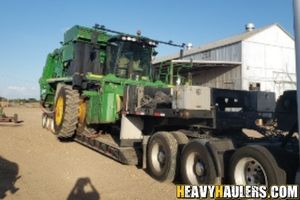 Transporting a John Deere CP690 Cotton Picker to Arkansas
Origin: Batesville, TX
Destination: Hughes, AR
Specs: 2018 JD CP690 72000# 29L 14.5H 15.4W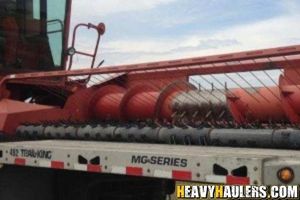 International 1440 Combine Agricultural Machine Shipped
This 36,000 pound International 1440 Combine agricultural machine was transported from Terreton, Idaho to Bend, Ohio, by shipping strategist roger C. The 11.6 ft. wide combine harvester had a height of 12 ft. and a length of 24 ft. and roger loaded it onto a Heavy Haulers RGN trailer. This load was tied down with chain riggings for securing upon the specialized lowered platform that accommodated its gigantic wheels and tall frame.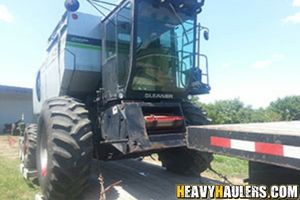 Shipping an R50 Gleaner Combine
This transport involved an R50 Gleaner Combine harvester that was prepped for transport and loaded on a specialized Heavy Haulers RGN trailer at davenport, Florida, for shipping to Clinton, South Carolina. The shipment was overseen by Willam Thomas, and the 550-mile journey required oversize permits since the R50 Gleaner Combine load weighed 83,400 pounds and had dimensions of 14 ft. width, 28.8 ft. length and 14 ft. height.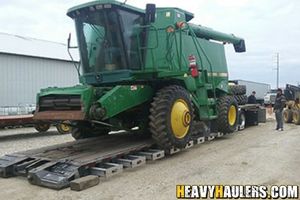 Shipping a John Deere Combine
Overweight permits, insurance, and flagging were needed as prepping for this John Deere Combine that Willam Thomas transported from Pittsfield, Illinois, to Aberdeen in South Dakota. The John Deere Combine weighed 54,000 pounds and had a width of 10 ft. which called for an RGN trailer that handled its 27 ft. length and 12.8 ft. height. Willam Thomas delivered the John Deere Combine within scheduled time while keeping in constant touch with the client.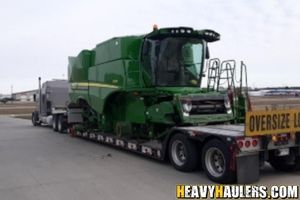 Shipping a John Deere S690 Combine on an RGN Trailer
Origin: Watertown, SD
Destination: Saint Louis, MI
Specs: 2016 JD S690 47000# 30L 12.6W 12.9H
Agricultural Machinery we Commonly Transport
We have the equipment such as step decks, RGN's and Flatbed trailers with elongating and sliding length "OUTRIGGERS" for safe transportation of the largest farm equipment. Whether you are looking to move a chaff cutter or a whole plant, we have services solely customized to transport heavy and small agricultural equipment. Owing to our decades of experience we understand the different components and attachments of agrarian machinery; we guarantee safe transportation from the pick up to the delivery point. Some of the farm machinery we transport include:
● Combine Harvester

● Tractors

● Plows

● Slurry Tankers

● Wrappers and Balers

● Irrigation Equipment and many more



Contact Heavy Haulers today and find out how simple and affordable it can be to have your agricultural machinery shipped to you. Our knowledgeable staff is ready to get your equipment to you safely.
Agricultural Equipment We Ship:
HEAVYHAULERS.COM
START YOUR SHIPMENT TODAY!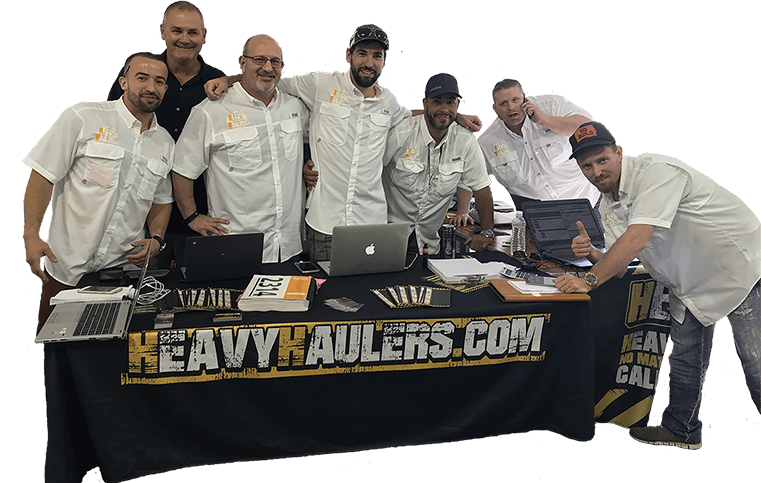 We Are Ready To Help You Haul Your Equipment!
Common Equipment Heavy Haulers Transports
Trust Heavy Haulers to transport any brand of equipment you own. Most of our drivers are experienced heavy-machinery operators who can safely maneuver your loads aboard our trailers. Some of the brands we have shipped include:
Heavy Haulers Ships Across All 50 States
Alabama - Alaska - Arizona - Arkansas - California - Colorado - Connecticut - Delaware - Florida - Georgia - Hawaii - Idaho - Illinois - Indiana - Iowa - Kansas - Kentucky - Louisiana - Maine - Maryland - Massachusetts - Michigan - Minnesota - Mississippi - Missouri - Montana - Nebraska - Nevada - New Hampshire - New Jersey - New Mexico - New York - North Carolina - North Dakota - Ohio - Oklahoma - Oregon - Pennsylvania - Rhode Island - South Carolina - South Dakota - Tennessee - Texas - Utah - Vermont - Virginia - Washington - West Virginia - Wisconsin - Wyoming
Looking For Transport
With a Specific Trailer?

Max Weight: 150,000+ lbs. | Main Deck Length 29 ft.
| Well Width 8.5 ft. | Legal Height Limit 11.6 ft.

Max Weight: 48,000 lbs. | Max Length 53 ft.
| Max Width 8.5 ft. | Max Height 8.5 ft.
Max Weight: 48,000 lbs. Max Length 53 ft. |
Max Width 8.5 ft. | Max Height 11 ft.
Max Weight: 45,000 lbs. | Max Length 29 ft.
| Max Width 8.5 ft. | Max Height 11.5 ft.
Heavy Haulers Pilot Car Services
Are you looking for a reliable pilot car
for your transport?
Get Started
See More of Our Recent Agricultural Machinery Transports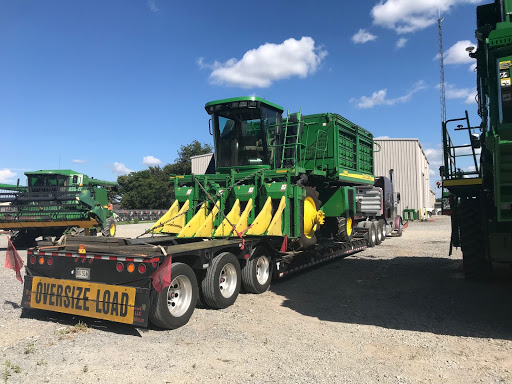 Moving a John Deere Cotton Picker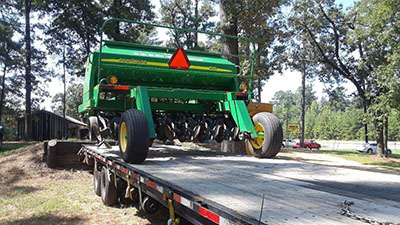 Shipping a John Deere 1590 Grain Drill
Shipping Farm Vehicle Implements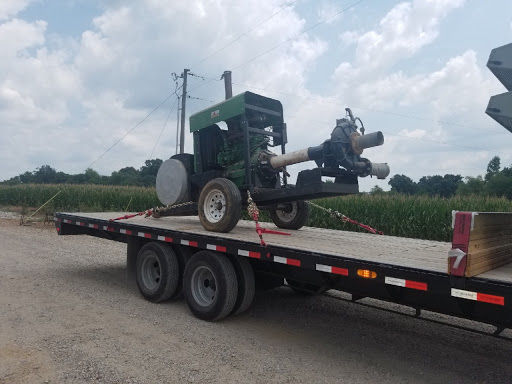 Irrigation Pump Transport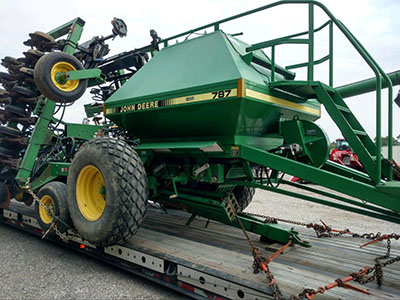 John Deere Air Seeder Shipment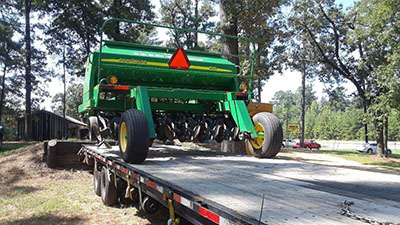 John Deere Air Drill Transport