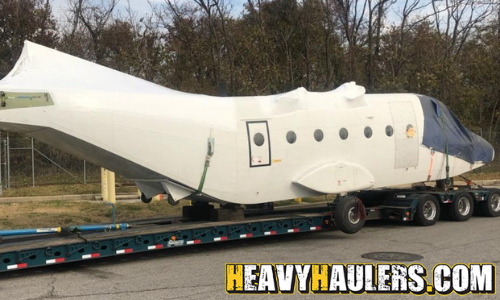 Contact Our Airplane Transport
Specialist (800) 908-6206
Airplane Shipping and Fuselage Transport with Heavy Haulers
Shipping an airplane from one place to another isn't as simple as just flying it there. There are many reasons that companies and individuals choose to have their aircraft shipped by a heavy machinery hauling service such as Heavy Haulers, including the distance required, whether or not the aircraft is going overseas, and the flight worthiness of the plane itself. Some aircraft may be less expensive to ship to their destination than to fly themselves, even if the craft itself is capable of covering the distance safely. We are the industry-leading airplane shipping company.
Heavy Haulers ships aircraft of all kinds, from helicopters to small biplanes to larger jets. We also ship fuselages, which is the body of an airplane, the wings, and other airplane parts. Airplanes always need to be broken down, separating the fuselage and wings for a safe transport.These services are available across North America and port-to-port worldwide. With many years of heavy equipment and break bulk transport experience, Heavy Haulers is the best choice to ship your aircraft or airplane. Call now for a free shipping estimate! (800) 908-6206
Shipping Your Aircraft with Heavy Haulers
When it comes to shipping an aircraft, we pay attention to detail. Your dedicated transport agent will guide you through the process. If you need assistance to load your airplane for transport, we help with that as well. Heavy Haulers is a one-stop logistics shop. We provide everything for the most affordable quotes to pilot cars and escort vehicles. We even handle the paperwork. This way you can ship your airplane, fuselage, wings, and more with confidence. Transporting an airplane has to be done with caution, not only so the equipment is delivered safely, but so the crew is safe as well. We take safety to heart, and make sure that each airplane transport is safe and secure.
Heavy Haulers has over a decade of experience transporting an aircraft, fuselages, and parts. We are licensed, bonded, and insured. Each driver is vetted to make sure they have the proper licensing as well. We only work with the best because we want you to have a quality airplane shipping experience. Let's get your aircraft transport start now. Heavy Haulers provides airplane shipping for a small aircraft or an oversize airplane. Whatever transport services you need, we provide. Call now! (800) 908-6206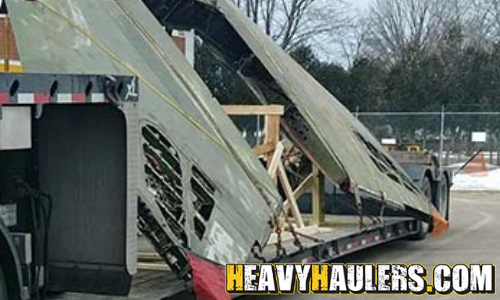 Airplane Wing Transport
Call Now! (800) 908-6206
The Main Parts Hauled When Airplane Shipping
Airplanes are made up of five main parts. They include:
● Fuselage Transport
Also known as the body of an airplane, a fuselage is the hollow tube that holds passengers and/or cargo.




● Wings Shipping
An obvious part of an aircraft, the wings are essential to the flight of an airplane. These are often detached for transport.




● Empennage Hauling
Or the tail of an airplane. The two main components are the elevator, which helps with up and down movement, along with the rudder, which steers from left to right. Both components help with the overall stability of an aircraft.




● Power Plant Transport
This is the combination of the engine and propeller. These two main components work together for power and thrust.




● Landing Gear Shipping
It includes the wheels, along with shock absorbers, for takeoff and landing of an airplane.
Whether you need to ship an entire airplane or the individual parts, Heavy Haulers is equipped to handle the transport. We work experienced drivers, obtain the necessary permits for oversize loads, and meticulously plan your route. Call for a free shipping estimate! (800) 908-6206
Recent Airplanes Transported by Heavy Haulers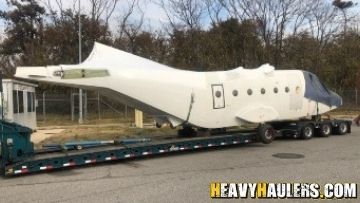 Shipping a Fuselage Casa 212 Airplane
Shipping From: Baltimore, MD

Transporting To: Howell, MI

Specs: 1 Fuselage Casa 212; 49L x 11W x10H; 6,000lbs

Transport Specialist: Chad C.
(754) 704-0244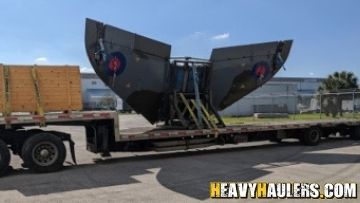 Airplane Horizontal Stabilizer Transported on a Step Deck Trailer
Shipping From: Fort Lauderdale, FL

Transporting To: Ontario, OR

Specs: 2000 Airplane Horizontal Stabilizer; 25L X 8W X 10.4H

Transport Specialist: Jason F.
(754) 203-9134.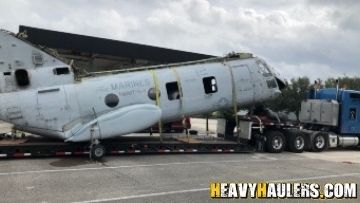 Transporting an Airplane for the US Marine Corps : Company HMMT-164
Shipping From: San Diego, CA

Transporting To: Doral, FL

Specs: Boeing Vertol CH-46 Sea Knight 36000# 40L 9.5W 15H

Transport Specialist: Jason F.
(754) 203-9134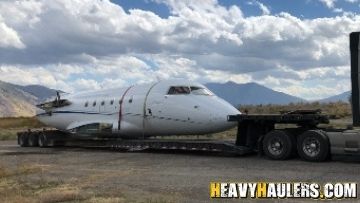 1982 Bombardier Challenger Airplane Hauled from Provo, Utah
Jay Hays from Heavy Haulers was the lead coordinator for the shipping of this 10,000 pound 1982 Bombardier Challenger, which was transported on an RGN Trailer from Provo, Utah, to Ocoee, Florida. The 12 ft. wide Bombardier Challenger was shipped 1,110 miles along the I-55 N, a transport that was secured with chains. Delivery to Florida from Utah took 25 hours and 16 minutes, with escort vehicles coming for traffic assistance at various points along with the cross country haul.
Transport Specialist: Jay Hays
(561) 562-4968.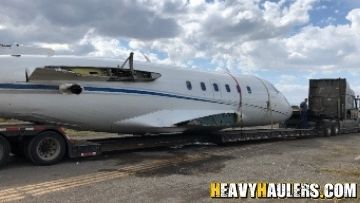 1982 Bombardier Challenger Hauled On Trailer
This 10,000 pound 1982 Bombardier Challenger was hauled on an RGN Trailer by Jay Hays from Heavy Haulers. The load was picked up from Provo, Utah, to Ocoee, Florida. The permit-carrying 65 ft. long and 12 ft. wide 1982 Bombardier Challenger 600 was shipped 2,632 miles across the country after being secured with chain tie-downs and flagged. This 11 ft. high transport took less than the estimated time for delivery in Florida despite travelling at a very careful speed.
Transport Specialist: Jay Hays
(561) 562-4968.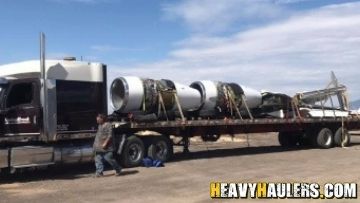 Two CF34-3 Airplane Turbines Transported From Utah
These two GF34-3 Turbines that weighed 2,500 pounds each were loaded on a Heavy Haulers flatbed trailer by Jay Hays for delivery in Ocoee, Florida, from Provo, Utah. The 5 ft. high and 8 ft. wide turbines were tied down with chains and belts, before being driven 2, 593 miles along I-65 N and US-31 N. This shipment was a cross country haul and the 10 ft. long turbine load was conveniently timed where the delivery was accomplished successfully.
Transport Specialist: Jay Hays
(561) 562-4968.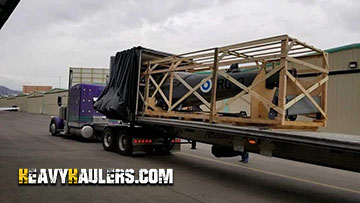 Shipping an A-90 Raider Airplane
Let Heavy Haulers transport your airplane. This training aircraft needed to be seperated prior to shipment and carefully loaded onto the carrier. It went 456.6 miles from Las Vegas, Nevada to Ogden, Utah. The 53-foot flatbed delivered the plane right on schedule. Heavy Haulers is waiting to hear from you right now. Give us a call at (800) 908-6206.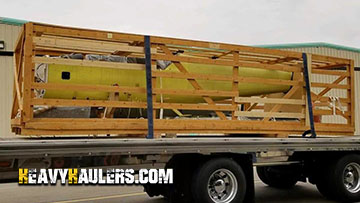 Transporting an A-90 Raider Plane
Heavy Haulers can move anything. Recently our agent Brian arranged the transport for these airplanes. The A-90 raider planes traveled over 450 miles from Las Vegas, Nevada to Ogden, Utah. The haul required precise coordination between the multiple carriers, our agent Brian, and the shipper to ensure that the planes were delivered without issue. Give Heavy Haulers a call today at (800) 908-6206.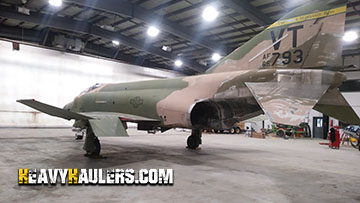 Hauling a Phantom Aircraft
Brian with Heavy Haulers arranged the transportation of this Phantom Aircraft. It traveled 640 miles from Winooski, Vermont to Richmond, Virginia. Moving aircraft can be very tricky if you don't know the intricate details. Luckily this isn't an issue for us at Heavy Haulers. Give our agent Brian a call directly at (800) 908-6206 ext 806.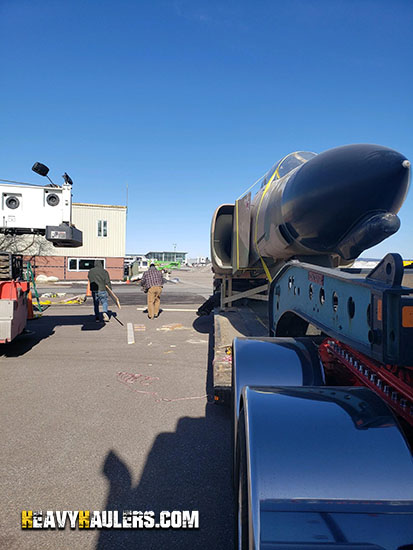 Learn How Heavy Haulers Transports Airplanes
Moving an airplane is a task that requires expertise and careful attention to detail. Airplanes are created to have an aerodynamic lift, which makes shipping them overland a challenge. Depending on the size of your aircraft, it may be partially disassembled and loaded on one or more flatbed trailers. The fuel will be drained for safety and all parts carefully cabled down. The oversized loads may be flagged for safety, and an escort convoy may be necessary.
Another option is to further disassemble your aircraft and have it shipped in crates. The crates ould travel attached to a normal semi-truck rig. This method requires professional aircraft engineers, which some clients may not have. Both of these types of aircraft shipments are available through Heavy Haulers, moving across North America.
For overseas aircraft transport, Heavy Haulers provides port-to-port shipment. Your aircraft will arrive at one of our overseas ports, be loaded onto a cargo ship, and then sail to the destination port. Once there, your designated representative will be able to pick your shipment up form the cargo master. An aircraft that travels in a cargo ship is typically a "breakbulk" cargo, which refers to loads that are oversized or unusually shaped, and not able to be transported in regular shipping containers. These shipments cost more than shipping standard goods, as the item(s) take up more room in the cargo ship's hold and may displace other goods.
How To Ship an Airplane with Heavy Haulers
At Heavy Haulers we have over a decade of experience transporting everything from a small aircraft to an oversize airplane. Our experience has given us the expertise required to haul any size aircraft with ease. We understand that planes need to be dismantled, and the parts shipped on their own. Transporting a plane whole on a tractor trailer is extremely dangerous and considered a hazard. That's why it's dismantled into parts for a safer journey. Heavy Haulers is the industry-leading airplane shipping company. We provide local and long distance hauling, making sure to properly breakdown the airplane for transport.
The separately shipped parts of an aircraft include:
● Fuselage

● Wings

● Pylons

● Horizontal Stabilizers
Common Aircrafts Heavy Haulers Ships
We can ship these types of aircraft – and much more!
• Partially Assembled Small Aircraft
• MiG 15
• Ultralight aircraft
• Glider/sailplane in Komet trailer
• Disassembled Stearman biplane and engine
• 2 place enclosed ultralight-Rans S12
• Boeing 737 Cockpit
• Aircraft fuselage
• Cessna 210 - Small Airplane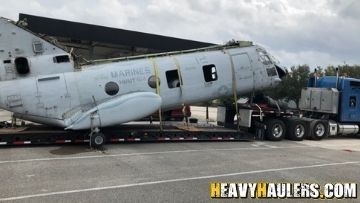 Transport Your Fuselage Today!
Call Now! (800) 908-6206
Transport of Fuselage and Airplane Sections
All airplanes transported by truck need to be shipped out in sections. This is to ensure the safety of the drivers and to minimize the dangers of hauling an aircraft. The wings, pylons, horizontal stabilizers, and the fuselage usually need to be hauled separately. This provides a more secure transport experience.

Shipping a fuselage entails obtaining permits, as it is almost always over dimensional in height and weight. In some cases, the airplane transport route will need to be modified in order to avoid any low bridges or narrow roads. A fuselage is a very expensive and delicate piece of an aircraft, so it will need to be loaded and strapped down with the utmost care.

At Heavy Haulers we have the experience, the insurance, and knowledge necessary to ensure a safe and smooth journey from one state to another.
Are You Looking for Airplane Shipping
Services?
You should know there are a lot of things to consider when it comes to transporting your aircraft. We're a company that is going to
help you get it done.
• Fuselage Transportation
• Fuselage Shipping Cost
• How to Transport a Fuselage
• Fuselage Hauling
• Fuselage Towing
• Moving a Fuselage
• Fuselage Transport Companies
• Cross Country Fuselage Transport
• Fuselage Shipping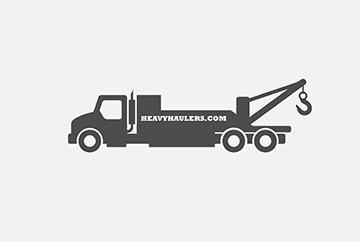 Flawless Airplane Towing With
Heavy Haulers (800) 908-6206
Need airplane towing service? However heavy the machine is Heavy Haulers team of experts will do the towing comfortably. This is our area of specialization for over a decade and we never disappoint in towing heavy machinery. Our drivers are experts in aligning your machine to comply with the per axle weight requirements. They will offer the shipping service at affordable cost and you can be sure that however average your budget is we will have a friendly negotiation and see how we can help our client. Give us a call today through (800) 908-6206 and get the best towing services.
HEAVYHAULERS.COM
START YOUR SHIPMENT TODAY!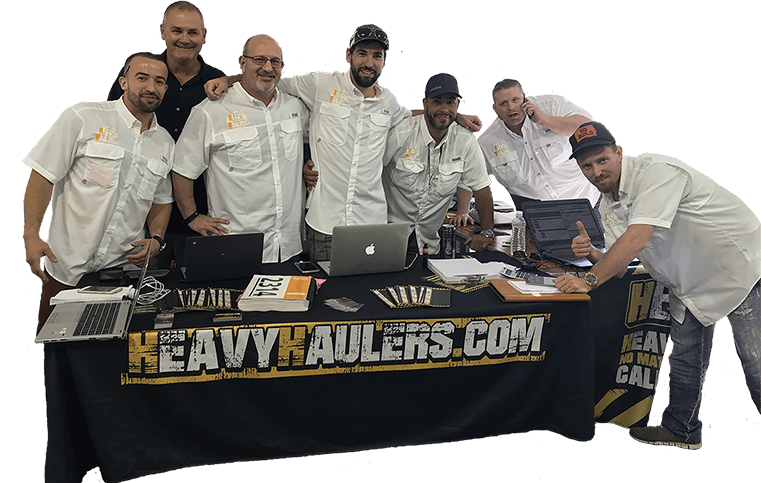 We Are Ready To Help You Haul Your Equipment!
Heavy Haulers Aircraft Shipping Experience
Heavy Haulers will provide a no-obligation custom quote for your aircraft shipment. We employ professional logisticians, trained to find the lowest shipment rate and plan the correct route for your aircraft. We make sure all paperwork needed, from weigh stations to customs, is filed before we depart, making sure that your equipment isn't delayed by red tape. Our expert logisticians plan your route, taking into account weather, construction or other delays, and give you a link to track your heavy equipment in real time. When you're ready to ship aircraft anywhere in the world, give us a call at (800) 908-6206 to get started!
Heavy Haulers offers:
Door-to-door transport
24/7 Customer Service
Free Cancellations
Contingency Insurance
Looking For Transport
With a Specific Trailer?

Max Weight: 150,000+ lbs. | Main Deck Length 29 ft.
| Well Width 8.5 ft. | Legal Height Limit 11.6 ft.

Max Weight: 48,000 lbs. | Max Length 53 ft.
| Max Width 8.5 ft. | Max Height 8.5 ft.
Max Weight: 48,000 lbs. Max Length 53 ft. |
Max Width 8.5 ft. | Max Height 11 ft.
Max Weight: 45,000 lbs. | Max Length 29 ft.
| Max Width 8.5 ft. | Max Height 11.5 ft.
Heavy Haulers Ships Across All 50 States
Alabama - Alaska - Arizona - Arkansas - California - Colorado - Connecticut - Delaware - Florida - Georgia - Hawaii - Idaho - Illinois - Indiana - Iowa - Kansas - Kentucky - Louisiana - Maine - Maryland - Massachusetts - Michigan - Minnesota - Mississippi - Missouri - Montana - Nebraska - Nevada - New Hampshire - New Jersey - New Mexico - New York - North Carolina - North Dakota - Ohio - Oklahoma - Oregon - Pennsylvania - Rhode Island - South Carolina - South Dakota - Tennessee - Texas - Utah - Vermont - Virginia - Washington - West Virginia - Wisconsin - Wyoming
Heavy Haulers Pilot Car Services
Are you looking for a reliable pilot car
for your transport?
Get Started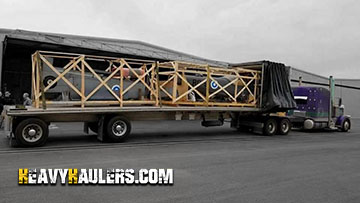 Heavy Haulers Comprehensive Aircraft Equipment Transport Services
● Shipping an airplane.

● Airplane parts transport services.

● Fuselage transport.

● Shipping airplane wings.

● Airplane towing services.

● Common aircrafts transported.

● How to haul an airplane.

● Transporting airplanes and fuselages.