Local and Long-Distance Bus Transportation Services Across All of North America!
Heavy Haulers is here to help you get your bus shipped to its new location so it can be put into rotation and start hauling passengers to their new location. City buses to School buses, Shuttle buses to Eco-Friendly buses, Heavy Haulers can handle all your logistical needs. Our expert team has the experience to handle shipping busses locally, across the state or nationwide. Most importantly, we can get your bus shipped safely to its new location. Heavy Haulers has over 10 years of experience in the transport industry and are the right choice for all your logistics needs. There are all different sizes of buses and we have the knowledge to handle shipping all of them. Call Heavy Haulers today at (800) 908-6206 to speak with one of our team members to get your bus shipped today!
Bus Shipping 101: Move Your Bus with Heavy Haulers
Shipping a bus, especially one that hasn't been in service for a while, can be a complicated process. These large vehicles possess special challenges, not just due to their size and weight, but also because of their height and the fact that, unlike many heavy machines, can't be disassembled for easier shipment. When you add the height of the bus to the height of the trailer – usually an RGN or step deck trailer, depending on the size of the bus – it becomes a challenge to transport through tight city streets, under overpasses, or underneath traffic lights.
The logistics specialists from Heavy Haulers have the experience and information to plan your bus transport route to avoid any snags or difficulty in shipment. You'll work with your representative, setting a deadline and getting a code so you can keep up with shipping your bus in real time. With Heavy Haulers, you know you're in responsible hands. All our drivers are certified, trained, bonded, and double-insured for your safety and ours. Get started today with a FREE no-obligation quote by calling (800) 908-6206.
Recent Bus Shipments by Heavy Haulers
Glass Show Advertisement Bus Transported To Nayy Pier Chicago!
Shipping From: Little Ferry, NJ

Transporting To: Chicago, IL

Specs: Custom Marketing Bus;
40L 8.5W X 12.6H X 36,000 LBS

Transport Specialist: Roger C.
(754) 203-9287
Cross Country Transit Bus Shipment Headed to California
Shipping From: Columbia, MO

Transporting To: Lancaster, CA

Specs: Transit Bus;
40L X 8.5W X 11.3H X 30,900

Transport Agent: Roger C.
(754) 203-9287
Blue Bird Electric School Bus Transport
Shipping From: Milpitas, CA

Transporting To: Sacramento, CA

Specs: Blue Bird Electric Bus;
33,000lbs: 40L X 8W X 10.6H

Transport Agent: Milos Visnjic
(754) 203-9257
Blue Bird Electric Bus Hauled on an RGN Trailer
Shipping From: Sacramento, CA 95823

Transporting To: Reno, NV 89502

Specs: Blue Bird Electric Bus;
v40L X 8W X 11.4H; 33,000lbs

Transport Specialist: Milos Visnjic
(754) 203-9257
Electric Bus Transported on a Flatbed Trailer to VA - 2100 Miles!
Shipping From: Oldsmar, FL 34677

Transporting To: Virginia Beach, VA 23451

Specs: K9 Electric Bus;
35.8L 8.4W 11.3H X 29,300 LBS

Transport Agent: Roger C.
(754) 203-9287
AEC Routemaster Double Decker Shipped on an RGN Trailer
Shipping From: Oldsmar, FL 34677

Transporting To: Virginia Beach, VA 23451

Specs: AEC Routemaster Double Decker Bus;
30L X 8.4W X 14.4H; 35,000lbs

Transport Agent: Roger C.
(754) 203-9287
Transport Buses With The Professionals - Heavy Haulers!
A bus can be very challenging to transport. Whether it's a small or large, Heavy Haulers has moved them all. We understand what types of trailers are needed for specific types of buses, from flatbeds to low-boys. Heavy Haulers has the right rig to safely ship your Bus anywhere in North America or internationally.
Are You Looking for Bus Shipping
Services?
We handle all aspects of bus hauling. Heavy Haulers provides
all transport services including:
• Cheap Bus Shipping
• Transporting a Bus Overseas
• Bus Shipping Cost
• How are Buses Transported
• Cheapest Way to Ship a Bus
• Door-to-Door Bus Shipping
• International Bus Shipping
• Cross Country Bus Transport
See what you need?
Call us for a FREE Shipping Estimate at (800) 908-6206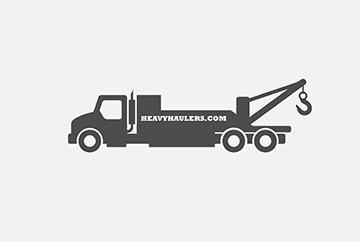 Get the Best Bus Towing Services with Heavy Haulers
Need bus towing services? When it comes to towing of buses, you need some experts to do the job appropriately. Towing of buses is a complicated process due to their over-dimensional nature. At Heavy Haulers, we have a large fleet of versatile trailers that ensures we always have the right towing equipment to do the job. The trailers are regularly checked, and you do not expect unnecessary breakdowns during towing of your heavy equipment. Our drivers are familiar with the routes. They will advise you on the best routes to take to save time and ensure security. Just call us through (800) 908-6206.
Common Trailer Types Available from Heavy Haulers
Heavy Haulers specializes in hauling heavy loads such as construction equipment, oil field rigging and Super Loads. We are wideload experts! We offer an extensive range of trailer choices, including:
Max Weight: 48,000 lbs. | Max Length 53 ft. | Max Width 8.5 ft. | Max Height 11 ft.




Max Weight: 45,000 lbs. | Max Length 29 ft. | Max Width 8.5 ft. | Max Height 11.5 ft.
Max Weight: 150,000+ lbs. | Main Deck Length 29 ft. | Well Width 8.5 ft. | Legal Height Limit 11.6 ft.




Max Weight: 48,000 lbs. | Max Length 53 ft. | Max Width 8.5 ft. | Max Height 8.5 ft.
HEAVYHAULERS.COM
START YOUR SHIPMENT TODAY!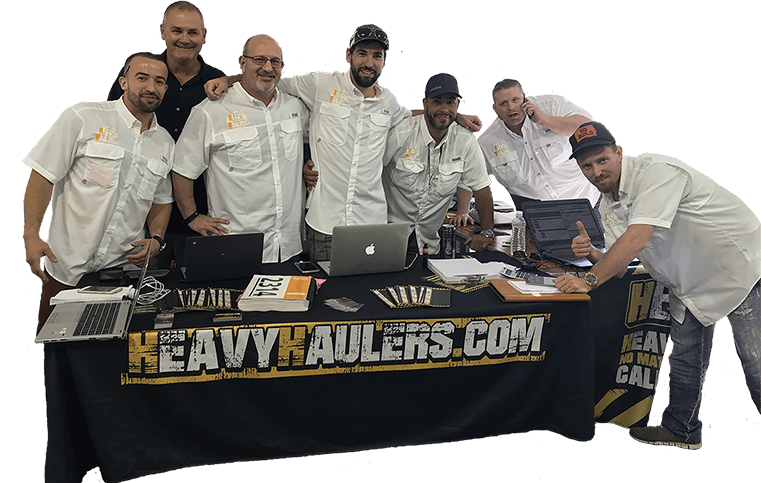 Common Equipment Heavy Haulers Transports
Trust Heavy Haulers to transport any brand of equipment you own. Most of our drivers are experienced heavy-machinery operators who can safely maneuver your loads aboard our trailers. Some of the brands we have shipped include:
Heavy Haulers Ships Across All 50 States
Alabama - Alaska - Arizona - Arkansas - California - Colorado - Connecticut - Georgia - Hawaii - Idaho - Illinois - Indiana - Iowa - Kansas - Kentucky - Louisiana - Maine - Maryland - Massachusetts - Michigan - Minnesota - Mississippi - Missouri - Montana - Nebraska - Nevada - New Hampshire - New Jersey - New Mexico - New York - North Carolina - North Dakota - Ohio - Oklahoma - Oregon - Pennsylvania - Rhode Island - South Carolina - South Dakota - Tennessee - Texas - Utah - Vermont - Virginia - Washington - West Virginia - Wisconsin - Wyoming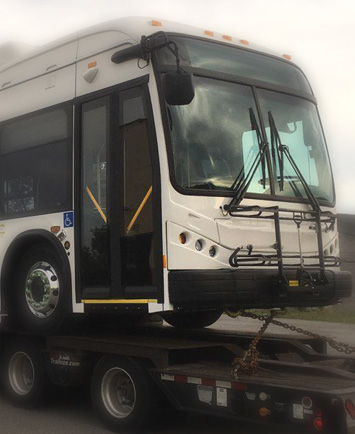 What Heavy Haulers Can Do for You
Not only can we haul your bus to any location in the United States, we can make the whole shipping process easier for you. Relax in the knowledge that Heavy Haulers are the leading experts when it comes to transporting all types of buses.
● Our turnkey service includes route planning, shipment scheduling, and delivery organization.

● We hire the drivers and crew, making sure to choose experts at loading buses on trailers and properly transporting them.

● We contract the escort vehicles that are necessary for your oversize load.

● We will make sure all permits are taken care of for the transport of your bus.

● We value the safety of our drivers and the shipments they haul. We take all safety precautions needed to safely deliver your equipment.

● We will help you with insurance issues and fee calculation.

● We will oversee the entire operation to make sure your vehicle is delivered safely and on schedule.



Contact Heavy Haulers today and find out how simple and affordable it can be to have your bus shipped right to your new site. Our knowledgeable staff is ready to get your bus shipped to you so you can put it to work.
Bus Shipping Services Local or Long Distance
Moving your bus from one location to another isn't always as simple as driving it there. Depending on the type of motorcoach, it may be more feasible to have a professional shipment service move it across town – or across the state – to rotate into service elsewhere. If your bus is inoperable, Heavy Haulers can transport it to another location or in for repairs. Trust the most reliable name in heavy machinery and equipment hauling. We've made it our specialty to move oversized loads across North America, forcing on safety, dependability, and timely delivery. With over 10 years of service taking care of municipalities and companies just like yours, Heavy Haulers can ship school buses, motorcoaches, oversized recreational vehicles, and shuttle buses. Call Heavy Haulers today at (800) 908-6206 to speak with one of our team members to get your bus shipped today!