The Heavy Haul Experts
Heavy Haulers offer trustworthy and reliable transportation services for all varieties of freight including shipments of individual and commercial equipment and heavy machinery. Heavy Haulers are insured and fully capable of servicing every load in need of transportation, we provide load tracking upon request and have agents available during all hours of the day 7 days a week.
Moving a Shipping Container
Heavy Haulers has trucks ready to move containers ine very state. We provided loading and unloading assistance with the use of cranes to transport this shipping container from California to Texas.

Find Out More About Moving Containers Now!
Transferring a Modular Freezing Cooler
See how we transferred this modular freezing cooler from one trailer to another with cranes. We provide everything needed for all transports, whether it be load assistance, transfers and more.

Learn How To Ship Your Modular Freezing Cooler Now!
Off Loading a 184,000 lbs. Cooker
This High Capacity Continuous Cooker was 43.5 feet long and weighed a whopping 184,000 pounds! We moved this one 1,050 miles from Hereford, TX to Vernon, CA.

Read More About Heavy Projects
Loading Extra Long School Bus
Heavy Haulers Loading a School Bus. School Buses Are Heavy Too! We ship school buses locally and long distance, we're ready to take on any challenge. Call Today!

Read More About School Bus Shipping
Loading an Oversized Rock Crusher
See our team load a Lokotrack LT12135 Rock Crusher weighing 121,000 LBS! - Specs: 63.7L 10.6W 11.9H.

Rock Crusher Transport
Double Decker Show Bus Transport
Recent Double-Decker Bus Transport Done by Roger C. at HeavyHaulers.com - Our Bus Transport Specialist.

Double Decker Bus Transport
Loading a Fragile Glass Sided Bus
We hauled this glass bus across the country to navy Pier Chicago, Illinois. This bus weighed 36,000 LBS and was 40 feet long!

Glass Bus Transport
Unloading a Generator With Our Crane
Here's our team unloading a backup power generator for a hospital in March of 2019.

Generator Transport Services
Loading a CAT Wheel Loader Without Ramps
Want to learn more on how to load or unload a wheel loader? Visit our blog where you can review step-by-step procedures

Wheel Loader Shipping
Loading a Cat Excavator at Ritchie Bro's Auction
Here you'll find one of Heavy Haulers crew members named Tye Forte loading up a CAT 320 E Excavator onto and Removable-Gooseneck Trailer.

Excavator Transportation
Our Transport Specialists
We can haul your load no matter what the weight, size, quantity or type of equipment, machinery, vehicles, freight or cargo you need to haul.

More About Us
We Transport All Heavy Loads
Call for Free Transport Estimates on Oversize and Overweight Shipments. Heavy Haulers Provide Permits, Escorts, and Full Logistics.

All Heavy Haul Services
HEAVYHAULERS.COM
START YOUR SHIPMENT TODAY!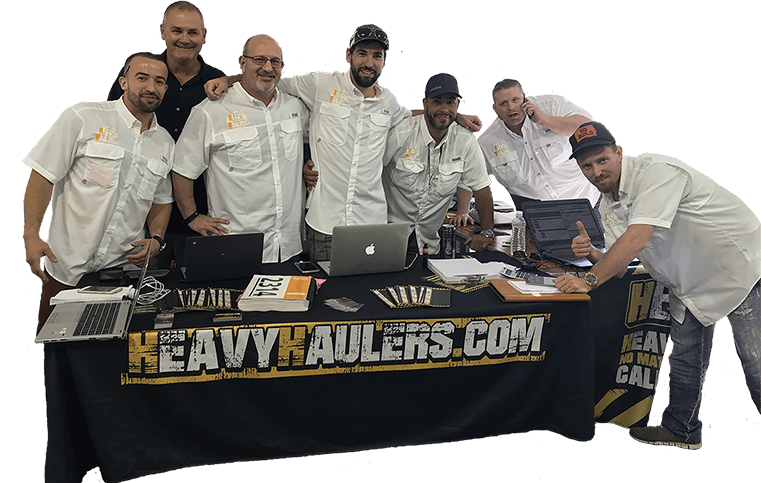 We Are Ready To Help You Haul Your Equipment!