Georgia to Florida Heavy Hauler Shipping Services
Trust Heavy Haulers to ship your equipment from Georgia to Florida. Heavy Haulers is highly experienced shipping all size machinery on this route door-to-door. We can haul your load no matter what the weight, size, quantity or type of equipment, machinery, vehicles, freight or cargo you need to haul. Allow our expert team to direct you to the shipping methods which will get your load where it needs to be, all while minimizing the time, energy and hassle along the way.
You'll get an experienced driver hauling the right trailer for your machine, every time. Flatbeds, step-decks, RGNs, oversize loads - Heavy Haulers is equipped to handle any type of cargo you need shipped. Call us today for professional long-distance and local transport of your valuable equipment.
Our Recent George to Florida Shipments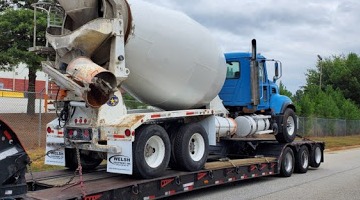 31,000 lbs Mack Concrete Mixing Truck delivered from Griffin, Georgia
Shipping From: Griffin, GA 30224

Transporting To: Miami, FL 33132

Specs: Mack Concrete Truck; 33L X 8W X 12H; 31,000lbs

Transport Specialist: Jay Hays
(561) 562-496
Transporting Heavy Equipment from Georgia to Florida
Ship your construction equipment from Georgia to Florida using Heavy Haulers! Heavy Haulers is fully licensed and insured to transport cargo in every state in the country. Whether you need to ship your equipment across the country or around the corner, call Heavy Haulers today.
Heavy Haulers drivers have years of experience operating on Georgia roads. Seven interstates appear in Georgia, including:
I-16 - runs basically northeast from Savannah to Macon;

I-20 - goes across the top third of the state, east/west through Augusta and Atlanta;

I-24 - dips briefly into Georgia from Tennessee, in the northwest corner of the state;

I-59 - begins at I-24 in the northwest corner of the state and runs south through Alabama to New Orleans;

I-75 - runs north/south through Atlanta, from the northwest corner of the state to the bottom middle;

I-85 - travels northeast from the Alabama border in the middle of the state, through Atlanta, and into South Carolina;

I-95 - heads down the east coast of the state, connecting South Carolina and Florida.