Everything You Need to Know About Lowboy Trailer Transport
If you've ever seen a trailer hauling more than 150 tons of cargo, you likely were watching a lowboy trailer of some description. If you've ever wondered how you would logistically transfer heavy machinery, such as construction cranes or excavators, a lowboy trailer could be how. If you'd like to know more about lowboys, also known as lowbed trailers, and their capacity, then read on.
In this blog, we'll tell you everything you need to know about lowboy trailer transport, including how they got their name, a brief history of their invention, what dimensions you can typically find lowboy trailers in, where they're used, and a quick summary of their advantages.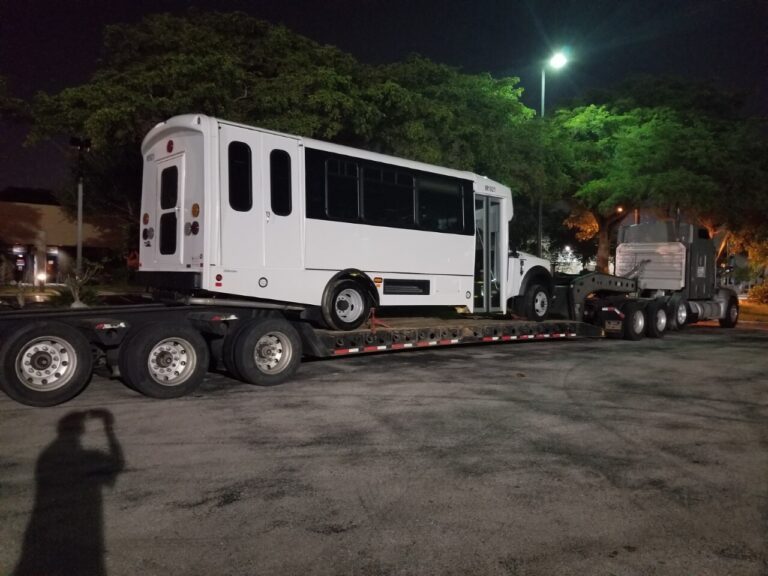 Lowboy Trailer Transport: A Brief History
The earliest lowboy trailers were manufactured early in the 1920s. As expected, they got their name from having a deck that's lower to the ground than on other trailers. In terms of design, initial models utilized a riveted gooseneck at the front of the trailer to attach to the truck cab. On the rear, the trailer had solid rubber tires. In the beginning, the first lowboys could only be loaded from the rear end of the trailer, somewhat limiting how truckers could load heavy cargo. However, for the first time, operable equipment could be driven onto the trailer's deck, with the solid rubber tires and rear axles bearing a lot of the weight during the loading process.
By the 1950s, lowboy trailer designs had improved enough to make heavy equipment loading much more comfortable and efficient for all involved, through improvements made to load-bearing capacity and making the front gooseneck detachable so that front-loading was also an option. Another neat advantage of the new loading design was that it meant ramps were no longer necessary for loading. The earliest detachable gooseneck trailers invented in the late 1950s are very similar in design to the RGN trailers in use today, which speaks volumes to the trailer type's usefulness. Other improvements have been made since the 1950s, though, including hydraulic systems that can lift the trailer to meet the cab's coupling once loaded. Modern lowboy trailers are also equipped with air breaks and easily towed by various trucks.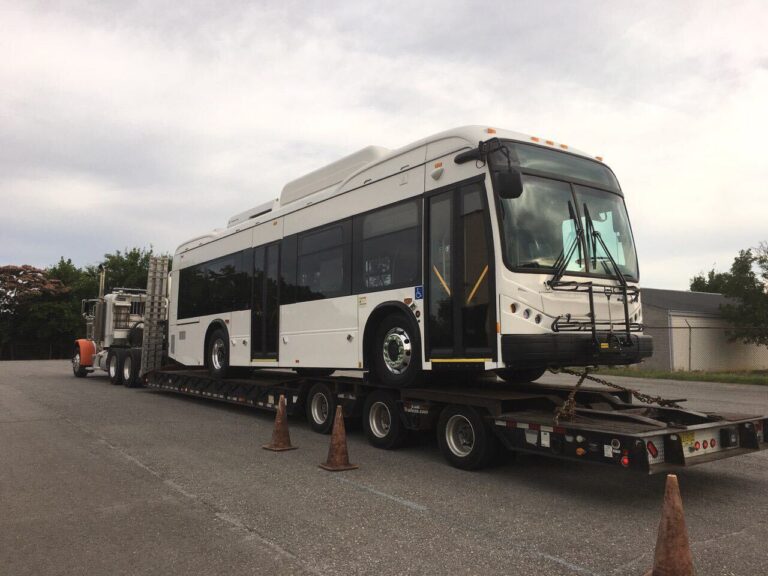 Dimensions of Lowboy Trailers
Lowboy trailer dimensions do vary between manufacturers and models; with lowboy trailers particularly, manufacturers can choose to alter the width and length of trailers to accommodate different shipping needs, but there are some typical dimensions that most manufacturers stick to. You also have to option to buy a customized lowboy trailer, but in general, you'll find most lowboys are available in the following load-bearing capacities and configurations:
– A well sized between 24′ and 29.6′ length
– Up to 80,000 weight capacity, dependent on axles
– Two to eight axles
– Double drop configuration with 10′ front deck
– Double drop configuration with 9′ rear deck
– Height capacity between 8.5′ and 10′
– Width up to 8.5′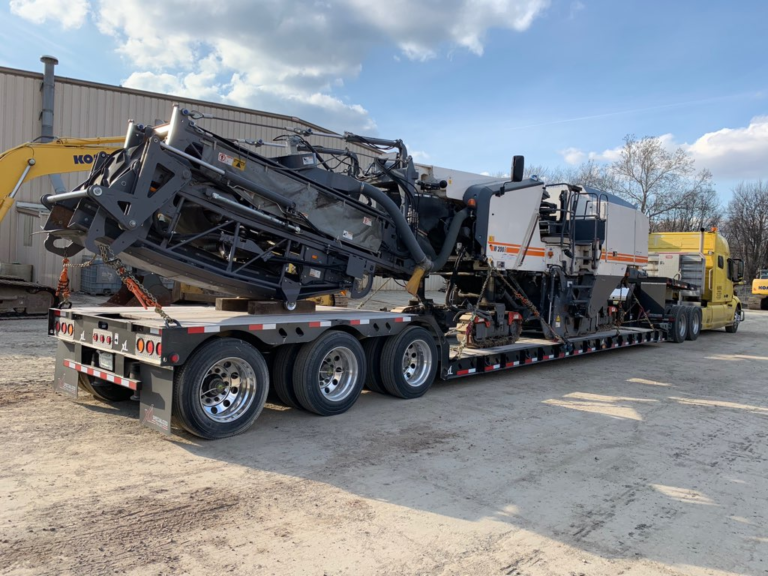 Where Lowboy Trailers are Commonly Used
For Transport
As you might expect, lowboy trailers are commonly used throughout the United States and beyond. China, for example, has an extensive need for lowboy transport services to cope with all the heavy equipment and manufacturing that often takes place in-country. In the U.S., lowboy trailers are commonly used in the trucking industry to transport a wide variety of equipment. They're used to transport agricultural equipment, construction equipment, excavation equipment, mining equipment, and more throughout all states, from remote sectors of the U.S. to busy, urban centers.
Advantages of Lowboy Trailer Transport
While we've briefly touched on some of the advantages of using lowboy trailers, e.g., simpler front and rear loading, there are numerous reasons to consider using a lowboy trailer for your next heavy equipment order. Additional advantages compared to other trailer types include:
– Improved stability, thanks to the low center of gravity
– Improved safety, thanks to high-strength material construction
– Their ability to help oversized equipment comply with height regulations
– Suitability for both heavy loads and over-dimensional cargo transportation
– Additional versatility in terms of load types
Get Your Lowboy Trailer Transport Quote Now!
Step 1:

Fill Out Quote Form

Fill out the short & easy quote form.
Step 2:

Speak With An Agent

We'll pick up your heavy equipment or vehicle.
Step 3:

Get Transported On Time

We deliver on time so you can get back to work.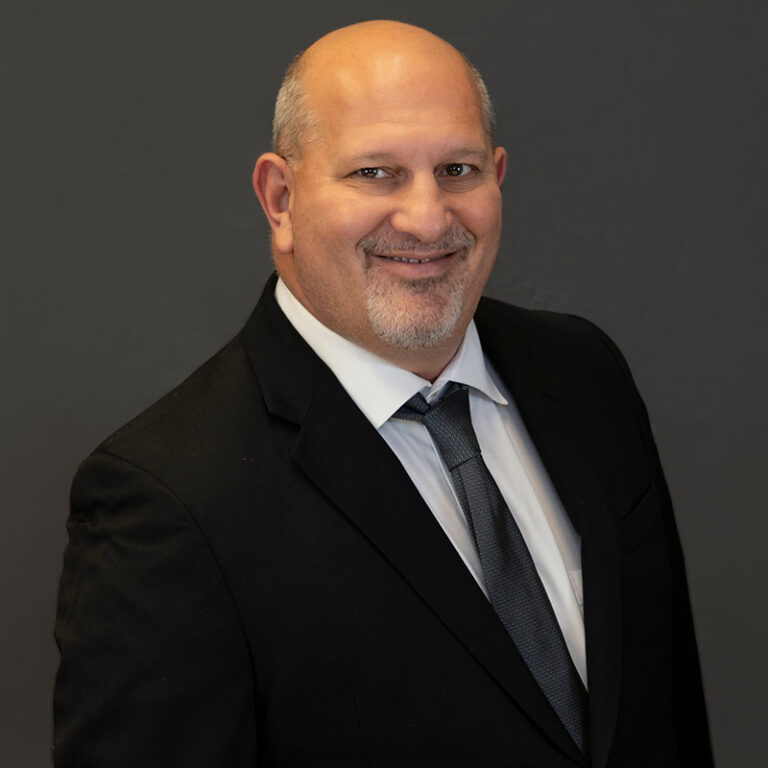 Transport Specialist
Brian Goncharsky
Brian has been with NTS for over five years now. He quickly rose through the ranks to become the Branch Manager of the Fort Lauderdale office. He specializes in moving all heavy equipment and oversize loads.