Florida Mechanic Truck Transport
Brian was recently assigned the transportation of a mechanic truck from Hallandale Beach, FL 33009 to Jacksonville, FL 32219. The client requested same-delivery since he was to commence the installation of metal bars to the side of a building the next day. Brian began processing the request immediately after the client confirmed the order. He first picked a team of specialists and delegated different duties among them. Brian is a leading transport specialist at Heavy Haulers. His impressive record made him the perfect agent for the task.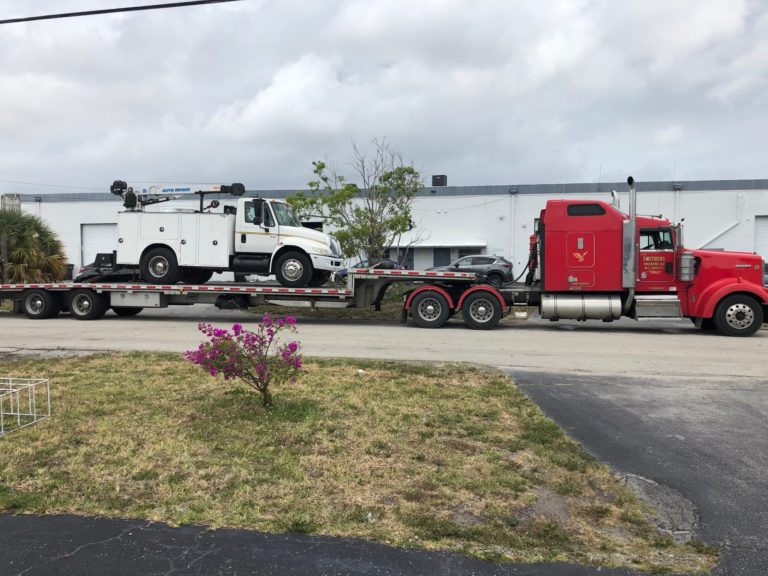 Same Day Mechanic Truck Transport and Delivery
The shipment commenced once Brian had made pre-checks to the vehicle. Loading the mechanic truck on the low boy trailer was carried out by a specialist with help from a guide. The shipment commenced in the morning hours. The driver made several stops along the way to refasten the tie straps and take a break. After several hours, the shipment was at the clients' preferred drop off point. The client made a quick pass on the condition of the mechanic truck and commended the team for the safe delivery.
At Heavy Haulers, we understand that vehicle transportation prices are influenced by many factors. The heavy hauling industry is always conforming to new trends. We strive to keep our rates consistent by reducing the cost of mobility. This has been achieved by integrating state of the art technological features to our operations. Our specialists are trained to handle all our operations and prioritize the clients' best interests.
Industry Leading Mechanic Truck Shipping Company
Our operations are marked with the professionalism of an industry leader. After delivering vehicles, Brian always leaves an open channel of communication. That way, the client can easily contact our specialists to answer any queries. We have personalized our services, and the result is a seamless heavy machinery transport operation—our specialist works round the clock to process your car shipping requests. Reach out to us on our toll-free number.
Step 1:

Fill Out Quote Form

Fill out the short & easy quote form.
Step 2:

Speak With An Agent

We'll pick up your heavy equipment or vehicle.
Step 3:

Get Transported On Time

We deliver on time so you can get back to work.