Finding The Best Heavy Haul Trucking Company

Hiring a heavy haul trucking provider is easier now than it ever has been. With the ongoing shift towards online bookings, payments, instant quote systems, and infinite heavy haul transport resources available on the web, heavy haul trucking is a lot more accessible for first-time users looking for the perfect trucking company to assist with oversized haulage.
If you're looking for a new heavy haul trucking company to work with, or it's your first time scouting for a provider, there are some key considerations when choosing the right partner.
1. Heavy Haul Transport Rates Fluctuate

Mistakes made when choosing the right heavy haul trucking services can result in unnecessary and unwanted expenses for your company. Many trucking businesses advertise low shipping rates throughout the year, offering discounts to subsets of customers, price-matching options, and more that focus on the financial aspect of heavy haul shipping. Working with the right heavy haul logistics company can save you both time and money.
One thing you should know about heavy haul trucking is that shipping rates can vary based on seasons, availability, location, and cargo type. But when it comes to choosing the right heavy haul trucker, it's not always about who is the most affordable at the time. Limiting your heavy haul trucking options to affordability criteria can compromise safety and security.
Loading and unloading process for step deck trailers is much safer for everybody involved.
2. Experience is Essential When Heavy Haul Trucking

While heavy haul trucking is a vast area of shipping that covers everything from construction machinery shipping to oversize industrial equipment haulage and full-scale project relocation services, the hauler's experience is a crucial determining factor in how well a company can handle your request. A company specializing in heavy load shipping can be much more beneficial to you than a company that handles every type of transport. The focus on heavy hauling trucking means that the chosen haulers will be better equipped to deal with your request.
Since heavy haul trucking requests deal with oversize, overweight equipment and machinery, a provider that has specific experience in this area can quickly analyze your shipping project and put the necessary wheels in motion.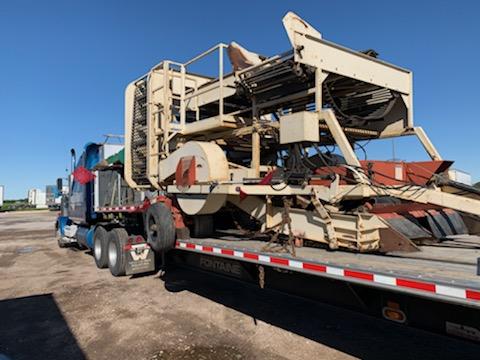 3. You Need The Right Heavy Haul Paperwork and Permits

One thing that customers might not realize about heavy haul transportation is that there's often a lot of paperwork required to organize heavy haulage successfully. Permits are a prime example of paperwork that's necessary for safe, legal transit of oversize cargo. Additional paperwork, such as route and engineering surveys, might also be needed depending on factors such as the shipping route and cargo type. Then there's always the insurance records, safety records, and the inspection paperwork done on-site to record the condition of cargo accurately.
Having the right paperwork and permits ensures you won't get fined and you'll have the best route available for transport. This keeps things legal and safe during your heavy haul transport. Plus, if you need assistance, such as cranes or pilot cars, this will be part of the paperwork.
4. All Heavy Haul Trucking Insurances Are Not The Same

The Federal Motor Carrier Safety Administration (FMCSA) requires heavy haulage companies to have auto liability insurance coverage. However, the amount varies, with insurance figures varying between $300,000 and more than $1,000,000 of commercial coverage. If a truck is leased, the leasing company may require physical damage coverage. General liability insurance may or may not be in effect to protect from damages incurred while loading or unloading cargo. Also, companies may or may not provided bonded coverage. It's worth checking into the options covered by your chosen heavy haul trucking company before deciding they're right for you.
Making sure you have the right type of insurance is essential. While no one ever wants to think about accidents or mishaps, it may happen. So making sure your company has the best insurance for your heavy haul is essential.
Summing Up Heavy Haul Trucking

In a nutshell, when a simple flatbed trailer attached to a truck cab can be insufficient for carrying many types of cargo. Whether it's because it's too heavy, too wide, or too tall, heavy haul trucking comes into play. Heavy haul trucking methods are also referred to as superload trucking, oversize transport, over-dimensional trucking, or overweight shipping.
It means more considerable attention to safety requirements, necessary permit applications, heavy lifting, and a ton of coordination! When you choose an experienced heavy haul trucking partner, you'll avoid all of the hassles of planning the journey yourself and put your cargo in the hands of trusted professionals that can quickly, securely, manage your heavy haul trucking request.
Get Your Heavy Haul Quote Now!
Step 1: Fill Out Quote Form
Fill out the short & easy quote form.
Step 2: Speak With An Agent
We'll pick up your heavy equipment or vehicle.
Step 3: Get Transported On Time
We deliver on time so you can get back to work.