Transporting a Full Size 2014 Ford F-550 Pick-Up
Transporting a Full-Size Ford F-550 Pick-Up
Heavy Haulers transports all Ford Heavy Duty Trucks. We handle the shipping of different heavy loads and cars, such as utility vans, RVs, campers. Shipping the 2014 Ford F-550 truck came naturally to Daniel, one of our trusted and experienced logistics coordinators. Daniel was assigned the task to transport the Pick-up from San Antonio, TX 78238, to El Reno, OK 73036. During the planning phase of the project, Daniel and his team determined that the shipment would have to cover 493.9 miles journey in ten hours.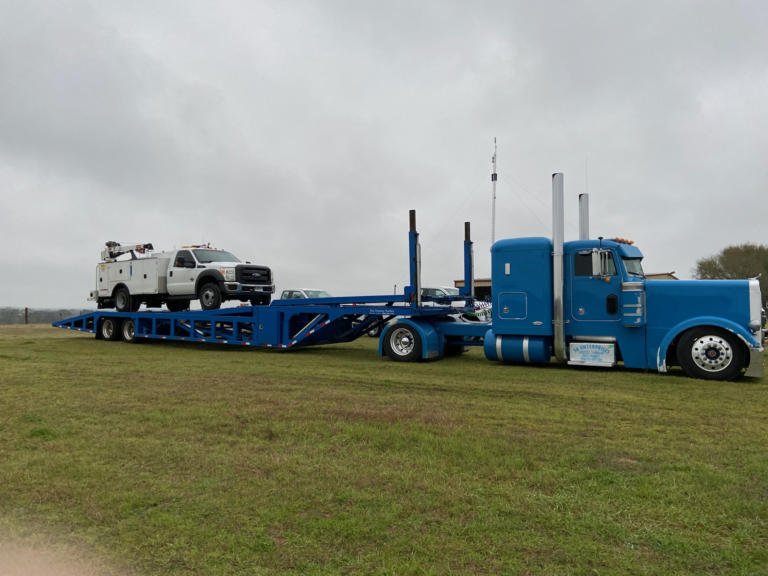 Hauling a Ford-550 Heavy Duty Truck With Ease!
We have affiliates located across the country and beyond, helping us with the transportation of heavy loads. We have a wide range of
equipment such as flatbed trailers, lowboy trailers, specialized trailers, and extendable trailers all provided to make our shipping operations smoother and timely. Daniel opted to utilize the flatbed trailer with a 38' deck platform to transport the 2014 Ford F-550 Pick-up. Daniel understood that when Ford First designed the Super Duty pick up, the suspension came with varying designs depending on the model. All the models in the first and second generation of the lineup had three inches of leaf springs with inbuilt shock absorbers. However, the stabilizer bar was optional on the single rear wheel model and standard on the dual rear wheel model. With all these in mind, Daniel set out to start the loading operation.
2014 Ford F-550 Pick-Up Truck Transport Services
Over our many years of heavy machinery and heavy vehicles such as semi-trailers and semi-trucks transportation, we have accumulated resources and a team of experts to help in all shipping operations. The transport of the 2014 Ford F-550 Pick-up was made before the stated deadline. Daniel kept an open channel of communication throughout the operation. That way, our dispatch team,
the pilot vehicle, and coordinators could exchange information with ease. Heavy Haulers handles the shipping of full-size pick-up. We have specialized in the transportation of different pick-ups so clients can go about their business stress free.
Transport Your 2014 Ford F-550 Pick-Up With Heavy Haulers Today!
Step 1:

Fill Out Quote Form

Fill out the short & easy quote form.
Step 2:

Speak With An Agent

We'll pick up your heavy equipment or vehicle.
Step 3:

Get Transported On Time

We deliver on time so you can get back to work.