How has Covid Changed Heavy Equipment Transport?
The global outbreak of the coronavirus that has been circulating since late 2019 has brought about several changes, not only to heavy equipment manufacturers but those who make a living from transporting heavy equipment. Some suppliers have temporarily shut down manufacturing plants, while others have shifted their efforts to producing much-needed medical supplies and equipment to battle the Covid-19 crisis. As a side effect, both equipment production and equipment sales are down.
The factory closures and national lockdowns that took place around the world in 2020 was estimated to cost the global construction equipment industry as much as 4% in lost construction. As many as 43,000 fewer machines were estimated to be built in 2020. The results from a survey by Off-Highway indicate that lost equipment production was seen in 26 countries around the world last year, including in China, Germany, Italy, and the UK.
Another side effect of the pandemic is the number of trade shows being canceled or postponed. Many of the significant expos due to be held in Italy, Spain, Germany, and China were affected, so there is a dramatic decline in the need for heavy equipment transport to deliver to trade shows at present.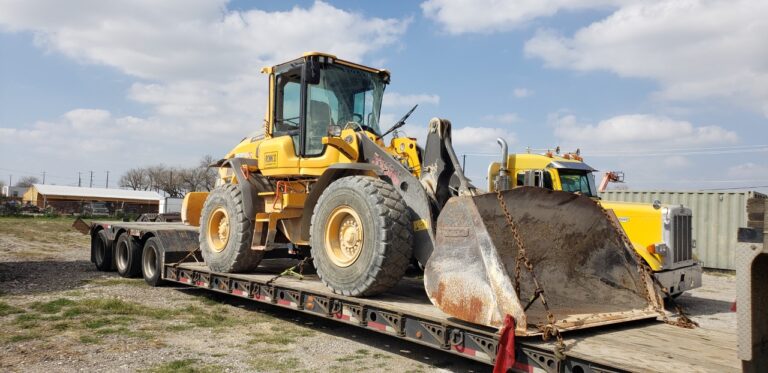 How Heavy Hauling Companies are Assisting Covid-19 Relief Efforts
Several manufacturers have shifted some of their manufacturing efforts towards building ventilators, supplying face masks, and face shields to increase the global supply. Yanmar, in conjunction with John Deere, equipped a Solis 90 CV tractor to spray disinfectant through city streets in Brazil. At the same time, SDLG excavators have also been used to support the construction of new hospitals built within an expedited 10-day time frame, particularly in Wuhan, the virus's epicenter. For others, donations are more often being made to healthcare workers and healthcare organizations assisting those impacted by Covid-19.
FMCSA Changes Affecting Heavy Equipment Transport
During the global pandemic, the Federal Motor Carrier Safety Administration (FMCSA) created a Covid-19 emergency declaration. It was extended so that commercial vehicle drivers qualified for HOS relief if transporting necessary goods, such as medical supplies, equipment required for sanitization, and community safety, during the outbreak.
The declaration makes some much-needed changes to the transportation industry's following areas for anyone involved in assisting in Covid-19 relief efforts:
– 30-minute break rule
– Down-time between shifts
– Sleeper-berth rules
– Adverse driving condition exceptions
– Short-haul transport exceptions
New Concerns for Heavy Equipment Shipping Fleets
Since many people are trying to stay at home as much as possible, more and more deliveries are taking place. Trucking companies are doing their best to meet the increased demand by hiring more drivers and obtaining more trucks and trailers.
The nation's response to the Covid-19 emergency is rapidly changing, and the day-to-day realities of fleet-based businesses, including those that specialize in heavy equipment transportation, are also changing. Some states have implemented or considered implementing stay-at-home rules, which has a knock-on effect on the availability of staff and has changed the way that some companies operate some of their roles. For example, customer service jobs may be worked from home, and opening hours may be extended to meet demand. However, drivers, mechanics, and other roles integral to heavy equipment transport have to continue to operate outside of the home environment.
The transportation industry, in particular, continues to face numerous challenges relating to disruptions to supply chains and emergency delivery needs. At the same time, drivers themselves strive to preserve their health while on the road by undertaking new routines. Keeping track of up-to-date information regarding essential travel, best practices, and more is a critical concern for all fleets operating during the global pandemic.
Many public fleets are still providing essential services during the pandemic, such as police, ambulances, fire trucks, trash trucks, keeping these vehicles on the road. During the pandemic, heavy equipment transporting may more commonly involve shipping these crucial vehicles, and the trend is likely to continue over the coming weeks and months. Utilizing trailer transport helps avoid wear and tear and avoids fuel costs of driving these vehicles to a new city location. They also provide a safe method of shipping a vehicle to a repair site as-and-when needed.
Get Your Equipment Transport Quote Now!
Step 1:

Fill Out Quote Form

Fill out the short & easy quote form.
Step 2:

Speak With An Agent

We'll pick up your heavy equipment or vehicle.
Step 3:

Get Transported On Time

We deliver on time so you can get back to work.