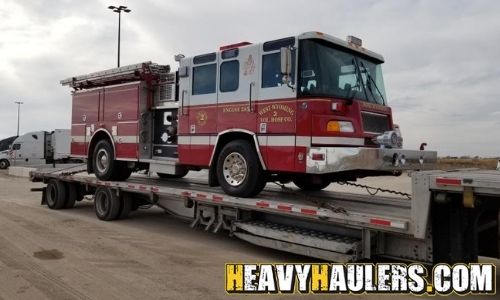 Contact Our Fire Truck
Transport Specialist Now!
(800) 908-6206
Fire Truck Transport Solutions That First Responders Can Rely On
Heavy Haulers provides fire truck transport that our clients can count on. We are an oversized equipment transport specialty company, with shipping capabilities throughout North America – and worldwide. Transporting larger equipment, like fire engines and other first responder rigs, is different from typical shipping. That's why we pay attention to every detail when hauling fire trucks. Specially rated trailers, professional drivers capable of safely driving the load, and trucks with enough torque and power to haul heavy and oversized equipment through busy city streets or remote dirt roads are essential. That's why Heavy Haulers works with the best. We know your fire engine is important to both you and your team, and we're here to help our first responders however we can.
Professional fire truck transport services from Heavy Haulers include bonded, insured, and qualified drivers offering door-to-door service. We travel through busy urban areas to ship your fire engine or to remote areas where the terrain is difficult. We find the most competitive prices for fire truck transport. We handle everything from paperwork to permits for you, so you can focus on what matters. Logistics specialists plan your route and get your fire truck to the destination on time, every time. For fire truck shipping services, trust Heavy Haulers to get it right. Learn more with a quick phone call to (800) 908-6206.
Expert Fire Truck Shipping and Delivery
Fire Truck transport requires a coordinated effort to ship. Not only because of their size, but also because of the outside attachments like ladders, hoses, hydraulic rescue devices, and other life-saving tools. Keeping these intact can make a difference between the fire engine being able to do its job properly in an emergency. These heavy-duty trucks can come in various sizes, some of which have multiple tools including a water tank, hose bed, aerial ladder, ground ladder, and fire pump. Securing each of these, as well as ensuring that the truck is on the correct type of transport, take attention to detail – the care that Heavy Haulers is known for. We provide the quality of shipping for each client that we expect for ourselves. That's why you can rest assured we handle your fire truck transport with quality and care.
Fire trucks and fire engines come in a variety of types. Fire trucks have large ladders that do not detach, along with specialized equipment for search and rescue tasks, such as forcing their way into a burning building. Fire engines carry ladders as well, but these are detachable and the fire fighters are able to carry them. Fire engines carry various tools, hoses, and pump water for fire fighting. Whether you're transporting a fire truck or fire engine, Heavy Haulers will ship it safely and deliver on time. Find out more now! (800) 908-6206
Transporting a 50 Foot Fire Truck from California to Ohio
When it comes to shipping a fire truck, Heavy Haulers knows exactly what to do. On the organizational side of things, a trailer long enough to carry an almost 50' long truck was secured and brought to Ohio, permits to carry such a heavy truck load were processed, and while weather was less than optimal in California, we took every precaution for safe transport. During the loading process, we found that the tail of the trailer could cause extensive damage to the fire engine. It was thanks to the quick thinking and vast experience of our driver that we could avoid any damage by strategically placing wood under the fire truck for transport. A proactive approach to his logistics planning allowed our agent William Thomas (EXT 783) and our driver to have enough time to problem solve and still make a timely delivery.
We are glad to know that this load will be one to make a difference in the city of Urbana, and we look forward to working with any individual, organization or entity that is actively working to improve the quality of life of our communities. Serving you is our privilege and serving an entire community is our reward. Do you, your town, or organization need to move a fire truck or any freight that will make a difference? Let us help. Call today! (800) 908-6206
Call Now to Ship Your Fire Truck! (800) 908-6206
Recent Fire Trucks Transported by Heavy Haulers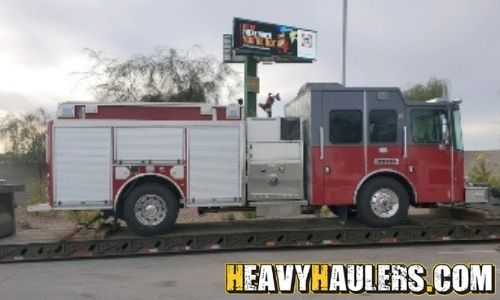 Transporting an HME Ahrens-Fox Fire Truck
Shipping From: Tolleson, AZ

Transporting To: Wyoming, MI

Specs: 2020 HME Ahrens-Fox fire truck; 31.1L x 8.6W x 10.4H; 27,000lbs

Transport Specialist: Sam D.
(561) 931-6741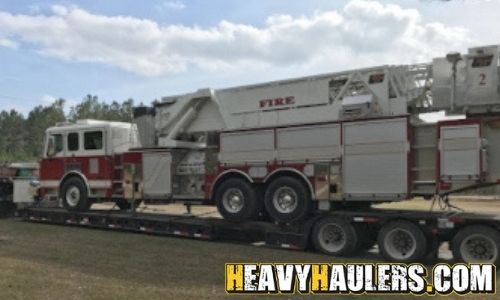 Fire Truck Shipped on an RGN Trailer
Shipping From: Townsend, GA

Transporting To: Galena PArk, TX

Specs: Fire truck; 48L x 10W x 11H; 69,000lbs

Transport Specialist: Nick H.
(754) 203-9267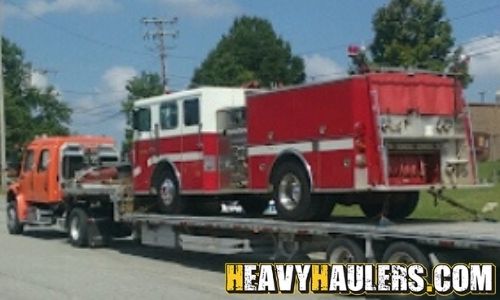 Shipping a GMC Brigadier Fire Truck
Shipping From: Batam, CT

Transporting To: Killen, AL

Specs: 1986 GMC Brigadier fire truck; 30L x 8W x 12.6H; 34,000lbs

Transport Specialist: Brian G.
(754) 203-9267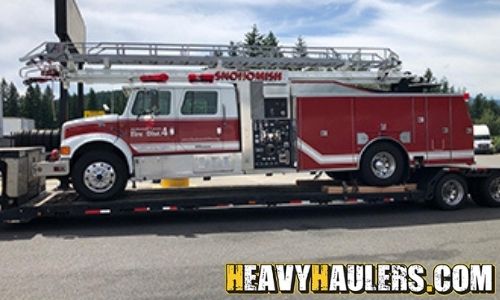 New Fire Truck Transported on an RGN Trailer
Shipping From: Snohomish, WA 98290

Transporting To: Princeton, WV 24739

Specs: 1998 Fire Ladder Fire Truck; 34.4L X 8.2W X 11.3H; 30,000lbs

Transport Specialist: Willam Thomas (859) 203-1385 .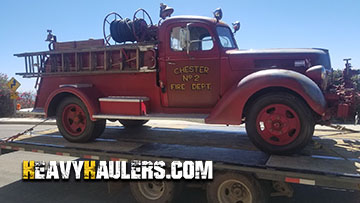 Transporting an Antique 1940 Ford Fire Truck
Heavy Haulers agent Louis was in charge of planning this shipment. The fire truck was loaded onto this step deck and moved over 450 miles from San Clemente, California to Tucson, Arizona. The delivery went smoothly and only took a day-and-a-half. The fire truck is 19 feet high, 8 feet wide, and 8 feet high. If you need to ship an antique fire truck look no further and call Heavy Haulers
Transport Specialist: Brian G.
(754) 203-9267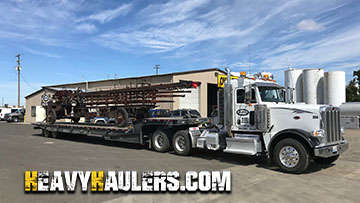 American La France Fire Truck Being Transported
This American La France fire truck was recently shipped by Brian G. at Heavy Haulers. This American La France fire truck was hauled from Walla Walla, WA to Camarilla, CA. Brian G. at Heavy Haulers was able to secure a step deck with loading ramps to get this fire truck shipped. If you need any freight or implements transported anywhere in the United States, Mexico or Canada call Brian G. at Heavy Haulers.
Transport Specialist: Brian G.
(754) 203-9267
Call Now to Ship Your Fire Truck! (800) 908-6206
Call Now to Ship Your Fire Truck! (800) 908-6206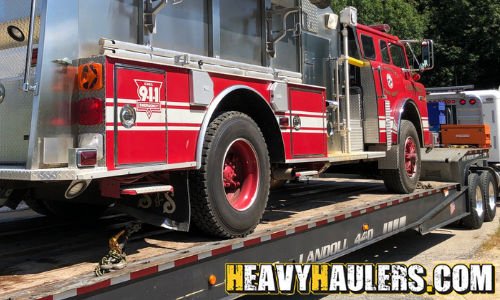 Contact Our Fire Truck
Transport Specialist Now!
(800) 908-6206
Why Choose Heavy Haulers To Transport Your Fire Truck?
Heavy Haulers has over a decade of experience transporting fire trucks all across the country. We're honored to help our first responders get their trucks delivered safely. Whether your fire truck transport requires a flatbed trailer, step deck trailer, RGN trailer, or other type of trailer, we provide top quality trailers to ship your fire truck. Heavy Haulers is licensed, bonded, and insured so you can have a confident fire truck transport experience.
Your Heavy Haulers Fire Truck Shipping Experience
Heavy Haulers offers a complete fire truck transport experience. We provide load assistance, pilot cars or escort vehicles, and more. Your dedicated logistics agent will bet here from dispatch to delivery, to ensure your fire truck is shipped with ease. Heavy Haulers offers transparent pricing and details, so you can be confident in the hauling process. Whether you need to tow a fire truck to a nearby shop, sell it to a new owner across the country, or even transport it overseas, Heavy Haulers gets it done right. Call now and let's get started!
We transport many brands of Trucks across the country and North America
Trust Heavy Haulers to transport any brand of truck you own. We are experienced in handling all types of brands and manufacturers, we have hands-on experience shipping all truck manufacturers there is on the road! Some of the truck brands we commonly ship include:
Looking For Transport
With a Specific Trailer?

Max Weight: 150,000+ lbs. | Main Deck Length 29 ft.
| Well Width 8.5 ft. | Legal Height Limit 11.6 ft.

Max Weight: 48,000 lbs. | Max Length 53 ft.
| Max Width 8.5 ft. | Max Height 8.5 ft.
Max Weight: 48,000 lbs. Max Length 53 ft. |
Max Width 8.5 ft. | Max Height 11 ft.
Max Weight: 45,000 lbs. | Max Length 29 ft.
| Max Width 8.5 ft. | Max Height 11.5 ft.
Heavy Haulers Ships Across All 50 States
Alabama - Alaska - Arizona - Arkansas - California - Colorado - Connecticut - Delaware - Florida - Georgia - Hawaii - Idaho - Illinois - Indiana - Iowa - Kansas - Kentucky - Louisiana - Maine - Maryland - Massachusetts - Michigan - Minnesota - Mississippi - Missouri - Montana - Nebraska - Nevada - New Hampshire - New Jersey - New Mexico - New York - North Carolina - North Dakota - Ohio - Oklahoma - Oregon - Pennsylvania - Rhode Island - South Carolina - South Dakota - Tennessee - Texas - Utah - Vermont - Virginia - Washington - West Virginia - Wisconsin - Wyoming
Heavy Haulers Pilot Car Services
Are you looking for a reliable pilot car
for your transport?
Get Started