How To Calculate The Cost of Heavy Equipment Transport
Several factors affect the overall heavy equipment shipping cost. Features such as height, length, width, and weight all contribute to high freight shipping costs. Besides, various trailers are used to transporting heavy equipment, depending on the shipping needs. Some shipping companies split divisible heavy equipment into two, parts cutting down the size, which translates to reduced shipping costs. They also strive to use the shortest routes and most convenient routes to the designated destinations as a way of reducing mileage, fuel consumption, and overall transportation costs.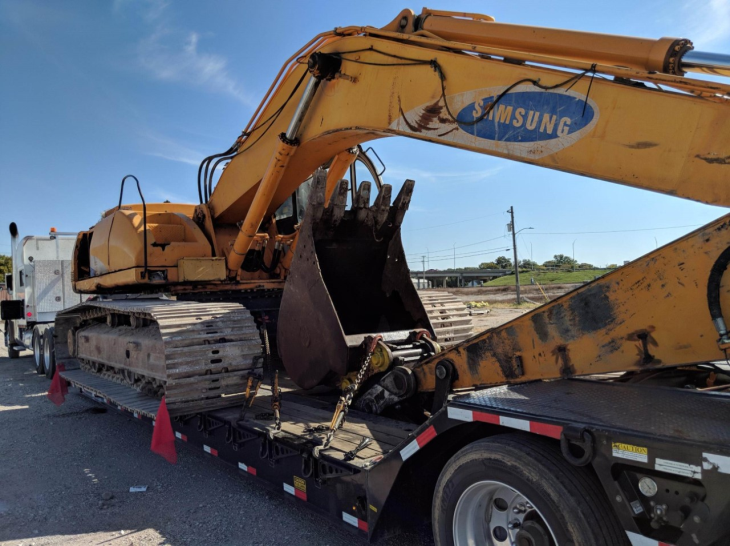 What About a Heavy Equipment Shipping Cost Calculator?
A heavy equipment hauling calculator will most likely give the ultimate shipping cost based on the following two areas:
The Labor Required: When shipping heavy equipment, clients anticipate nothing less than quality and reliable services. The hauling team must be skilled, experienced, and reliable in handling the heavy equipment shipping process, including loading, securing, and unloading. Suffice to say, the labor requirements vary per load based on the size and frequency of the hauling equipment. This is because using larger transporting equipment translates to more loading equipment and labor requirements and, therefore, higher costs.
Additional Materials: For efficient and safe transportation, heavy equipment requires such additional materials as packaging, loading, securing, and offloading equipment such as forklifts and cranes. Does your load shipping process require escort services and pilot cars? These and other transportation expenditures, including fuel, insurance tracking services, and insurance, are part of the transportation cost. In addition to this, shipping companies are required to attain specific permits to guarantee legal shipping operations across the states and internationally. The more the company needs to do or provide, the higher the transportation cost.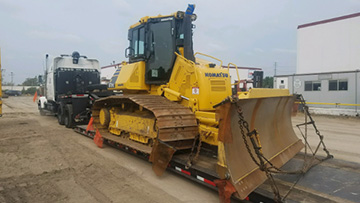 Heavy Equipment Shipping Considerations
The first step to a successful heavy transportation process is defining your cargo's precise weight and dimensions. The shipping company will use this to decide your freight class and the hauling equipment required to ship it. Suffice to say, providing accurate information will help the company come with a better estimate for your entire hauling process.

If you are shipping internationally, it is essential to ensure that your cargo is up to the importation standards of the sending and receiving country. This will help you evade significant fines that come with permit violations. If it is up to you to rent the loading and unloading equipment, be sure to have it on one site at a good timing to prevent delays that might incur additional charges. Have your cargo well packaged, and choose a carrier who makes great efforts to avoid damaging your cargo leading to significant losses. The shipping company must also go over and beyond to mitigate problems on a rare occasion that anything goes wrong.

Here are some of the heavy equipment mostly shipped by various hauling companies:

– Construction machinery

– Farm equipment

– Bulldozers

– Engineering equipment

– Heavy trucks and tractors

– Heavy industrial tools

– Hydraulic forklifts

– Engines
Three Ways You Can Save on Shipping Costs
Go For a Reliable Shipping Partner: Before you contact any shipping company, be sure to review feedbacks and testimonials from their previous customers. While at it, visit your prospective company's websites and take advantage of their no obligatory quotes. By reviewing different companies, you can then choose the most cost-effective yet reliable service provider to ship your cargo quickly and safely. Besides, this will prevent unnecessary delays, keeps your projects going, and your customers happy.
Choose the Quickest Route to the Destination: It would be best to choose a shipping company with an experienced hauling team. The drivers should be conversant with different routes to use to various destinations. Choosing the shortest yet safest route reduces the mileage coverage, fuel consumption, and ultimate shipping cost. All the same, when the
Provide Your Own Containers and Packaging Materials: Sourcing your own packaging material is cheaper than having your shipping company provide them for you. Remember to secure your shipping rates in advance and provide all crucial shipping details in good time. This is to prevent the waste of time and money trying to provide additional information retroactively.
You may consider splitting your load and hauling it into two pieces rather than shipping it as one entity. This will reduce the cargo size, weight, and trailer type required to ship it as different trailers come at different shipping costs.
Transport Your Heavy Equipment Today!
Step 1:

Fill Out Quote Form

Fill out the short & easy quote form.
Step 2:

Speak With An Agent

We'll pick up your heavy equipment or vehicle.
Step 3:

Get Transported On Time

We deliver on time so you can get back to work.