How to Load a Bus for Transport
Selecting the Right Trailer for Bus Transportation
All buses are long, wide, and tall. Their height ranges from 10 to 14 ft. length 30 to 42 ft., width 8 to 8.5 ft. and gross weight from 29,000 to 40,000 lbs. The first step towards a safe loading of a bus is to ensure that the trailer has the capacity to load and ship a bus safely. Since most trailers are 8,5 ft. wide, transporting normal wider buses will require trailers installed with outriggers. Each bus has a loading rating specifications printed on its identification plate or in the manufacturer's manual. Having accurate dimensions and weight is crucial for avoiding overloading.
Depending on the length and height of a bus, a flatbed, step deck, or lowboy trailer can be used for bus transportation. The lowboy trailer is usually used when shipping a taller bus that exceeds the standard height when loaded onto a step-deck or flatbed trailer. It also helps when traveling through highways with overpasses as there will be no need to seek alternative routes.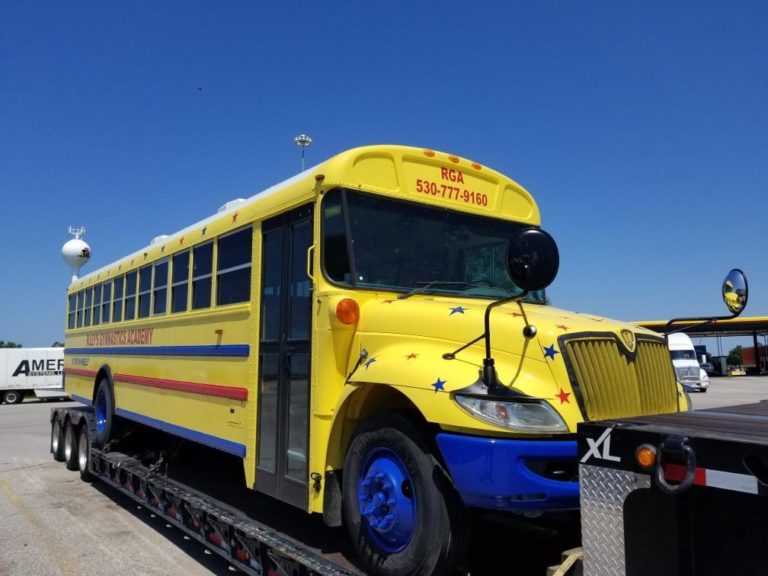 The Right Details to Ship Your Bus
Shipping oversize buses require both expertise and specialized equipment. Though buses assume a rectangular shape, there are significant differences in part design; the chases, wheel base and clearance, body cover, position of the engine, among other factors, may vary from one manufacturer to the other. Because of these differences specific only to the bus about to hauled, having the following details will help in facilitating a smooth and quick loading.
The bus type, year, make, and model.
Its dimensions: gross weight, length, width, and height.
Details of any modification done to the bus.
The current condition of the bus; whether it's operational or not.
The expected pick-up and drop-off time.
Pick-up and drop-off location.
Details of the attachments if any.
Whether the fuel tank is empty or full.
The preferred delivery route.
The number of vehicles (buses) to be transported.
Safe Bus Loading for Shipping and Transport
If you are shipping an operational bus, start by riding the bus up the ramps. After positioning the bus, tires should be choked. For safety purpose buses should always be loaded facing forward. Before getting out of the bus, ensure the parking brake is set, all windows are closed, and then lock the door.
The next and most important step is to secure the bus. To properly secure the bus, use specified tie-downs with the appropriate ratings. Also, ensure all wheels are strapped accordingly to prevent the bus from back and forth movements during shipping. It is important to note that, securing the bus should be done to the wheels and the frame or chases and strapped should never be tied against the body.
Heavy Haulers have shipped thousands of buses across North America and beyond, and our experts have in-depth knowledge of how to secure almost all bus models adequately. We also understand the need to follow the manufacturer's recommendations for specific buses. Knowing the best way to load a bus on a trailer and safely securing it is not only crucial for protecting the bus but also important in avoiding trailer whipping and other issues that could lead to a challenging shipping and transportation experience. As such, always follow the manufacturer's manual for loading and securing instructions specific to the bus.
Heavy Haulers Can Help You Today Select The Right Trailer For Your Bus Transport!
Step 1:

Fill Out Quote Form

Fill out the short & easy quote form.
Step 2:

Speak With An Agent

We'll pick up your heavy equipment or vehicle.
Step 3:

Get Transported On Time

We deliver on time so you can get back to work.