Plan Properly for Shipping Your Forklift
Shipping a forklift is a straightforward process, if you're prepared. Come unprepared and you're in for trouble. Forklift trucks are heavy, with a center of gravity that isn't very well distributed. An improperly loaded forklift can cause tons of damage if it comes loose.
Additionally, industrial forklifts carry notoriously low ground-clearances. Most industrial lift trucks are difficult to negotiate up ramps and onto trailers. If you get stuck, you'll need a larger forklift to hoist your industrial forklift onto the trailer. Planning properly for shipping your forklift can prevent a lot of headaches.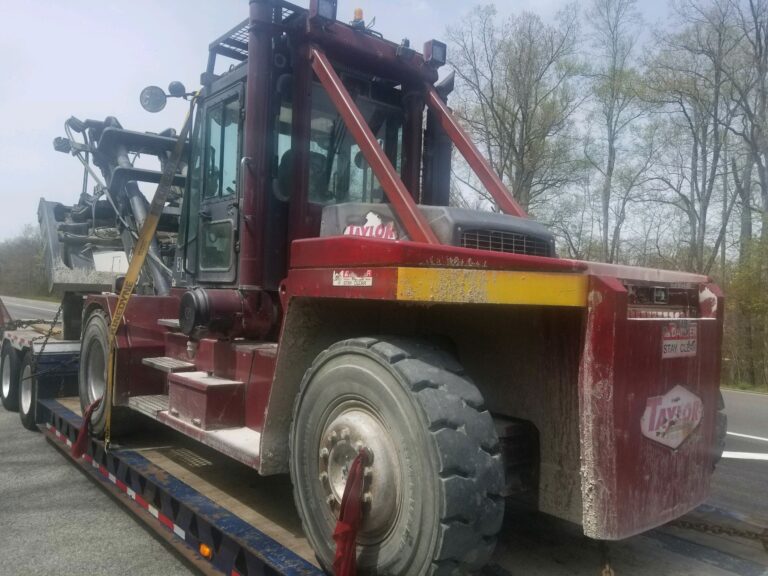 Trailer Options for Transporting Your Forklift
Forklifts come in all sizes, from hand-pallet jacks to gigantic construction forklifts. Many industrial forklifts, like those in a warehouse or distribution center, can travel as Less Than Truckload. You can save money on the transport if you can combine your shipment with another person's cargo.
Your transportation choices for shipping your industrial forklift include:
• Enclosed van trailer
• Flatbed trailer
• Step deck trailer
• RGN trailer
Shipping your forklift in an enclosed van offers protection from the weather. Flatbed trailers are popular for short hauls. You might find Less Than Truckload space for your industrial forklift aboard a step-deck trailer (where your forklift could travel on the upper deck) or an RGN.
Often, construction forklifts are too tall to transport on flatbed trailers. Construction forklifts usually require a heavy-haul trailer, a step-deck or an RGN. Step decks use ramps so you can drive your construction forklift onboard. RGNs have a specially designed neck that tilts down for drive-aboard loading.
Eight Tips for Hauling Your Industrial Forklift
The average forklift weighs 9,000 pounds, about three times the average automobile. Construction forklifts can weigh nearly 100,000 pounds. Even a large industrial forklift, like a Toyota, comes in at 80,000 pounds or more.
Moving such a heavy piece of equipment takes proper planning. Here are eight tips to help you plan your forklift transport: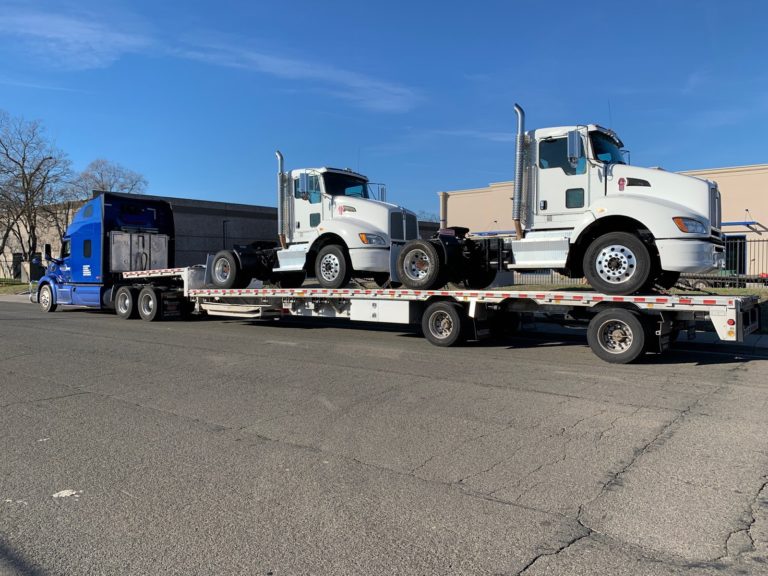 1. Double-check your forklift's dimensions. Forklifts that are extra heavy or super tall might require a special trailer. Smaller forklifts might ship as a partial load.
2. Disconnect the power supply. That means emptying fuel tanks, or unplugging batteries, or removing the propane tank. Cut off the fuel supply for gasoline or propane powered machines.
3. Load your forklift from a dock.Most industrial forklifts have low ground clearances, preventing them from driving up ramps. Best way to load your forklift is to find a dock.
4. Back your forklift onto the trailer. You want the forks facing backwards, away from the driver. If you're loading from a dock, that means backing your lift truck onto the trailer.
5. Center the forklift on the deck or trailer. Remember that most of the weight on your forklift is behind the driver's seat. Leave plenty of trailer space to help distribute the weight.
6. Chock all four wheels on the forklift. Make sure you screw or bolt the chocks to the trailer. If you just chock the front axle, you run the risk of it breaking loose during a collision.
7. Tie down your forklift on all four sides.Two chains, with four tie-down points, angled crosswise oughta do it. Use tie-down straps to cinch everything tight.
8. Never drive your forklift on public roads. Your forklift's weight, as well as the hard tires, could cause expensive damage to roadways. Plus. it's illegal.
9. Never drive your forklift on public roads. Your forklift's weight, as well as the hard tires, could cause expensive damage to roadways. Plus. it's illegal.
The forks on your forklift should be lowered and tilted forward for transport. If the trailer isn't connected to a cab, you'll need to use a nose jack to keep the trailer from tipping forward when your forklift is placed onboard.
Get Your Forklift Transport Quote Now!
Step 1:

Fill Out Quote Form

Fill out the short & easy quote form.
Step 2:

Speak With An Agent

We'll pick up your heavy equipment or vehicle.
Step 3:

Get Transported On Time

We deliver on time so you can get back to work.
Trust Only The Best.