1965 Boeing CH46 Aircraft Shipping
This 9,000 pound US Marines 1965 Boeing Vertol CH-46 Sea Knight military helicopter was shipped from Sanford, Florida to Rosamond California by Heavy Haulers transport specialist Daniel Jean. Introduced in 1964 and retired by the US Marines from active service in 2015, this helicopter played a vital role in numerous troop and freight carrying operations. This unique transport required the Heavy Haulers expertise in shipping abnormal loads, such as this 37 ft. long medium-lift military helicopter.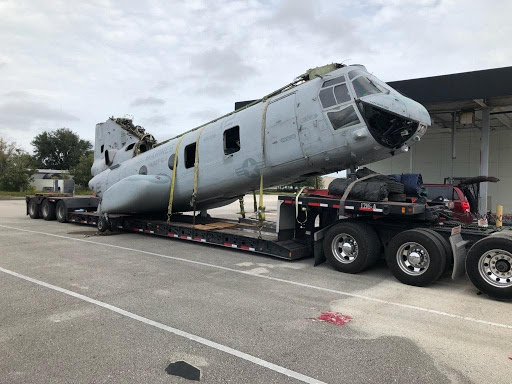 Shipping a 1965 Boeing CH-46 Sea Knight Helicopter from Florida to California
Daniel Jean performed a load evaluation, calculating the weight of the helicopter's fuselage with the twin rotors removed for easier conveyance. This brought the loads gross weight down from 11,585 pounds to 9,000 pounds which simplified the loading and shipping of the 7 ft. wide Boeing Sea King helicopter. The versatile CH-46 Sea King model features two turbo-shaft engines which were new tech when the manufacture of the helicopter began in 1956.



The USMC used this helicopter for search and rescue, combat support and casualty evacuation. Due to its all-weather flexibility, the sea king saw service in assault transport of supplies, combat troops relocation, and equipment hauling, day or night. Part of the initial Vertol corporation designs for vertical takeoff and landing aircraft, the 1965 Boeing CH-46 Sea King helicopter utilizes three landing gear wheels, two of which are under the external fuel tanks.



Daniel Jean determined that a Heavy Haulers' double drop deck trailer would handle the load perfectly, and loading was done using a heavy duty graded crane. The 15.6 ft. high fuselage's cockpit section was winched up the lowboy trailer's forward upper deck, and the front tandem wheels were removed to comply with height restrictions.
Get Your Aircraft Transport Quote Now!
Step 1: Fill Out Quote Form
Fill out the short & easy quote form.
Step 2: Speak With An Agent
We'll pick up your heavy equipment or vehicle.
Step 3: Get Transported On Time
We deliver on time so you can get back to work.
Transport Specialist
Daniel Jean
Daniel has been part of the NTS team for over two years now. He's the perfect example of how hard work pays off. Starting with no experience, Daniel has risen to become one of our leading logistics agents. He now has extensive experience in transporting vehicles, heavy machinery, general freight, and boats. NTS is proud to have him on the team.