Shipping a Bayliner Capri Boat on a Hotshot Trailer
2000 Bayliner Capri Boat Hotshot Trailer Transport from Virginia to Texas
Josh from Heavy Haulers shipped this 3,800 pounds 2000 Bayliner Capri 2052 from Vienna in Virginia to Stafford, Texas. After a load valuation, the 8 ft. wide and 8 ft. tall speed boat transport was set on its trailer and could have been towed with power only move. The distance to travel and the delicate nature of the load made Josh decide to load the Bayliner Capri Boat together with its carrier on a hotshot trailer.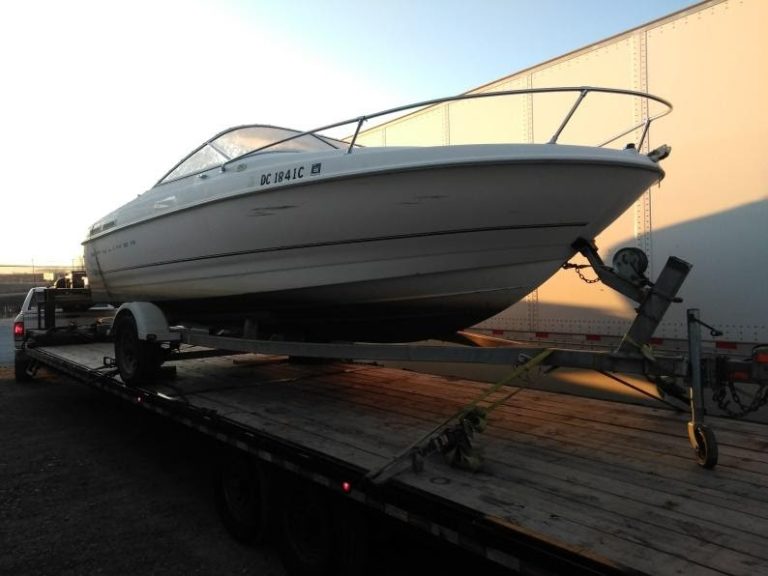 2000 Bayliner Capri Boat Hotshot Trailer Transport
This method of shipping was aimed at ensuring that the boat cargo reached its 1,425-mile destination in the same condition it was picked up. A Heavy Haulers' tow wrecker with ramps was used for loading the boat onto the hot shot trailer, after which it was secured with belt tie-downs. A pickup truck that could comfortably handle the load's weight was used as the tractor vehicle for the 24 ft. long 2000 Bayliner Capri boat.
After processing secondary contingency insurance for the $ 19,525 worth boat, the transport took off from Vienna, VA along the I-81 S, I-59 S, and the I-10 W. The trip was without hindrances save for a couple of road construction sites that Josh had already made contingencies for. This boat haul to Stafford, TX took 25 hours and 36 minutes from start to finish, and by the time it reached New Orleans, Louisiana, Josh was at the drop off point preparing for the offload.
Hauling a Bayliner Boat with a Hotshot Trailer
There was a loading dock on-site in Stafford, Texas which was used to unload the Bayliner Capri boat. The client, using the load tracking link from Heavy Haulers was able to note when the freight was arriving and anticipate delivery of the speed boat. Josh also kept in constant communication with this returning customer, who was happy about the method we used to ship the cargo instead of putting the boat trailer through unnecessary wear and tear.
The LDH Contracting client was only billed when the transport was completed, and the fees included charges for tow wrecker services. The transport was finalized and the boat consignment handed over to its owner's service station as is standard with the Heavy Haulers guaranteed delivery promise.
Transport A Bayliner Boat Today!
Step 1:

Fill Out Quote Form

Fill out the short & easy quote form.
Step 2:

Speak With An Agent

We'll pick up your heavy equipment or vehicle.
Step 3:

Get Transported On Time

We deliver on time so you can get back to work.