What is a Heavy Duty Truck
When it comes to trucks, there are three main classifications: light-duty, medium-duty, and heavy-duty. Trucks are classified depending on their weight. The gross vehicle weight of light-duty trucks is 14,000 lbs or less. Medium duty trucks have a total vehicle weight between 14,001 lbs and 26,000 lbs, while heavy-duty trucks weigh between 26,001 and 33,001 lbs. When towing a trailer, a heavy duty truck plus its cargo can have a combined weight of up to 80,000 lbs. More, in some cases!
A heavy-duty truck can also be referred to as a straight truck or, more simply, just a truck. Heavy-duty straight trucks are vehicles that carry their load without a trailer. Some dump trucks, garbage trucks, concrete mixers, and other construction vehicles may fall into the heavy-duty truck category as straight trucks. When there is a vehicle that pulls a trailer, the heavy-duty truck portion at the front is known as a tractor, and you'll also see heavy-duty trucks referred to as a tractor-trailer rig. Many of the heavy-duty trucks you'll see on American highways are tractor-trailer combinations.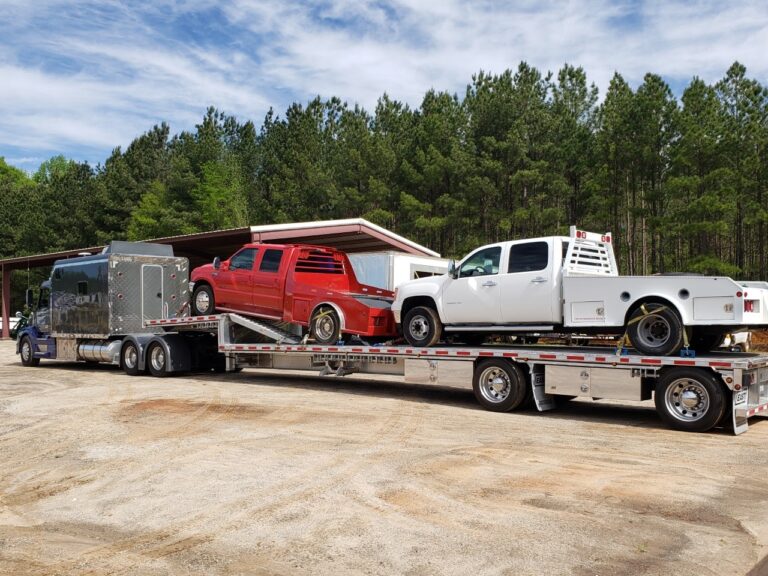 Common Manufacturers of Heavy Duty Truck
The most recognizable heavy duty trucks, the tractor-trailer, and semi-truck were first developed in the 1910s. When paved road systems were built in the U.S. during the 1920s, the number of truck manufacturers grew massively. By the mid-1920s, there were more than 300 brands manufacturing trucks for commercial use. However, by the 1990s, the number of heavy-duty truck manufacturers had dropped to single figures. Today, the most common truck models that you'll find used by heavy equipment transport companies are often built by one of the following manufacturers:
– Ford Motor Company
– Freightliner
– Western Star
– Sterling
– Navistar
– Isuzu
– Kenworth Truck Co.
– Peterbilt
– Mack Trucks, Inc
– Volvo
Essential Components of a Heavy Duty Truck
Heavy-duty trucks typically have a lot of steel, aluminum, stainless steel, and molded plastics making up their essential components. High-tensile steel provides the strength and durability required for heavy towing, while aluminum components are highly corrosion resistant and lightweight. Molded plastics are typically used for creating complex shapes where flexibility is vital.
Suspension components, axles, engine mounts, frame rails, and crossmembers are typically formed from steel, either cast or fabricated and welded together. The cab is an essential component of the heavy-duty truck, and you'll often find its structure and outer skin is formed from metal, either steel or aluminum. Where steel is used, corrosion resistance is usually added through layers of zinc to create a finish that is durable, heavy-duty, and corrosion-resistant. Complex aerodynamic shapes such as the cab roof, front fenders, and engine hood are either molded plastic or fiberglass.
Components made from stainless steel are usually the trim pieces, such as mirrors, visors, radiator grilles, and grab handles that require a long-lasting finish and will not crack or corrode through repeated use.
In terms of interior components, large diesel engines and enhanced transmissions are essential because they improve the vehicle's towing capacity. A heavy towing capacity is often crucial for long-haul trucking and many construction sites where it's necessary to pull heavy equipment or carry large amounts of construction materials.
Advantages of a Heavy Duty Truck
The main advantage of utilizing a heavy duty truck is that it can tow heavier loads. Heavy construction materials, oversized equipment towed on trailers, tanks, and more, can be easily hauled using a heavy-duty rig. The diesel engines in heavy duty trucks also provide more power than petrol rigs. Heavy-duty trucks often have better fuel economy and longevity that makes them the perfect choice for long-haul transport.
Get Your Heavy Duty Truck Transport Quote Now!
Step 1:

Fill Out Quote Form

Fill out the short & easy quote form.
Step 2:

Speak With An Agent

We'll pick up your heavy equipment or vehicle.
Step 3:

Get Transported On Time

We deliver on time so you can get back to work.