Contact Our Expert Shipping Specialists
(800) 908-6206
Ship Your Chevy Silverado Truck with Ease
Hauling of Chevy Silverado Truck is done by highly-trained professionals in record time at Heavy Haulers. We combine different mechanisms to ensure your Chevrolet Silverado Truck is shipped with zero damage during the transportation process. Our company's mission is to ensure every customer is satisfied. A member of experienced logistics team is ready to get you a free quote now.
Having been in the heavy duty truck transportation industry for over a decade has given us the experience to ship your Chevrolet Silverado Truck quickly and efficiently. Shipping preparation is usually done at your convenience. We procure all the necessary permits on behalf of our customers, for a hassle free Chevrolet Silverado truck transport experience.
We Pride Ourselves in Shipping Chevrolet Silverado Trucks
Loading a Chevrolet Silverado Truck on the back of the transporting trailer is done using top-notch technology. You Chevy Silverado Truck will be safely secured from skirting and skidding using effective reinforcement. All our hauling trailers are fitted with steel ratcheting systems to safely secure your heavy duty truck. We have the
capacity to haul any number of Chevrolet Silverado Trucks from your dealer.
There are no hidden costs. We work under the various legal provisions in different
locations. All the trailers we use have been certified for meeting road safety standards.
You will have a peace of mind knowing that your Chevrolet Silverado Truck will be
transported in one piece. You transport agent will oversee the hauling of your
Chevrolet Silverado Truck every step of the way, so you have peace of mind during transport.
There are various types of Chevrolet Trucks and some of these include:
● Chevrolet Colorado Transport
● Chevrolet Express Shipping
● Chevrolet Express 2500 Transport
● Chevrolet Low Cab 4500 Shipping
● Chevrolet Silverado 1500 Transport
● Chevrolet Silverado 2500hd Shipping
● Chevrolet Silverado 3500hd Transport
● Chevrolet Silverado 5500hd Shipping
● Chevrolet Silverado Md Transport
● Chevrolet Express 3500 Shipping
● Chevrolet Silverado 4500hd Transport
● Chevrolet Forward 3500 Shipping
Our Recent Chevrolet Silverado Shipments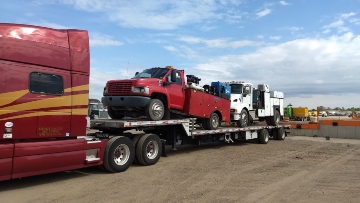 Chevrolet Silverado Service Truck Transported To Florida
Shipping From: South Vienna, OH 45369

Transporting To: Hallandale Beach, FL 33009

Specs: 2008 Chevrolet C4500 Service Truck

Transport Specialist: Brian
(754) 203-9267
Transport Chevrolet with the Professionals - Heavy Haulers!
CHEVROLET SILVERADO 1500
Silverado 1500 doesn't limit you when it comes to engine options, you can get it as either 4-cylinder, V6 or V8 engine capacity. This truck gives you sufficient legroom and headroom and passenger volume without compromising your comfort. Silverado 1500 gives you a chance to enjoy maximum weight trailing distribution of up to 7,700 lbs. With Chevrolet Silverado 1500, you can never go wrong.
CHEVROLET SILVERADO 2500HD
This is the best pickup for heavy duty hauling jobs. The Chevy Silverado 2500HD gives you the power to haul up to 14,400 lbs using a standard Vortec 6.0L V8. You can still opt for a Duramax 6.6L Turbo-Diesel V8 which can tow up to 15,400 conveniently. The Chevrolet Silverado 2500HD gives you the ability to tow heavy loads using an adjustable transmission shifts. Its digital steering assistant gives you enhanced control whether on the highway on a parking lot.
CHEVROLET SILVERADO 3500
The Chevrolet Silverado 3500 is stronger, more capable and tough. Its suspension and chassis enhancements with a better propulsion combination help to achieve higher confidence in performance when towing. With a heavy-duty frame, the Chevy Silverado 3500 has the capability of handling huge towing loads. Your transport experience will be enhanced through the integrated towing technology focusing on consumers benefit.
CHEVROLET SILVERADO 4500HD
The Chevrolet Silverado 4500HD comes in either 2WD or 4WD powered by Duramax 6.6L diesel engine. It has no obstacle for mounting your custom made bodies due to its frame design without rivets or brackets. The Chevy Silverado 4500HD comes with varied customer comfort enhancements to choose from. You have the opportunity to request for a twin-tank fuel which can hold up to 65 gallons, or a wide range of connectivity suite.
CHEVROLET SILVERADO 5500HD
Nothing beats the Chevy Silverado 5500HD Chassis Cab when handling big works. It has a straight frame design and clean top-of-rail. To have easy access of your Chevrolet Silverado 5500HD engine bay for cleaning, it is fitted with tilt-forward hood which offers less restriction. Easy cleaning will always keep your Chevy on the road doing more heavy duties.
CHEVROLET SILVERADO 6500HD
No towing job is bigger when you have the ground-shaking power of the Chevy Silverado 6500HD. Combined with Allison automatic transmission and Duramax 6.6L diesel Turbo V8 engine, the Chevrolet Silverado 6500HD gets the capacity to deliver the maximum 22,900 lbs GVWR. As a driver, the wheel cut getting up to 50 degrees gives you the capability to enjoy great strength and maneuverability.
Looking For Transport
With a Specific Trailer?

Max Weight: 150,000+ lbs. | Main Deck Length 29 ft.
| Well Width 8.5 ft. | Legal Height Limit 11.6 ft.

Max Weight: 48,000 lbs. | Max Length 53 ft.
| Max Width 8.5 ft. | Max Height 8.5 ft.
Max Weight: 48,000 lbs. Max Length 53 ft. |
Max Width 8.5 ft. | Max Height 11 ft.
Max Weight: 45,000 lbs. | Max Length 29 ft.
| Max Width 8.5 ft. | Max Height 11.5 ft.
Heavy Haulers Ships Across All 50 States
Alabama - Alaska - Arizona - Arkansas - California - Colorado - Connecticut - Delaware - Florida - Georgia - Hawaii - Idaho - Illinois - Indiana - Iowa - Kansas - Kentucky - Louisiana - Maine - Maryland - Massachusetts - Michigan - Minnesota - Mississippi - Missouri - Montana - Nebraska - Nevada - New Hampshire - New Jersey - New Mexico - New York - North Carolina - North Dakota - Ohio - Oklahoma - Oregon - Pennsylvania - Rhode Island - South Carolina - South Dakota - Tennessee - Texas - Utah - Vermont - Virginia - Washington - West Virginia - Wisconsin - Wyoming
Heavy Haulers Pilot Car Services
Are you looking for a reliable pilot car
for your transport?
Get Started