Hassle-Free Clamshell Bucket Shipping to All U.S. States
Making the required arrangements for clamshell bucket shipping is simple with Heavy Haulers. We know that the easy transportation of a clamshell bucket will go a long way towards helping you to complete the loading and unloading of large vessels promptly. Our clamshell bucket shipping service caters to clients throughout the US, regardless of where you are. Whether it's a busy shipping port, railyard, or remote construction site, our stress-free clamshell bucket shipping services will help you to transport your equipment safely.
Let Heavy Haulers handle all of the logistical requirements of clamshell bucket transport, such as permits, carrier, and contingency insurance arrangements, and escorts for oversized clamshell buckets. Our expert dispatchers and shipping specialists handle trucking requirements not just across the US, but also throughout Canada and Mexico. Call now for a free clamshell bucket shipping estimate! (800) 908-6206
Contact Our Expert Shipping Specialist's
(800) 908-6206
Depend on Heavy Haulers for Clamshell Bucket Transportation
You can depend on us to haul clamshell bucket attachments of all types. From hydraulic single line clamshells to mechanical double line clamshell buckets, we'll haul them all. When you choose us as your clamshell bucket transporter, you'll minimize the risks associated with organizing clamshell bucket haulage. We've got more than ten years of experience handling clamshell bucket shipments, and you can trust us to handle every aspect of clamshell bucket haulage.
Clamshell buckets are typically controlled by winches and wire rope to dig into and hoist bulk materials from a transport vessel. Often used in conjunction with onboard hoppers and various feeders, clamshell buckets are integral to the movement of many types of bulk material. Heavy Haulers isn't just here to help you transport a clamshell bucket attachment. We can also ship the heavy-duty truck, platform, hydraulic excavator, or crane that the clamshell bucket is designed to be used with. Let's get started! (800) 908-6206
Common Clamshell Manufacturers shipped by Heavy Haulers:
● Arden
● Atlas
● Bauer
● Caterpillar
● Doosan
● Eichinger
● J&B
● Liebherr
● Kinshofer Group
How to Ship a Clamshell Bucket
For details on how to ship your specific clamshell bucket, contact the experts at Heavy Haulers. Our clamshell bucket shipping specialists can provide an accurate, comprehensive quote based on your requirements. Clamshell buckets need to be shipped on heavy-duty trailers and secured with straps or chains to prevent movement during transport. As part of our door-to-door clamshell bucket transport services, we load, transport, and offload clamshell buckets anywhere in the US. Call us to find out more. (800) 908-6206
Common Trailer Types Available from Heavy Haulers
Heavy Haulers specializes in hauling heavy loads such as construction equipment, oil field rigging and Super Loads. We are wideload experts! We offer an extensive range of trailer choices, including:
Max Weight: 48,000 lbs. | Max Length 53 ft. | Max Width 8.5 ft. | Max Height 11 ft.




Max Weight: 45,000 lbs. | Max Length 29 ft. | Max Width 8.5 ft. | Max Height 11.5 ft.
Max Weight: 150,000+ lbs. | Main Deck Length 29 ft. | Well Width 8.5 ft. | Legal Height Limit 11.6 ft.




Max Weight: 48,000 lbs. | Max Length 53 ft. | Max Width 8.5 ft. | Max Height 8.5 ft.
HEAVYHAULERS.COM
START YOUR SHIPMENT TODAY!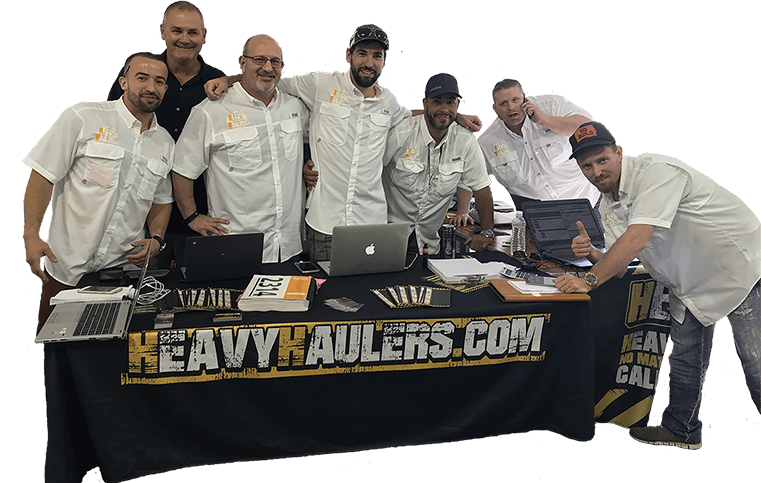 We Are Ready To Help You Haul Your Equipment!